Once A Blazer: Raef LaFrentz (And His Expiring Contract)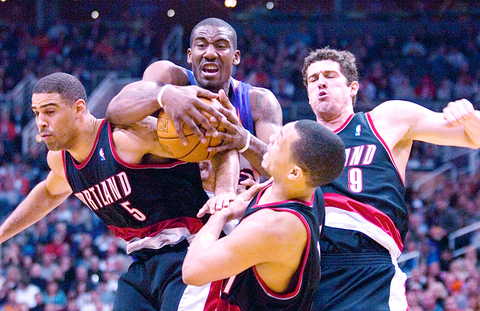 Yes, I know the picture above is one of many people and not just the subject of this post. However, it's just too good.
Welcome to another installment of "Once A Blazer."
Previous editions:
Today we are taking a different approach to talk about a former Blazer who turned from player to abstract concept in the 2008-09 season. Yes, ladies and gentlemen, Raef LaFrentz and his contract is our subject for today. We are going to start with LaFrentz the player and person before getting into the discussion about LaFrentz the expiring contract.
LaFrentz played for the Blazers for two seasons (2006-08) and was under contract for another, despite being injured for the whole season.
Raef LaFrentz
Born May 29, 1976 in Hampton, Iowa.
Drafted with the third pick in the first round of the 1998 NBA draft by the Denver Nuggets.
How He Became A Blazer: Acquired via a draft day trade on June 28, 2006 from the Boston Celtics. The Blazers traded Theo Ratliff, Sebastian Telfair and 2008 2nd rounder (who became Trent Plaisted) to the C's for LaFrentz, Dan Dickau and Randy Foye. Foye, of course, was later traded for Brandon Roy on that same day. The Blazers also selected LaMarcus Aldridge with the 2nd pick in that draft. So, that day was kind of a big one in Blazers history.
Fun Facts: LaFrentz would only play in 66 games in two seasons with the Blazers, averaging 9.7 minutes, 2.5 points, 2.1 rebounds and 0.4 blocks while still being one of the team's highest paid players.
The most games LaFrentz played in a season in a Blazers uniform was the 2007-08 season, when things started to turn around for the franchise.
LaFrentz also had some other notable moments in his NBA career. He was in the top-six in the league in blocks three times ('99,'00,'01). He was 2nd in the NBA in blocks in the 2001-02 season behind Ben Wallace. Tim Duncan was third that season and he just won a ring 12 years later. Tim Duncan is amazing, but I digress.
Best Blazer Performance: Due to problems with his knees, it was basically impossible for Blazers fans to see the best of LaFrentz. His best performance from a purely statistical perspective was 15 points and 5 rebounds on March 31, 2007 in a 99-86 loss to the Los Angeles Clippers. There was just too much Cuttino Mobley (!!!) for the Blazers to handle that night.
LaFrentz's best performance in non-mop-up duty was in a six-point win over the Seattle Supersonics (RIP) with 8 points and 6 rebounds on March 14, 2007.
But, due to injury, LaFrentz's biggest contribution to Blazers folklore has nothing to do with what he did on the court.
Raef LaFrentz's Expiring Contract
Born Summer 2008
Raef LaFrentz's expiring contract was never dealt. But during the 2008-09 season, it had become one of the dominant storylines of the Blazers season. It was a renaissance year, much like the 2012-13 season, where the Blazers won 54 games and earned homecourt in the playoffs.
But, with Greg Oden dealing with injuries and the team still inexperienced, most agreed they needed to make a move for another veteran. LaFrentz's contract, thanks to the poor economy, was thought to be the ultimate bargaining chip as teams were scrapping to cut payroll. John Canzano called it the "Golden Ticket."
The Blazers won't tell you which drawer the document is filed in. And they won't allow you to photograph it. But that gorgeous document is Raef LaFrentz's expiring contract, and as long as we're talking about the Feb.19 NBA trade deadline, we should get one thing straight — if the Blazers make a splashy trade, it's going to include this contract.

In fact, that minx of a contract might be the only thing the Blazers trade.
Henry Abbott, writing for ESPN.com's True Hoop blog, dished on LaFrentz's contract and whether other teams would deal with the Blazers, who didn't have too many fans among other front offices at the time.
ESPN's Chad Ford has just been reviewing the big men who are on the market this trade season. This is what he had to say about the injured LaFrentz:

LaFrentz has what NBA GMs are calling a "super-expiring contract." Not only does his $12.7 million salary come off the books this summer, but insurance is paying 80 percent of it. Add in that the Blazers have other young players like Sergio Rodriguez, Channing Frye and Travis Outlaw whom they could throw in a deal, and a team looking to clear some cap space and develop young talent would have to take a hard look at a deal with Portland.

…

Ford continues:

The biggest question surrounding a Blazers deal at the moment: Does any GM in the league really want to do Blazers GM Kevin Pritchard any favors after his team threatened to sue all the owners in the league over the Darius Miles fiasco? More than one GM has told me no.

Oh. No. Nope. Not you. You're not that kind of GM. You're not going to help your team by getting Raef LaFrentz … because that Kevin Pritchard makes you feel icky, and that Larry Miller sent you a nasty e-mail.

So no franchise-saving cost-cutting for you. You'll just make your trade somewhere else.

Even though you only compete against Portland a few times a season, to punish them, you'll hurt your own franchise 365 days a year.

Those thing they say about business and pleasure … they apply to enmity too.

Meanwhile, in Portland, I'm not sure they'll actually be learning their lesson. Keeping LaFrentz would put the team that much more under the cap this summer, and they'll still have the deep-pocketed owner, the nice city, the roster headed for great things, and the ability to sign free agents or make lop-sided trades.
Shaq was reportedly one of the players the Blazers tried to acquire, but he apparently vetoed that trade before getting dealt to the Cavs to play with LeBron James. Other players the Blazers were linked to that season were Vince Carter, Richard Jefferson, Luol Deng, John Salmons and Gerald Wallace, who eventually became a Blazer two trade deadlines later.
How It Ended: LaFrentz stayed on the Blazers through the duration of his contract before eventually retiring from basketball after that season. He's kept a very low profile since walking away from the game and has been basically untraceable.
But, to remember LaFrentz's better days before he became known for his contract, here are some highlights via YouTube.
[youtube http://www.youtube.com/watch?v=WL4rBFnlq9I&w=420&h=315]