Trail Mix: Mo Williams Tweets To Blazers Fans, Team USA Praise For Damian Lillard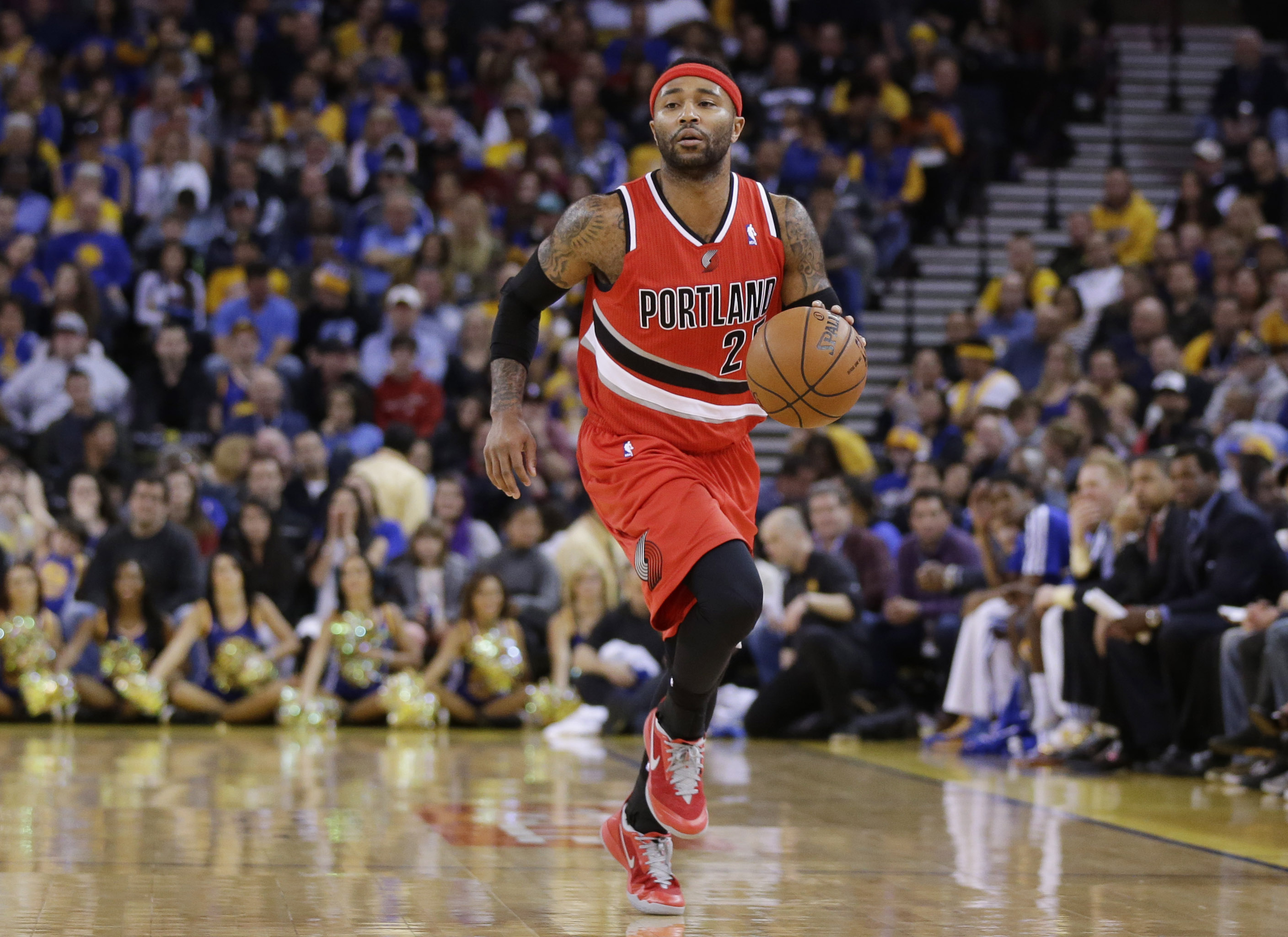 Somehow in late July there was enough Blazers stuff to happen this week to have a third helping trail mix this week.
Mo Williams of course signed with Timberwolves earlier this week. And yesterday evening he got something off his chest about his free agency over twitter.
All the blazers fans that's bashing me for leaving don't have a clue what's going on. If Portland trailblazers wanted to sign Mo (1/2)

— Mo Williams (@mowilliams) July 30, 2014

Williams, in all retrospect, they could have. That's gone be my 1st n last addressing that. Its a business people (2/2)

— Mo Williams (@mowilliams) July 30, 2014
On the day he initially signed, he praised the Blazers as a classy organization.
I want to say thanks to all the fans, coaches n staff in #ripcity. I been a fun n successful yr n I will always be grateful for the (1/2)

— Mo Williams (@mowilliams) July 29, 2014

opportunity to play for such a classy organization. Thx (2/2)

— Mo Williams (@mowilliams) July 29, 2014
Apparently he got some unhappy feedback from fans. Williams declined a $2.77 million option and reportedly got $3.8 million from the T-Wolves on a one-year deal.
As we addressed on Monday, the Blazers were basically only able to use the mid-level exception and the bi-annual exception. Their first target with the full mid-level was reportedly Spencer Hawes before eventually settling on Chris Kaman.
Reports regarding the Williams deal say Minnesota used some of their mid-level exception to sign him. Portland only used the bi-annual to sign Steve Blake. These days, a lot of basketball signing are just about math. This was one of them.
Casey Holdahl of TrailBlazers.com wrote about how Damian Lillard's series-ending three against Houston has been a talking point in Team USA camp.
"We talked about it last night," said Lillard. "The first thing they both — James asked me and (Parsons) asked me — was: 'Did I know if it was going in?' Lillard said Tuesday after Day 2 of the USA Basketball training camp. "I said: 'Yeah.' And then after that we just talked about the whole series. I told (Parsons), 'Y'all kind of pissed us off because it came back to us that you was like 'I'm definitely the best small forward in the series and we deserve to win.' And I was like, 'That's not true.' … I mean, we laughed about it. What happened, what's done is done. We did what we had to do."

…

"It still hurts, but it's a good chance to come out here in a setting like this and get to know these guys," said Parsons, "I'm going to live with that shot the rest of my life."
Joe Freeman of The Oregonian put together quotes from Lillard's point guard competition to make Team USA as well as USA Basketball head coach Mike Kyzyzewski. Freeman writes that Kyrie Irving calls he and Lillard "generational point guards."
"We're generational point guards. Obviously, he wants to be known as the best point guard for our generation, I want to be known as the best point guard. That's what you look forward to as competitors. It's exciting. It's nothing personal. It's what we want to be remembered as, what we want our legacies to be. That's what it's about. But when we compete, we want to get the best out of each other. And we want to play better than the other person."
Freeman also has quotes from Stephen Curry and John Wall as well as Coach K.
Chris Haynes of CSNNW.com also had a great quote on Lillard from earlier in the week from 2014 NBA MVP Kevin Durant.
"He's a big-game player, man," Durant told CSNNW.com in speaking of Lillard. "I can respect that. He comes to play every night. Man, at that age, in my second year in the league, I wasn't doing the stuff he was doing. He's a special player."
Will Barton was interviewed by a 92.9 FM ESPN Radio in Memphis by Geoff Calkins earlier this week. He talked about his newborn son Wyatt, his role on the Blazers, his contract being guaranteed and being known as "The People's Champ". Here's a transcription of his Blazers comments (audio here).
Geoff Calkins: He spent two seasons at the University of Memphis, he's now a guard with the Portland Trail Blazers. He's become an internet sensation honestly. He is Will "The Thrill" Barton, what's good man?

Will Barton: Everything's good.

GC: You in Memphis?

WB: Yes

GC: What are you doing in Memphis?

WB: I just had a newborn son here. So, spending time with him and working out and just relaxing.

GC: Newborn son, what's his name?

WB: Wyatt.

GC: Congratulations to the new Dad, glad the son is healthy. It's been a pretty good week for you then because I just read the other day that the Blazers guaranteed the third year of your contract. How does it feel to have a little bit of security before the season gets underway?

WB: It's a blessing, it feels good to have that weight off my shoulders. Not just going there and just focus on basketball and training camp and getting better. Just being the best player I can be and just get in that rotation.

CG: You averaged almost a double-double at Memphis your sophomore year. It's safe to say you expected to go in the first round but you ended up falling to 40th, what's life in the NBA like as a second rounder. What was the adjustment for you?

WB: Life as a second rounder, it could be tough. Nothing is guaranteed. You have to work just to make the team and get a guaranteed contract. It's a grind but I looked at it not as me being a second rounder, I looked at it as me being just as good as anybody else on the team. Just going in there working, working real hard and just being Will Barton man. Always thinking I'm the best. It's gotten me this far and it worked again. So, we made it work. A lot of people didn't think that I would even get a guaranteed contract my first year and now I'm here into my third year and it's all from hard work and dedication man. Having goals and ambition.

CG: What was one of the first lessons you learned in the NBA?

WB: That it's a business man. It's really a business. You got to really be a professional and carry yourself as a professional on and off the court. It's bigger than basketball. It's bigger than yourself as an individual.

CG: Moment you remember that you'd arrived?

WB: Every moment I step on the court and get to play. It's special. Growing up that's all I imagined was playing in the NBA. When you see it actually come true, you get on the court, you play and you score. You get a rebound. And you're like, "I'm here man, I made it." It's a wonderful feeling man. It's a blessing. It's something that nobody can take away from you. I just love it man. It's always where I thought I would be and I'm here. All thanks to god and I'm just very, very happy that I'm here and I just want to take it to another level, another place.

CG: It's a pretty crowded backcourt with CJ McCollum, Dorell Wright, Nic Batum, Wes Matthews, it goes on and on. What's sort of your mentality? Because you're a second rounder and going against all these guys. I know you started to get more playing time after the all star break last season. How do you go about earning more minutes and earning your keep with the crowded backcourt in Portland?

WB: It's all mental. My mindset is not thinking like I'm the 40th pick. It's me thinking I'm the best. And going in there and compete and working hard. I got a lot of respect for all those guys. Those are my teammates, I love playing with them. I want the best for them just like I want the best for myself. It's all about me going in there and being the best player I can be, pushing myself and by pushing myself I'm pushing those guys. It's just about bringing out the best in yourself.

GC: You call yourself the People's Champ now, I gather. I think in the Conference USA tournament, I think it was 2012. You were carrying around a WWE Heavyweight belt on your shoulder. Is that something that started at Memphis?

WB: A little bit. People definitely don't remember I had the belt after we won the Conference USA championship. It got bigger in Portland. I said it in an interview and it kind of just stuck with me. I just really, really do it for the people. Especially the people who work for everything they get. Nothing handed to them, blue collar who didn't come from a lot and just grinding. That's the people I do it for. That's why a lot of people call me The People's Champ. And I'm a People's person. Like I said, that's another blessing. The fans, the city appreciate you that much and acknowledge you man. It's just… It's hard to explain, man. The people are really like that and it's love and I really appreciate it.

GC: I'm going to put you on the spot a little bit here Will. Who is more passionate? Trail Blazers fans or Tiger fans?

WB: I think it's a tie.

GC: Come on, give me an answer man.

WB: Tiger fans are the best fans in college basketball and Portland are the best fans in NBA basketball. So, it's definitely a tie. I tell people all the time. They both remind me of each other. You can't go anywhere without being noticed, they treat you like rock stars. They love their basketball and their basketball players. So, I got to say it's a tie.
The interview goes a little longer but if you want to hear about some of Thrill's college days and a game that still haunts him, listen to the whole thing.
Also, since the Blazers are in the NBA, I do feel obligated to bring a little more league news. What happens in the league creates ripples and usually affects every team.
And, on Monday the NBA Players Association elected Washington D.C. litigator Michelle Roberts as their executive director. Roberts is the first female to lead a male sports league union in North American Sports. I recommend my dude Jared Dubin's piece over at Grantland where he goes into details about here career.
Unfortunately, a reality of the the NBA is that we'll have to brace for a possible work stoppage in 2017. The 2011 lockout was rough. If there is a work stoppage in 2017, you're going to be hearing a lot about Roberts, so it might be helpful to know who she is.