Once A Blazer: Rod Strickland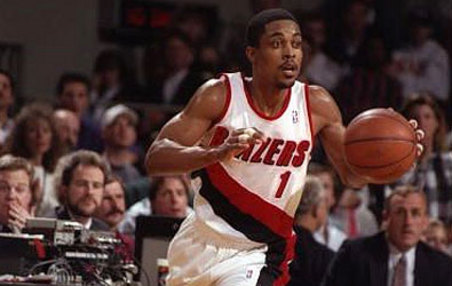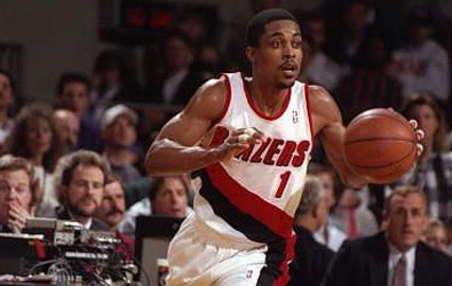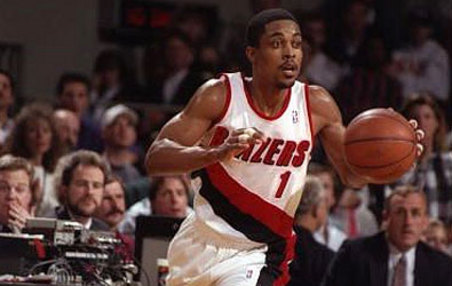 Today in "Once A Blazer" we are going to talk about one of the most exciting players in Blazers history, Rod Strickland.
Previous installments:
Rod Strickland played for the Trail Blazers for five seasons (4.5?) and had two tours of duty.
Rod Strickland
Born July 11, 1966 in Bronx, New York
Drafted with the 19th pick in the first round of the 1988 NBA Draft by the New York Knicks after three years of college ball at DePaul University.
How He Became A Blazer: Signed as a free-agent on July 3, 1992 from the San Antonio Spurs. Strickland was traded from the Knicks to the Spurs after his first season. Strickland's NBA fate seemed to be intertwined with the Blazers after a crucial turnover in the 1990 playoffs in Game 7 of the Western Conference Semifinals. Three years later, Strickland signed on the the Blazers, in an apparently controversial move at the time (see video below), where the dream of a championship quickly slipped away upon his arrival.
[youtube http://www.youtube.com/watch?v=k37sYOPllt8&w=560&h=315]
Strickland, now an assistant coach at University of South Florida, was interviewed by Jason Quick a few years ago and he talked about the change in fortunes for Portland's core players.
Strickland arrived as a free agent in the offseason of 1992, weeks after the Blazers lost to Chicago in the NBA Finals. It became an odd time in Blazers history, as the team's championship window quickly closed amid injuries to the aging Clyde Drexler, Jerome Kersey and Terry Porter.

"I remember when I first got there, they still had Clyde, Terry, Buck (Williams), and I was coming off the bench with Mario Elie and Cliff Robinson thinking, 'Wow! We have a helluva team'," Strickland said. "But then Clyde got hurt and everything changed."

Strickland moved into the starting lineup, Porter moved over to shooting guard, and the Blazers salvaged a 51-win season despite starters missing 58 games because of injury. Coach Rick Adelman used 21 starting lineups that season.
The Blazers had been lapped by the teams that had been chasing them in years past like Barkley's Suns, Olajuwon's Rockets, the Stockton-Malone Jazz and the Kemp-Payton Sonics.
However, they still were a respectable team in the middle of that decade and Strickland was arguably the team's best player.
Fun Facts: Strickland was in the top-3 in PER on the Blazers in every season from 1993-1996, and led the team in that category in the 1993-94 season. The year Clyde Drexler was traded to Houston, he came in second behind "The Glide" in that category. In his final season of that first run, he was second on the team in PER only behind the great Arvydas Sabonis, who led the team in his rookie season.

(Let's take a moment to appreciate the greatness of this roster, but mostly Sabonis, leading the team in Win Shares despite starting only 21 games.)
He averaged 17 points, 8.6 assists, 4.5 rebounds, 1.7 steals and 3.2 turnovers per game during his first run with the Blazers.
What was impressive about Strickland was he achieved a lot in the NBA without having size and basically being allergic to the three-point line. It would be interesting to see how a guy like Strickland would have done in the three-point league that the NBA is today.
The peak of Strickland's three-point volume came while playing in Portland, averaging 1.9 threes per game in 94-95 and 1.7 in 95-96, shooting 37.4 percent and 34.2 percent respectively. But, at most of his other stops he never gave the shot much thought or perhaps coaches told him not to take it.
The rules showcased more isolation play and Strickland was gifted at getting to the basket and he also had a nice post-up game, like many good guards of the 90's.
Strickland came back to the Blazers after being waived by the Washington Wizards in 2001 before that team was unceremoniously swept in three games by the Los Angeles Lakers.
Best Blazer Performance(s): Rod Strickland had two 20-assist performances, one in 1994 against the Phoenix Suns and another against the Houston Rockets in 1996. His Blazers career-high in points was 36 in a 1995 loss to the Knicks in his hometown of New York City. However, in a winning performance in that same season he dropped 35 points, 14 assists and 8 rebounds in a blowout win against the Golden State Warriors.
How It Ended: Strickland was traded along with Harvey Grant to the Washington Bullets (before becoming the Wizards) on July 15, 1996 for Mitchell Butler and Rasheed Wallace, who ended up being a cornerstone of the Blazers best teams of the late-90's and early 2000s. And we haven't even begun to discuss Sheed's influence in the basketball blogosphere, but that's for another Once A Blazer. Strickland went on to lead the league in assists in 1997-98 with the Wizards. Strickland came back to Portland in 2001 but that stay was forgettable, as he had lost a lot of what made him great.
Even though it's not in a Blazers uniform, I was able to find a vintage Rod Strickland performance for all of you to enjoy.
[youtube http://www.youtube.com/watch?v=ctEOnb7M3hU&w=420&h=315]