NBA Summer League: Blazers Lose Opener To Knicks 71-69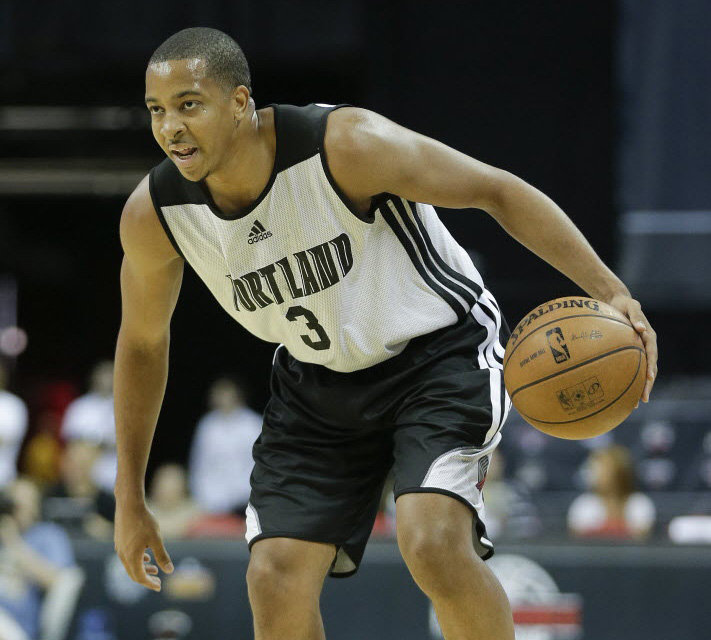 The Portland Trail Blazers lost their first game of the NBA's Las Vegas Summer league 71-69 to the New York Knicks on Saturday afternoon.
Tim Hardaway Jr. led the Knicks with 20 points and point guard Shane Larkin wound up hitting the game winning shot with about 41 seconds left in the game.
Thomas Robinson led the Blazers with 17 points and 7 rebounds in the loss. CJ McCollum scored 16 points and Will Barton finished with 11 points, rounding out the Blazers who scored in double-figures.
The Blazers have come in to Summer League preaching that they are intent on winning, bringing back six current players under to Las Vegas.
After leading for much of the game and letting the game slip away in the final moments, the Blazers were clearly disappointed.
"We got 6 guys that are getting paid a good amount of money," Blazers guard CJ McCollum said. "We don't want to lose these types of games. You want to win and put on a show and show that we've improves. Obviously everything doesn't work out the way you like it to."
"I'm real upset about losing that game. We shouldn't have lost," Blazers guard Will Barton said. "I'm not a loser, I'm out here to play. If I'm not going to take it serious then why would I be out here?"
After the Larkin floater that put the Blazers ahead, they had two shots to tie the game or go-ahead in the final moments: Will Barton found an open CJ McCollum for a three and then he found Joel Freeland on a roll to the basket. However, both times the Blazers came away empty.
"I thought Will did a really good john of getting in the paint," said Blazers summer league coach Nate Tibbetts. "He made a great pass to CJ, had a good look. I thought on the next possession, he dropped it off to Joel and he had a good look. So that's the way the game goes and they just finished it out. I think they made the right plays down the stretch."
Defensively, Tibbetts was pleased with the team's effort and attention to detail.
"Defensively I thought we did a real good job," Tibbetts said. "A big thing in camp is we've been talking about defense in transition. I thought our guys did a real good job of focus there and our shell."
Bobby Brown started at point guard for the Blazers and finished with 5 points and 5 assists in just under 30 minutes of play. But when Brown was out, the Blazers entrusted Will Barton and CJ McCollum with the playmaking duties.
Their first sequence was forgettable, with each putting themselves in tough positions offensively. Both said they were trying to "feel things out."
However, they both started to settle in to things as the game progressed.
"I think this summer he and CJ, we're putting them in a position where they have to handle the ball more," Tibbets said. "Make more decisions, run the offense I think both guys did a good job."
The Blazers play the Houston Rockets tomorrow at 5:30 PM, which will be shown on Comcast as well as on ESPN3.
Notes:
-Third-year center Meyers Leonard sat out of Saturday's game with a shoulder injury. After the game Leonard said that he "might need a few more days," and he wasn't sure whether he would play tomorrow against the Rockets.