Blazers Promote Cap Analyst Joe Cronin To Director Of Player Personnel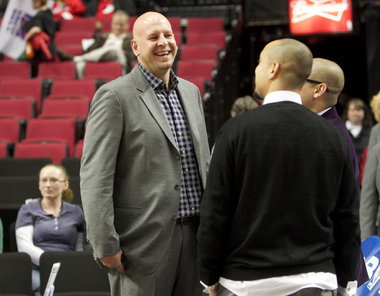 After two departures in the Trail Blazers front office, we have news of somebody moving up in the Blazers organization.
Pro scout and salary cap analyst Joe Cronin was named the Director of Player Personnel on Thursday evening.
"Joe possesses a unique skill set that is critical to the success of our organization," said Olshey in a release from the team.  "His expertise and contributions in multiple areas make him an invaluable member of our front office staff."
Cronin will now manage "all aspects of the NBA Salary Cap." Cronin will also be involved in NBA draft preparation and scouting in free agency and trades, according to the Blazers.
Cronin held his previous position since 2010 and has been with the Blazers 2006 when he started in the organization as an intern.
Cronin also played college basketball at Regis University and the University of Northern Colorado.
The Blazers parted ways with NBA Scouting Director Michael Born earlier this offseason and Scouting Director and former interim general manager Chad Buchanan took the assistant GM job in Charlotte earlier this week.