Portland Trail Blazers 2013-14 Season Review: The Energy Guys
Now that we can see the 2013-14 Portland Trail Blazers in the rearview, we are going to do our best to give a comprehensive review of the season. The hope of the review is too analyze their season, assess their place on the team and see what they can do better. We'll try to do these in groups. Up for the first review, Portland's energy guys: Swingman Will Barton and  power forward Thomas Robinson
By the end of the season, the two Blazers bench players that left fans wanting more were without a doubt Will Barton and Thomas Robinson.
Robinson told The Columbian earlier in the season that he and Barton had made a promise to each other.
Barton and Robinson come from the same part of the country. Barton is from Baltimore, Maryland and Robinson hails from Washington D.C. and both knew each other coming up through the prep ranks.
"He makes me better, I make him better," Robinson said back in April about he and Barton. "We just made a commitment to each other that we going to  push each other the whole year. We kind of both in a similar situation and a tough one, whatever, fighting for our minutes, our spot on the team. We're trying to stay in the rotation and help the team win so we know that we got to make each other better if we are going to be those two players that Coach depends on to come in and help the team."
Both players had impact performances off the bench that helped the Blazers win playoff games and their commitment found them playing together in the playoffs, even if it took some injuries and tough losses to the Spurs for it to happen.
————————————————————
The Thrill Gets More Chill On The Court
From year one to year two, the biggest difference in Will Barton was the control in his game. There was a more chill element to the Thrill in Year 2 which can be attributed to experience in the league and experience with the team.
Barton's turnovers were not as much of a concern as his jumper, but it was close. In the limited time he got in the regular season, he was much more in control by cutting his turnover rate from 15.1 percent to 9.6.
In his exit interviews Barton addressed how he really wanted to become a better decision-maker last summer and the numbers indicate that he was better in Year 2, increasing his assist rate to complement the drop in turnovers.
In his playoff appearances the turnover rate jumped back up again to just around 14. Then again, everybody on the Blazers was having issues holding on to the ball in the Spurs series.
But still, it's hard to ignore what Barton said about the game slowing down for him in the 2013-14 season.
The three-point shot is something people kind of have to worry about now, unlike last season.
He made 10 threes in 2013-14 on 33 attempts, one more than his 2012-13 total in 65 attempts.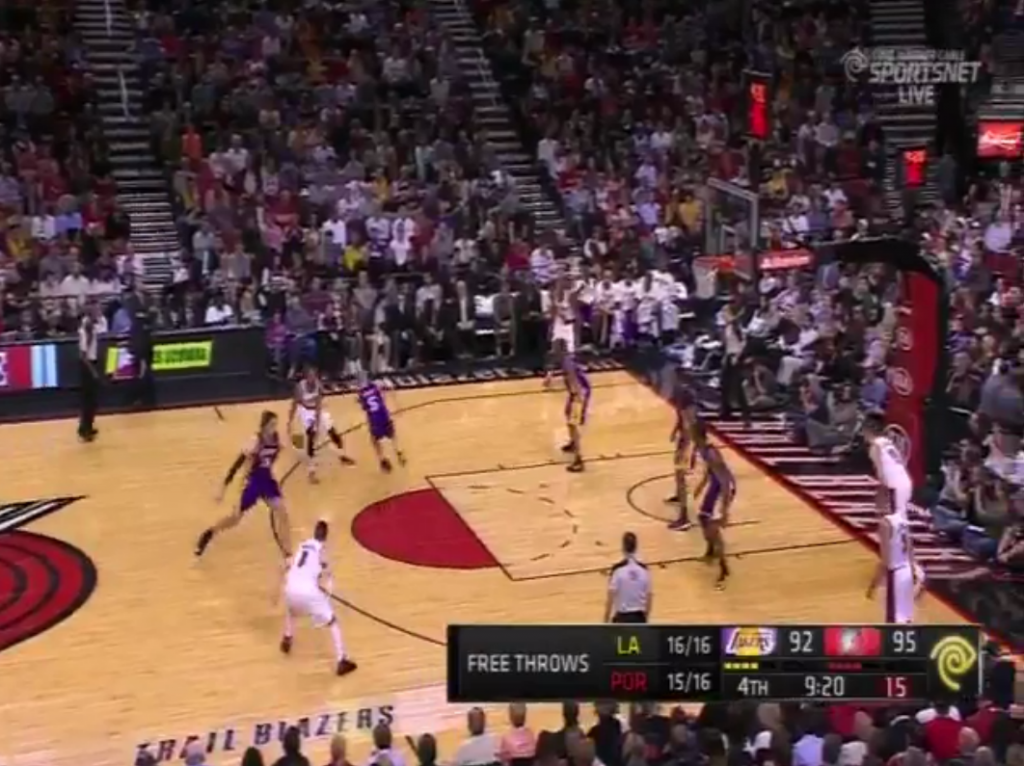 This picture above is one of the best examples people pointed to last year as a reason why Barton had to improve his shot. Kobe Bryant has a whole foot in the paint with Barton only one pass away.
Now, you've got the Thrill being able to pull off moves like this.
[youtube http://www.youtube.com/watch?v=GId1_h_1GV4&w=560&h=315]
This isn't to say that Will Barton stepback corner threes should be a frequent part of the playbook, but just to show you how far Barton has come.
Other catch and shoot looks that he made in the series are ones he will have to knock down. Nobody is expecting him to shoot 50 percent from three but if he can make an incremental jump in every aspect like he says he wants to do, there's no reason Barton can't step in as a rotation player when October rolls around.
Barton also showed value to the Blazers with his ballhandling. Nicolas Batum played back-up point guard when Mo Williams was hurt but alongside Batum it was usually Barton that would bring the ball up if it wasn't Nic.
However, according to Barton, the Blazers want him to focus on the defensive end where they need the most help to get to the next level.
"They feel like I can really defend and if I focus on it more," Barton said when asked what the Blazers wanted him to work on.  "I'll become an even better defender. And just getting better with my shot on and off the dribble and just keep harnessing my playmaking skills."
Portland defensive numbers with Barton on the court are encouraging while the offensive numbers don't paint quite as rosy of a picture for him as they were barely outscored in the regular season with him on the court.
Opposing teams score far less against the Blazers with Barton on the court but some of that might have more to do with going against opposing second units.
Still, it felt like Barton created problems on defense and Stotts said on several occasions that he likes the length he brings to the position.
Still, Barton has set himself up nicely to have an inside track at consistent minutes and drew the Coach's praise in the exit interviews saying he made the biggest improvement from last year to this year.
Barton said he intends to work out with some of the Blazers coaches this summer in Portland as well as his own individual workouts he has set up.
———————————————————————-
The Apple Of The All-Star's Eye
When LaMarcus Aldridge was asked which guy he was excited to see come back this year, this was his answer.
"That's a good question. I'd definitely like to see T-Rob come back."
Aldridge took to the leadership mantle in 2013-14 but it's hard to find any better of examples of his leadership than his mentorship of Thomas Robinson.
While I didn't see much or any of Thomas Robinson during his rookie season, his game developed as the season went on. His best contributions to the Blazers came later in the season after LaMarcus Aldridge returned from his back contusion and the Blazers won 9 of their last 10.
The two-man line-up of Aldridge and Robinson was 3.5 points better than their opponents per 100 possessions.
Robinson, admittedly, didn't know what type of player he was which was understandable given that he was traded twice before coming to Portland.
"I brought energy and being a rebounder, defender, which I would like to expand on," Robinson said. "Making it known that I am a good defender in this league and then I can add scoring at times when I have to in the flow of the game."
Robinson told the media that he knows now he doesn't have to score to be on the court and that he's become more comfortable with making basketball plays.
Robinson has the skills to make passes like this one.
[youtube http://www.youtube.com/watch?v=Q1IHdUkyeWU]
But the improved patience in his game with making basketball plays can also be seen in the willingness and comfort to make this easy pass and just keep things moving.
[youtube http://www.youtube.com/watch?v=9l87RdI-ojI&w=560&h=315]
Lacking the willingness or comfort to make those plays was a major reason why Robinson ended up on the bench after receiving a lot of minutes to start the season.
The on-court improvement also goes with the comfort level that Robinson was finally able to feel when coming to Portland. The relationship with Barton certainly helped but Aldridge took him under his wing and Lillard was in the same draft class as him and they quickly bonded.
"I felt that brother vibe again, that whole family vibe. I'm big on that," Robinson said about the feeling of the Blazers. "I have to feel comfortable with somebody. I don't trust a lot of people so it takes a lot of time for me to be comfortable so when I got here I felt that right away."
Robinson also said something interesting in the exit interviews that he felt that the growth for the Blazers must come from within.
"I'm not part of the big decision but we have 8 guys who are two years into they deal. Out of those eight guys one of those guys has to step up, maybe even two."
Robinson of course was speaking of the eight players that just finished their first or second season with the Blazers. He said he wants to make it a priority to be one of those two guys that steps up next year.
Robinson's first full year with a team will also be followed by his first actual offseason.
"This is my first offseason really being a pro. First rookie year, I had the summer league. Last year, I was moving."
He intends to work with assistant coach David Vanterpool in the DC area but followed that with "I want to spend as much time with this coaching staff as I can. I'm still only one year here and I want that trust and that bond to where it's unbreakable next season."
Robinson definitely needs to improve his jump shot, particularly from the midrange where he shot below 30 percent according to NBA.com. The decision making is key but if he can pair it with an improved jumper, much like his buddy Barton, he should look to be a more important player off Portland's bench.