The Scouting Report: San Antonio Spurs, Game 2
For the Portland Trail Blazers there are a lot more ways you could have wanted Game 1 to go.
While it wasn't the worst thing that could have happened, the Blazers looked like they weren't ready for the level of play, execution and intensity it would take when playing the San Antonio Spurs.
The Blazers aren't without playoff experience but the Spurs gave them a lesson about what it takes to win games as the playoffs go on. The Spurs overplayed and scouted for a great deal of Portland's plays, disrupted their rhythm and couldn't get anything going. The Spurs scored 116 points and the Blazers obviously have to clean that up.
But defense has been iffy the whole season and scoring points is something Portland can almost always count on.
As Dane Carbaugh wrote more extensively about at Hardwood Paroxsym, the Blazers need better play from Wesley Matthews and Nicolas Batum in Game 2.
A look at the box score and of course you obviously see stuff that needs improvement. As Carbaugh notes, the Spurs were jumping a lot of Portland's handoff plays.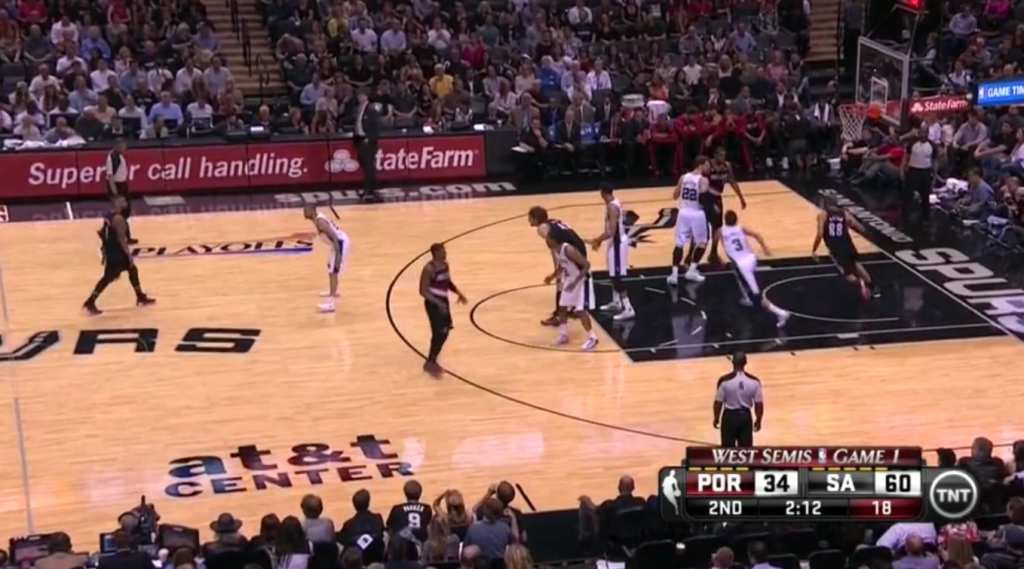 As you can see above Batum is running along the baseline looking to go around a screen to get to the top of the three-point line and execute the handoff action. However, Belinelli is overplaying it and already positioning himself to beat Batum to the spot where he is supposed to catch it at the left side of the three-point arc.
Batum ends up not getting the ball and Aldridge gets the ball in the post with 11 seconds left to go one-on-one.
Here's a little #ThrowbackThursday to James Harden's defense chasing Batum around a pick on the same kind of action.
Now take time to remember how great it was for the Blazers to run these plays against Houston and forget about it. The Spurs are going to jump every play and disrupt Portland's rhythm and Portland is going to have to counter, as Carbaugh illustrates in his post.
However, the intensity and execution of the Spurs also goes beyond X's and O's. TNT's Steve Kerr (and possibly roaming an NBA sideline near you next season) was just talking about this for a bit during the Thunder-Clippers game that there is just a point where Portland must do things better. There's not a magic adjustment, Portland just had to do what they do better.
I know, sounds basic right?
The Blazers also suffered from what looked like an early case of nerves. Batum and Lopez both missed a couple of point blank lay-ups that they make most of the time and Lillard also missed his share of good looks. He had a floater and a couple of catch and shoot rhythm shots that are normally cash for him.
The Blazers first half was ugly.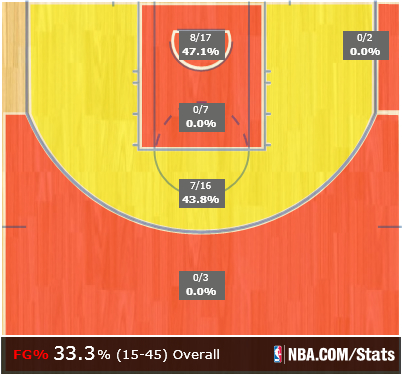 The 8/17 at the basket was terrible and what was worse was the fact they only shot five threes. The Spurs pushed the Blazers away from their best spots and even when they had looks at their spots they rarely cashed in. Particularly at the rim, Portland left a lot of points hanging early and after the game got away from them they never got it back.
Nicolas Batum said the Blazers must be more "pissed off" like they were against Houston.
An early play by Batum both epitomized the Portland nerves, the Spurs anticipation and that they weren't ready for how the Spurs don't let them have things with ease.
Here's Batum handling the ball after getting a handoff from Lopez and trying to dish a backdoor bounce pass to Lillard who just went around the Aldridge screen.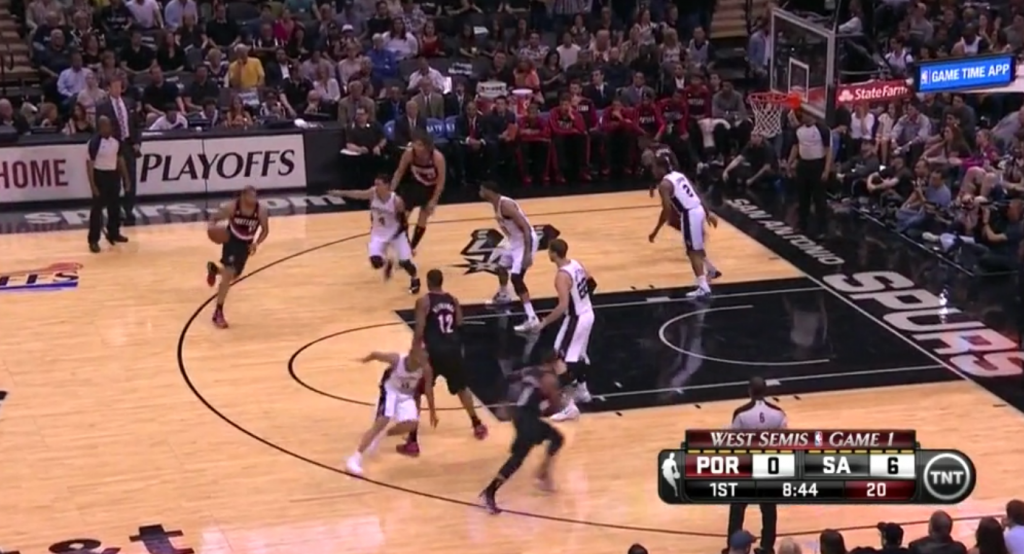 But Batum delivers the pass like it's going to be there and is fairly lazy about it and Green gets a hand on it.
Given what we've seen from them all year, the Blazers will likely be able to adapt. That slow start hurt them because the Spurs are relentless and unlike Houston never allowed them to get back into the game.
The Blazers may also have to do something on defense. It sure seemed like Tony Parker was getting a lot of room to step into midrange jumpers where he feasts. The Blazers put Wesley Matthews on him more than they did Batum and probably still had Lillard on him for the majority of his time on the court.
Thus far, Popovich and the Spurs haven't had reason to send a cross-match Lillard's way as Kawhi Leonard and Danny Green picked Lillard up on a handful of plays compared to Parker (I know the photo above has Leonard on him contesting a shot).
The Spurs also decided to play more Aron Baynes and they also had him guard Aldridge. He and Splitter also jumped out on Lillard pick and rolls to take him off the line. It will be interesting to see if Stotts makes an adjustment against those match-ups.
The Blazers were fortunate that the Rockets also had a thin bench in round one. Perhaps Stotts will have to get more creative than he did in terms of personnel than he did in Round 1 or he's going to ride the horses in hopes they can keep pace with the class of the West.