Road Takes: Blazers Lose Game 2 And Mo Williams, Come Home Facing 2-0 Deficit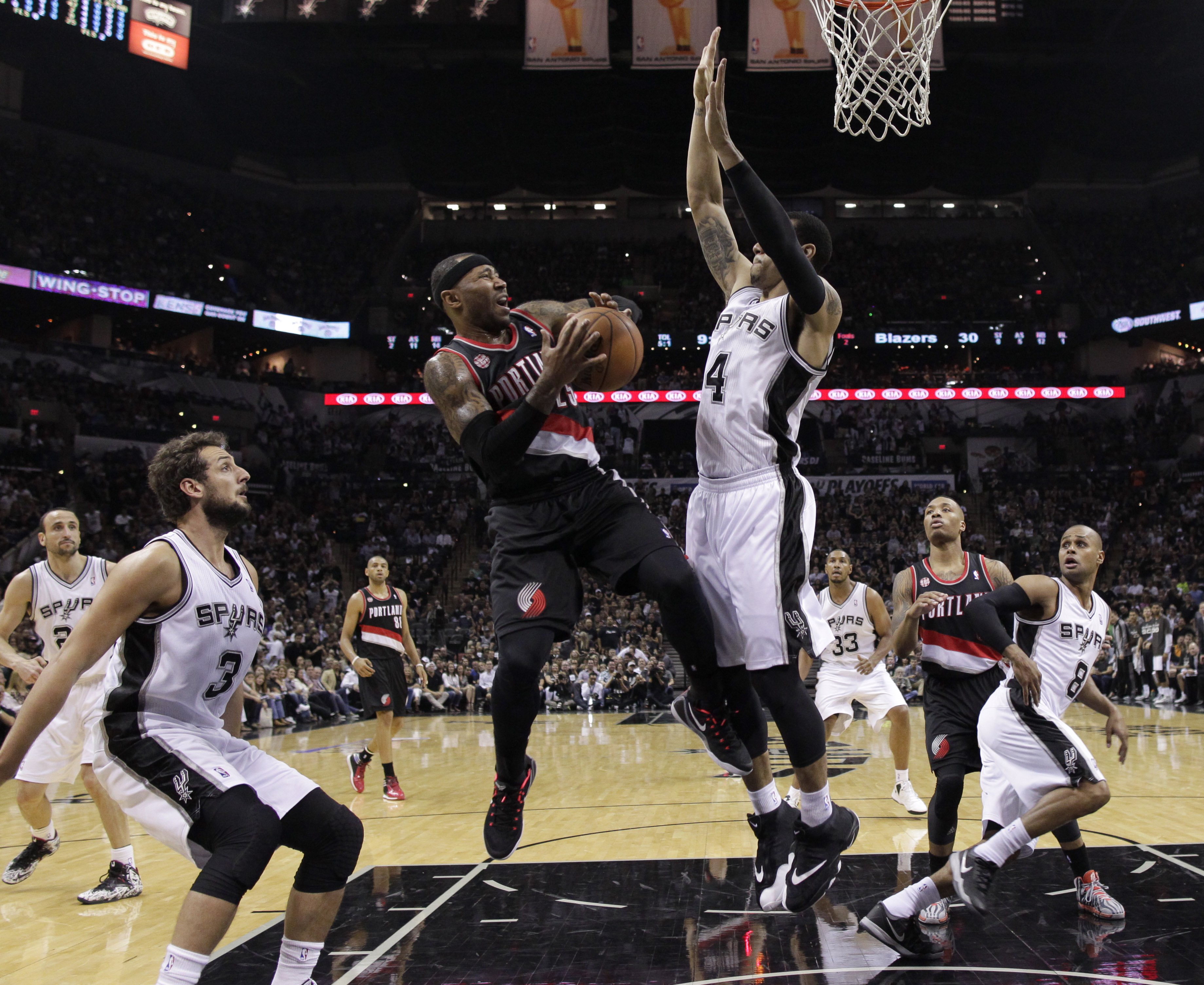 It was a much better than Tuesday night's dispirited beat down but at the end of the night the Trail Blazers still found themselves on the receiving end of a double-digit loss. They also may be without Mo Williams for some time after he left Game 2 with a groin injury and did not return.
Terry Stotts said that it was a team decision to hold Williams out in the postgame press conference.
The San Antonio Spurs left no stone unturned, no match-up unexploited and nearly no possession wasted in the first half. The Blazers actually played with the Spurs neck and neck in the first quarter.
Portland's starters didn't appear to be as nervous or as tentative on the offensive end as the got in a groove early. They had an early lead but then the Spurs stormed back and eventually took a 29-26 lead after the first quarter. Still, both on the scoreboard and from a tactical and execution level the Blazers were much better in Game 2.
However, the Spurs once again took advantage of their biggest advantage: depth.
The Spurs had a 50-19 bench scoring advantage and it was their bench that propelled them to a 41-point second quarter. The Blazers only scored 25 points and Stotts decided to change things up on the bench, most notably going with Will Barton instead of Dorell Wright.
Barton scored 9 points in Game 1 and scored 13 on a perfect 5/5 shooting and he was active on the defensive end.
Coming into Thursday's Game 2, it was a consensus that Portland's leaders on the wings in Nicolas Batum and Wesley Matthews needed to step up. And step up they did. Both shot efficiently from the field.
Batum scored 21 points, grabbed 9 rebounds and dished two assists while Matthews scored 14 points on 6/12 shooting, grabbed 7 rebounds and dished 4 assists.
LaMarcus Aldridge was cold, going 6/23 from the field and an uncharacteristic 4 turnovers on the night. He grabbed 10 rebounds but that was probably the best of his long, long night. Damian Lillard also left some shots out on the court, going 8/20 and 1/6 from three.
The Spurs have made it a habit every spring of making stars for opposing teams uncomfortable and they've succeeded to a certain degree with Portland's dynamic duo.
Robin Lopez also continues to have fits at the basket. He went a brutal 2/7 within the restricted area and struggled. Lopez hasn't been a source of points in high volume but when called upon he's usually been efficient this season for Portland's offense.
Also, once again the Blazers allowed a team that doesn't need any extra chances more shots. The Spurs scored 17 second chance points to 10 for Portland and San Antonio  had 11 offensive rebounds. But the Spurs getting offensive rebounds period is surprising because they're normally so averse to hitting the glass on offense.
Unlike the Rockets who were in the league's top-ten in offensive rebound rate, the Spurs were in the league's bottom ten.
Kawhi Leonard also made the Blazers pay whenever they left him open. He's continued to grow his offensive game since being drafted and was hitting some tough pull up jumpers in transition, stuff that just wasn't there earlier in his career. He was a deadly 8/9 from the field, scoring 20 points.
If Williams is out for an extended period, this series may not make it to next week. That is of course unless Portland's young bench guys like Barton, Thomas Robinson and co. can grow up fast.
But if they have a good game from their bench, it's irrelevant if they don't get star worthy performances Aldridge and Lillard.
The Blazers trailed by as much as 20 and the Blazers cut the lead down to 8 points but each time they got close the Spurs answered with a dagger of their own. The Blazers also only got one basket in the final 5 minutes.
The Spurs are a complete team and they are playing complete games. If the Blazers are going to escape a sweep and at least send the series back to San Antonio they'll need to bring a Spurs-like performance.
Coming home, they'll need a lift from the Blazer crowd but they're going to need everybody's best game, especially if they are shorthanded.