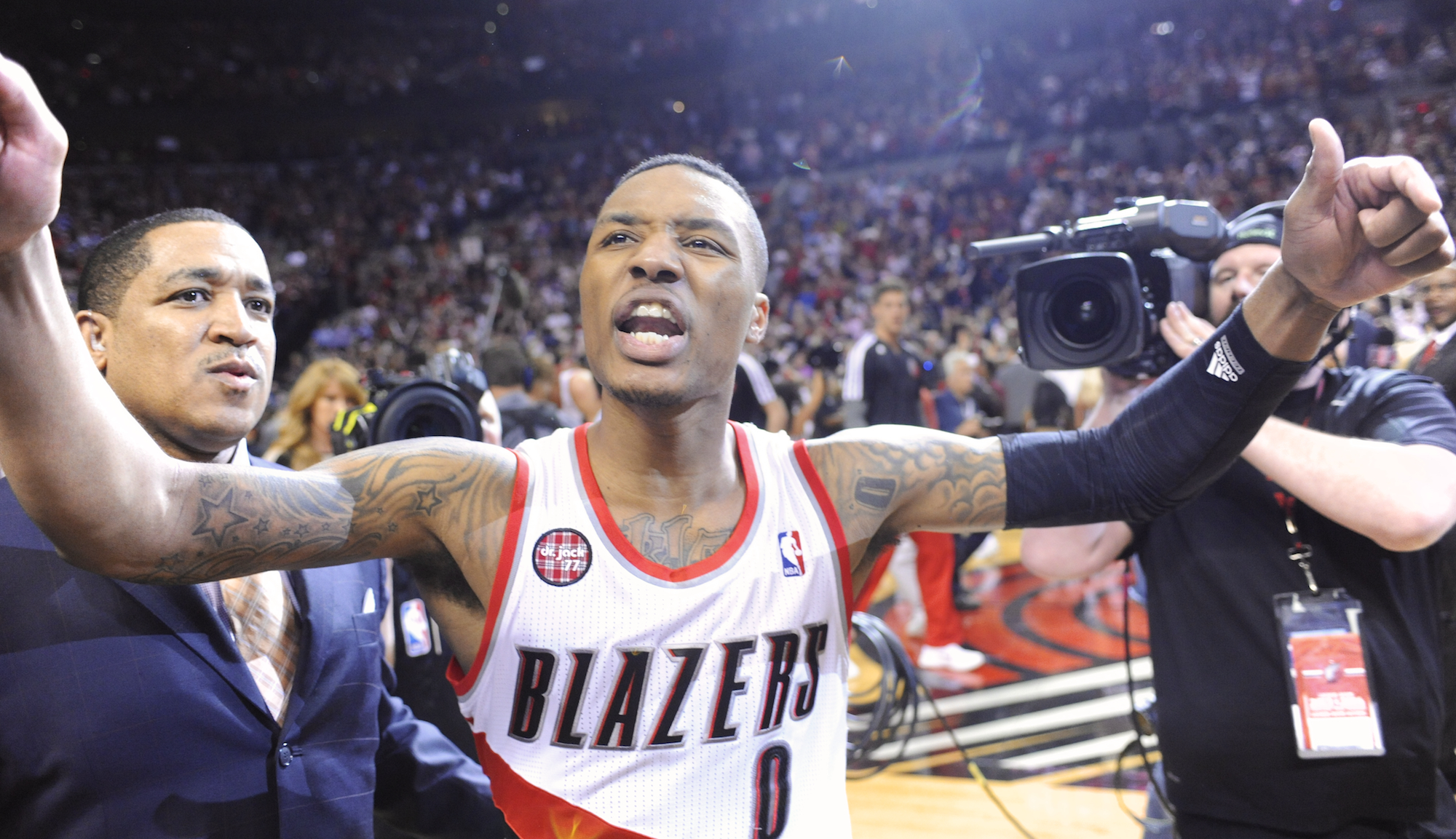 And we're back.
Game 1 of Round 2 against the San Antonio Spurs is only a few hours away (6:30 PDT on TNT) and we've got a collection of the internet's best links to get ready.
Today on ESPN.com, Portland-based writer Daniel Nowell writes that the Blazers are here to stay. He writes that Lillard's shot elevated the Blazers to the national level by doing what most thought was impossible.
More about that shot, because it deserves it: What will endure for me is not just that Lillard got off such a clean look, or that he buried it, but the way he clapped for the ball as he ran free around a double screen, already realizing what was coming. After the game, Nic Batum admitted that the first option for the play was Aldridge, but Lillard was clapping so confidently that Batum knew he had to get him the ball. For me, it's the clap that elevates the shot to a place where it elevates the whole team. 

Essentially, I am arguing that the NBA's ruling class — dysfunctional or competitive — is the class of teams that have proven an ability to exceed fans' imaginations, and in doing so hold their attentions. They elevate what could not happen to that which happens. Nobody, in their first NBA postseason, gets a wide open 28-footer with less than a second left to clinch a series on their home court. It's simply too neat. Until Damian Lillard does. 
Dave McMenamin took a look at the point guard match-up between Tony Parker and Damian Lillard for ESPN.com:
While all three of those local legends influenced Lillard's game, there was another court general coming off a Finals MVP performance for the San Antonio Spurs who also caught his attention. Even though Tony Parker, hailing from France, had a completely different background, Lillard wanted his game to look the same.

"Started watching him in 2007-2008," Lillard said Monday, a day before his Portland Trail Blazers open up the conference semifinals against the guy he used to study on YouTube. "Around that time is when I really started paying serious attention to what he was doing."

These days, everybody is paying attention to what Lillard is doing, too. The second-year guard is coming off a scintillating first-round performance against the Houston Rockets when he averaged 25.5 points, 6.7 assists, 6.3 rebounds and finished off Dwight Howard & Co. with a series-clinching buzzer beater in Game 6.
Grantland's Zach Lowe analyzed the Blazers-Spurs series along with all of the other 2nd series and thinks we'll see a heavy does of Kawhi Leonard on Damian Lillard.
Parker has regressed defensively, and he was especially bad against Dallas when he was dealing with ankle issues. If Lillard runs amok, the Spurs may have to shift Leonard onto him, something they did now and then in the regular season.8

That's the trouble with Portland: It doesn't offer a safe place to hide. Wesley Matthews can brutalize fools in the post — hi, James Harden! — and Batum is a crafty all-around offensive player. He is the most likely hider for Parker in the event San Antonio shifts this way, but that comes at a cost.
Lowe picked the Spurs in 7, following suit with the rest of the Mothership who had 16 of their 17 experts pick the Spurs. Although 8 of those who picked the Spurs think it will go the distance.
Ken Berger, Matt Moore and Zach Harper of CBSSports.com all picked the Spurs in their playoff picks with Moore and Berger saying it will go the distance.
Ben Golliver, writing for SI.com whom you may know from Blazersedge.com, picked the Spurs to win in 7.
San Antonio's ability to find a way to harness and ultimately defeat a potent, up-and-coming Warriors team last year looms large in this decision, as does the world-beating brilliance it flashed in Game 7 against Dallas. Home-court advantage helps, too. Popovich's Spurs are masters at steering opponents away from their preferred options, but all bets are off if Aldridge and Lillard continue to combine for the 55 points a game they averaged against the Rockets.

Read More: http://sportsillustrated.cnn.com/nba/news/20140505/nba-playoffs-preview-san-antonio-spurs-portland-trail-blazers/#ixzz30y4fQBWg
Casey Holdahl of TrailBlazers.com talked to LaMarcus Aldridge about the teacher vs. student dynamic of his match-up with San Antonio's Tim Duncan
"I've taken some of (Duncan's) moves and modeled part of my game after him," said Aldridge. "So whenever I'm around him I feel like I'm always learning something. It's just a big opportunity for me."

Aldridge has noted on many occasions that Duncan has always been his favorite player, even if he's made life hard on Aldridge from time to time.

"(Duncan) gave it to me in the post when I first got drafted," said Aldridge. "I had nightmares of how he scored over and over again and I couldn't stop him."
Mike Tokito of The Oregonian reports that Spurs coach Gregg Popovich was full of praise for the Blazers
Which is not to say Popovich, whose team finished with an NBA-best 62 wins, is taking the fifth-seeded Blazers lightly. The Spurs, after all, split the season series with the Blazers and have lost 14 of the last 21 meeting against them.

"They're a really well-balanced team," he said. "Terry (Stotts) does a good job of putting them in sets that fit them perfectly. They shoot threes, they're tough on the boards, not just (Robin) Lopez and (LaMarcus) Aldridge, but the whole group goes to the board hard, and transition is great. They execute. They're a heck of a team – huge challenge for us, I know that."
Dane Carbaugh did a swell breakdown of the factors that will determine the series over at Blazersedge.com and made a note that the Spurs have thrived in the midrange against Portland.
For the season, the Spurs took 27 percent of their shots from midrange, shooting 40.3 percent. In four regular season games against Portland this year, the Spurs took 31.3 percent of their shots from midrange, shooting at a 45.9 percent clip.

That's because San Antonio game-planned for rhythm jumpers against the Blazers. The Spurs came off their screens, took two dribbles and squared up to the basket. They weren't forced to take contested jumpers, they wanted to take them. The Blazers have to find a way to force San Antonio from being comfortable in that midrange, likely by pushing their bigs out of their soft coverage on the pick to bother the jump shooter.
Carbaugh has plenty of visual goodies and a good video as usual.
This video from CSNNW.com shows how Damian Lillard responded to the assertion of ESPN's Pardon The Interruption's Tony Kornheiser that he is not a superstar because he went to Weber State were "unnecessary."
Casey Holdahl transcribed the exchange between Kornheiser and co-host Mike Wilbon.
Myself and five other Blazers writers made our series predictions for the most recent edition of Running The Break over at TrailBlazers.com.
Also, speaking of Lillard, if you want to buy a RareInk art print of Damian Lillard's series-winning shot you can do that.
The NBA doesn't mess around.
Joe Swide and Corbin Smith with a very serious game preview at Portland Roundball Society, talking Spurs-Blazers and witchcraft among other things.
Chris Haynes of CSNNW.com reports that the Blazers will giveaway red "Rip City" shirts during home games in the 2nd round.
Lastly, I wrote about the connection between Wesley Matthews and Nicolas Batum for an article that ran in Tuesday's Columbian.
"We can communicate without talking. I actually followed him home yesterday," said Matthews on Sunday in Tualatin, Ore.
The two have a kind of goofy relationship and it was fun to write about.
Let's start this series already.