The Scouting Report: Houston Rockets, Game 6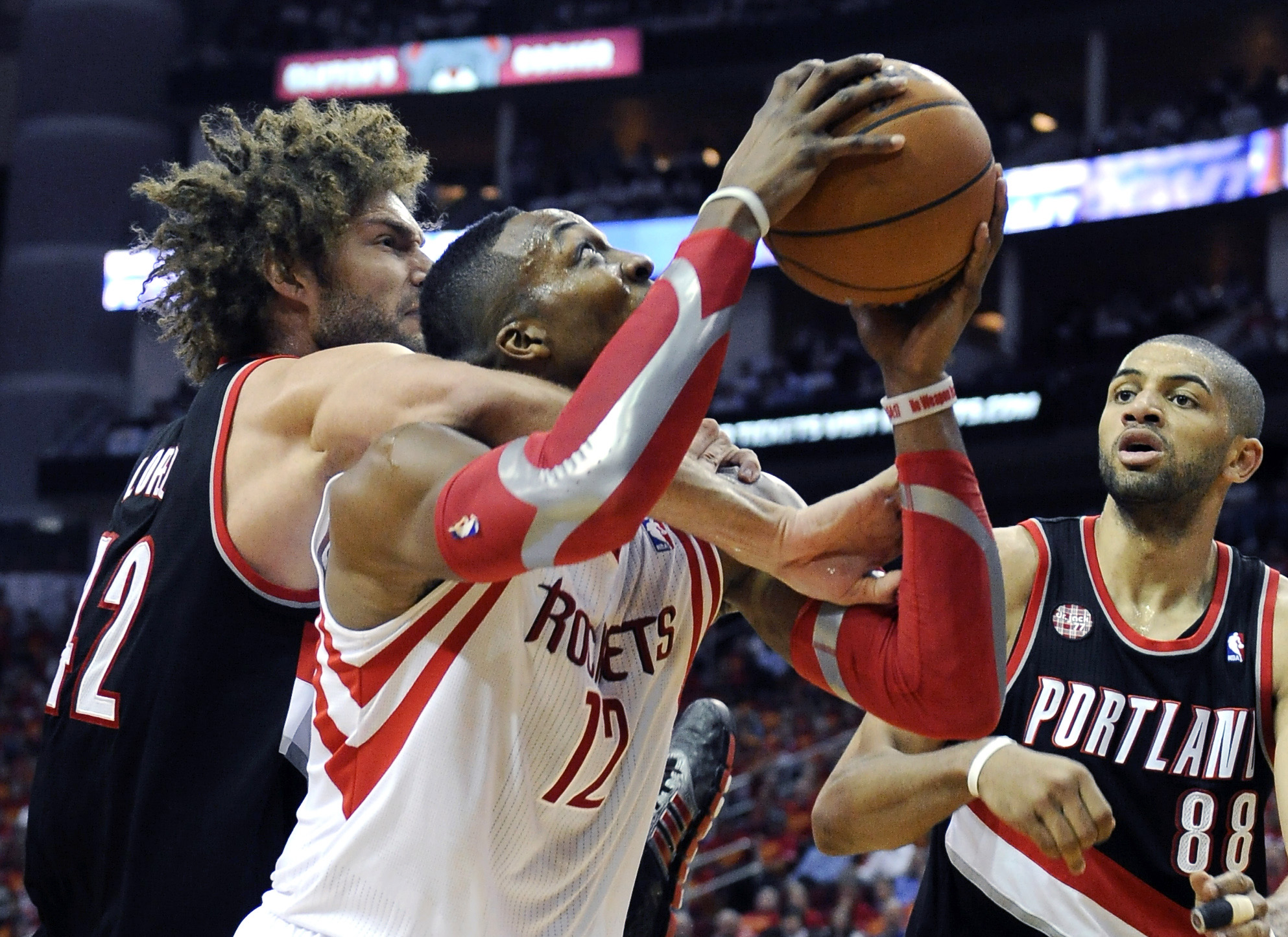 After the first four thrillers, Game 5 was a little bit of a letdown.
Blazers Coach Terry Stotts decided to pull his starters with under two minutes left determining that Friday would be another and perhaps better opportunity to close out the Houston Rockets.
The Blazers played their worst game of the series up to this point and lost by the highest margin of victory of this series on Wednesday night in Houston. The Rockets continued to live off of the offensive glass and earn extra opportunities.
While the big man tandem of Omer Asik and Dwight Howard will get a lot of the credit, other Rockets have attacked the glass too.
Asik and Howard are averaging a combined 22.6 rebounds per game against a combined 19.8 from LaMarcus Aldridge and Robin Lopez. They're getting outrebounded and could surely make up some ground, but it doesn't stop with them.
The Rockets starters are living off the offensive glass, but that still hasn't stopped the Blazers from outscoring them when they've been on the court.
Of the seven Rockets players who have played the most in the series, all of them are averaging at least four rebounds per game while Troy Daniels, who has played the 8th-most minutes, is averaging three rebounds per game.
The Blazers have four players in their top eight averaging 3.2 rebounds or fewer per game in the series (Wesley Matthews averaging only 2.6 per game was a bit of a surprise). Obviously it's a small sample but the second shot is a huge reason why the Rockets have even made it to a Game 6 in this series.
Efforts like this when there is bench unit in by Patrick Beverley who outran Dorell Wright for a rebound haven't hurt the Rockets effort on the glass either.
Look at where Beverley starts: he's standing in the paint.
Beverley chases the ball down and it ends up as a Blazers foul and two Troy Daniels free-throws. The Rockets are already successful on the offensive glass when their starters are in there but Portland can ill-afford this lack of attention to detail in a game that's been decided by such slim margins.
One Blazer is boxing out and Wright essentially watching Beverley run past him won't cut it to close out a team, let alone one with two max-contract players in Harden and Howard.
The Blazers brought a zone look down the stretch of Wednesday's game for a couple of possessions and it worked two out of of the three times and the third possesion James Harden hit a three-pointer.
The Blazers also had their share of quick shots in an attempt to push the pace. Stotts is always a fan of his teams pushing the ball but he would almost always rather they get into the offense to get a good shot early in the shot clock.
One drive by Matthews with the 4:16 mark where he tried (and failed) to draw contact on Harden in transition was one that stood out to me both during the game and after reviewing the film.
Also, neither the Blazers nor the Rockets have had a big tie three-point explosion just yet.
Stotts cited that the Blazers perhaps haven't had quite as many attempts as they've gotten in the regular season while the Blazers have yielded the fewest three-point attempts in the NBA all season.
The Blazers had two games where they made 21 threes but more importantly they made 12 threes in 20 regular season games . The Rockets had 21 games of making at least 12 threes in a game this season and the Rockets had over 100 more three point attempts than the Blazers.
In the 20 games in which the Blazers made at least 12 threes, they were 17-3 while the Rockets were 16-5. Neither team has made more than 11 in a game so far this series.
"We have them in spots," said Stotts, on whether the Blazers have shot their best from deep. "We haven't gotten rolling like shooting 50 percent from three. I would love to have a game like that."
While we can't predict a three-point shootout, there's a chance that if these teams get into one of their characteristic hot-streaks from three we've yet to see that this series could get even more exciting.