The Scouting Report: Houston Rockets, Game 5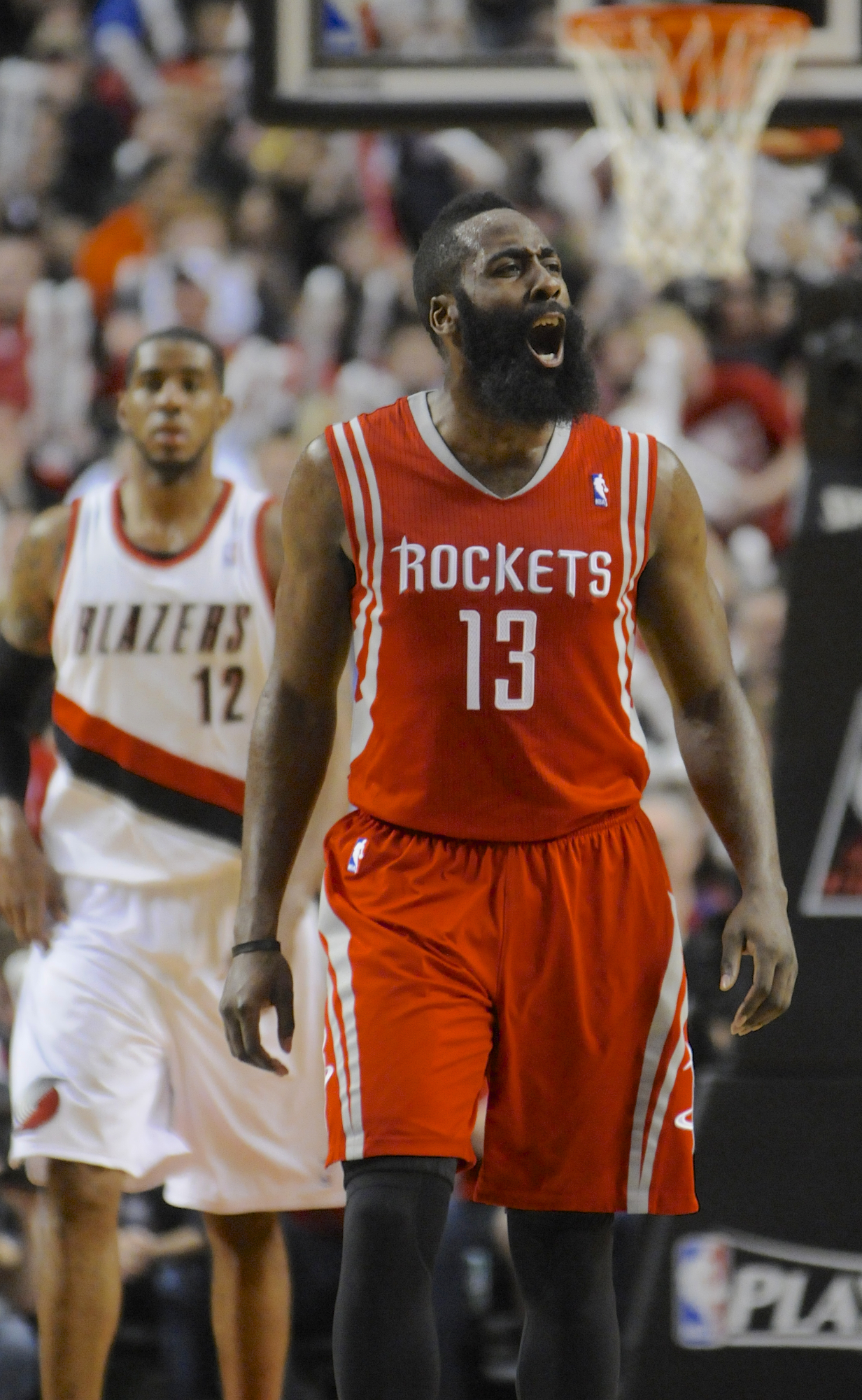 An old basketball cliche is that a playoff series doesn't start until someone wins on the other team's home court.
Certainly the Portland Trail Blazers hope it can end in the same fashion, too.
The Houston Rockets on the other are just hoping to keep their season alive in front of fans that expected a title run.
Adjustments were made by Houston's Kevin McHale to slow down LaMarcus Aldridge who had torched the Rockets for a total of 89 points in two Blazer wins in Houston.
The adjustments worked to limit Aldridge's effectiveness in Game 3 as he took fewer shots and the offense for Portland was created by Nicolas Batum and Damian Lillard.
The other adjustment that McHale made was to bring in rookie guard Troy Daniels who only played in six NBA games prior to the playoffs.
Daniels has looked like a seasoned vet on the court and he also has the audacity to shoot whenever.
I mean look at how close Nicolas Batum is on this release on a shot that was initially created by an offensive rebound by Daniels.
I mean the guy has a pure stroke and the more you watch him you can't understand how he got cut by the Bobcats with a shot like that.
Despite these adjustments the Blazers have found a way to take a commanding 3-1 lead heading to Houston with a chance to close out the series on Houston's home floor.
But while there has been much more talk surrounding how the Rockets have been unable to slow down Portland and Aldridge, the way the Blazers have slowed down James Harden has been one of the better defensive performances in the playoffs.
Harden is one of the league's most creative scorers, second to only Kevin Durant in free-throws, and a great three-point shooter.
The Blazers have almost completely neutralized one of the league's most dynamic offensive forces.
While the talk of Aldridge's midrange excellence has been a dominant storyline, James Harden being forced into an attack that undermines his own team's commitment to high-value shots has been equally as important.
Wesley Matthews has gotten a lot of the credit and deservedly so, but nearly every player that's been on the perimeter has had to guard Harden.
The Rockets have gotten creative, using pick and rolls with he and a guard (usually Jeremy Lin) to create mismatches.
The Blazers, contrary to what they do on most pick and rolls, the Blazers are switching right away.
Harden has still been good in isolation, but the Blazers have been very pleased with the individual defense on Harden in those situations by everyone from Matthews to Damian Lillard.
Where Harden makes his money, however, is in the pick and roll. He's one of the league's best players in the pick and roll, both as a scorer and creator, year in and year out. But Portland has completely forced him into something unnatural.
Terry Stotts' overhaul of the pick and roll defense took its share of questions. Some believed the Blazers conservative approach was too conservative as evidenced by the third lowest opponents turnover rate in NBA history according to Basketball-Reference.com's records.
(If you don't know what the changes were, it's broken down here by Dane Carbaugh at Blazersedge)
Some demanded they show harder and take more chances and when LaMarcus Aldridge was out they double-teamed. The Blazers stuck with their scheme that was put in place by Stotts and now they are reaping the benefits against one of the league's elite pick and roll players.
Here's a great example from Game 1 of how Portland's ICE pick and roll defense is supposed to work by Nicolas Batum and Joel Freeland on the final play against a James Harden-Terrence Jones pick and roll.
Freeland holds him off until Batum can recover in front and so a roll to the rim by Jones doesn't go without friction.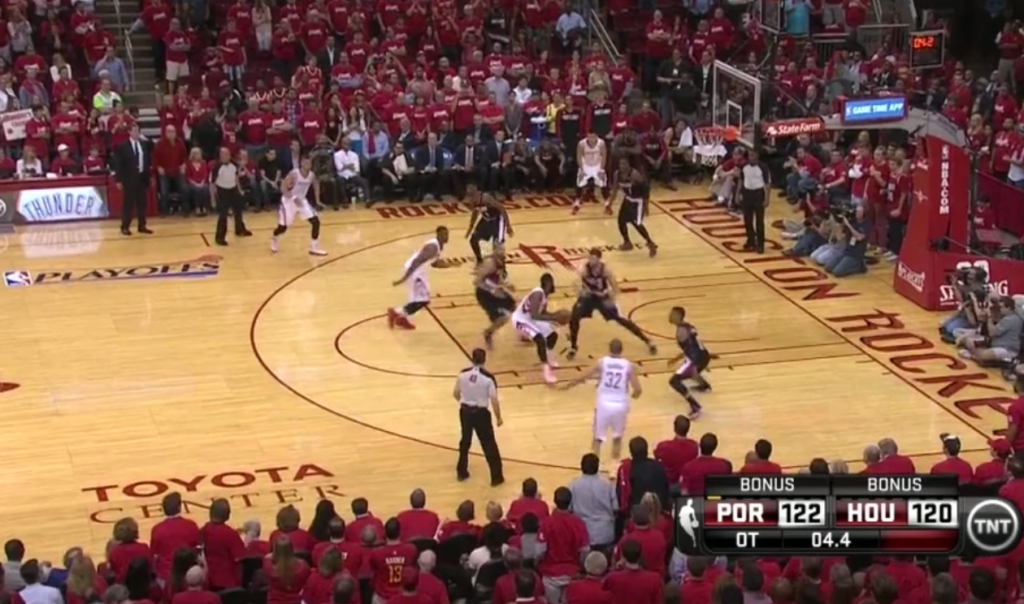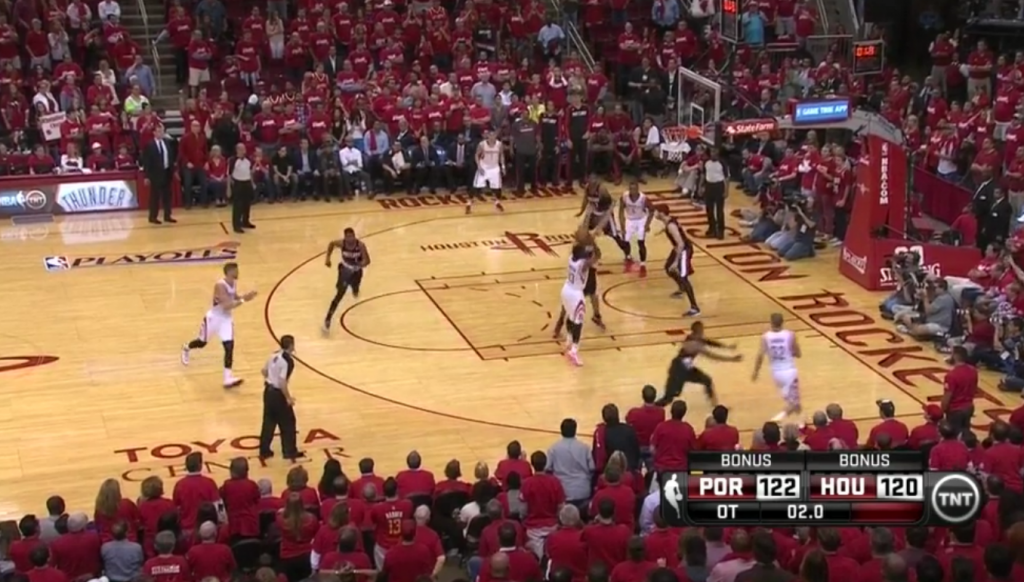 The result was a 12-foot fadeaway and a Portland victory.
According to Synergy Sports, Harden is 22nd out of 23 players averaging 0.5 points per possessions.
Then, when you look at where his shots are coming from, things start to add up.
In 73 games, Harden took 224 midrange jumpers according to NBA.com which comes out to about 3.06 midrange shots per game for Harden.
The Rockets as a team shoot an incredibly small amount of midrange jumpers and it's been mentioned many times throughout the series that Aldridge took more midrange shots than the entire Rockets team.
Harden has taken more than double his regular season average, averaging 7.2 midrange attempts per game according to NBA.com.
As you can see Harden's diet has been heavy with midrange shots and his efficiency from the three-point line and at the rim has taken a nose dive. His effective field goal percentage, which includes the value of three-pointers, has dropped from 52.3% to 40.3%.
While some have viewed Portland's success with the midrange as some revolt against analytics (like TNT's Chris Webber and some other's also note the Moneyball nature of Portland's midrange attack), the Blazers are using analytics to their favor on defense.
The difference, it appears, is that Harden has had to adopt the midrange while the Blazers were born in it.
The Blazers will need another effort like their first four games that they've taken Harden out of his natural game to come home and rest.
Harden and the Rockets will need him to find a way to keep their season alive.