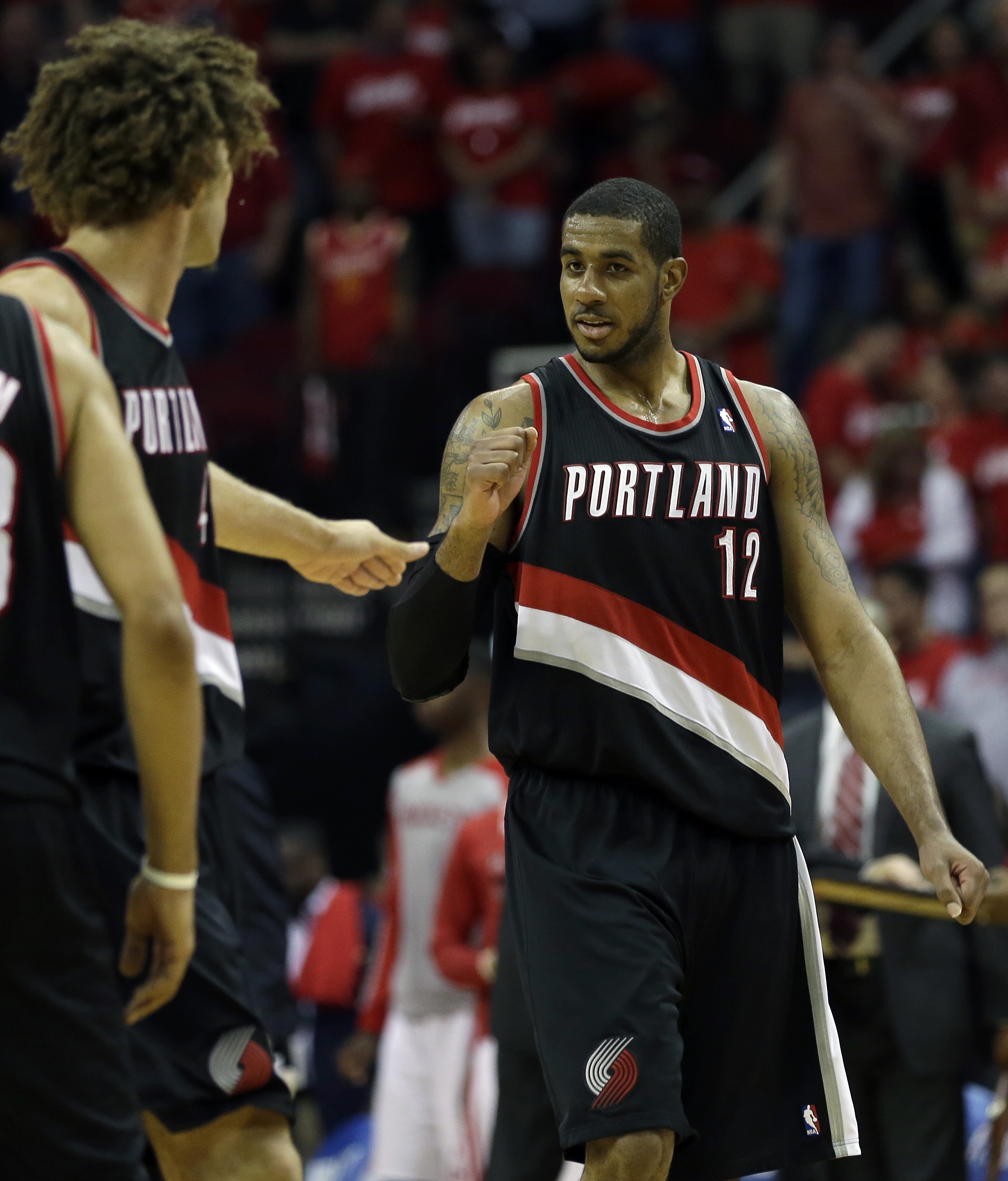 In Game's 1 and 2, Portland's LaMarcus Aldridge has turned the Houston Rockets big men into the NBA's largest and most appetizing deli tray.
The only adjustment that McHale was willing to make was to play Omer Asik more and give Portland more of the twin towers look, not the bracketed double-teams that Aldridge talked about after Game 1.
Of 11 post-ups recorded by Synergy Sports, Aldridge had 9 against Asik. The results of those post-ups were Aldridge going 3-6 from the field and 3 fouls on Asik that resulted in 6 free-throws, of which Aldridge made 5. After doing a little math, that came out to 1.222 points per possession. If you multiply for that by 100, that's an offensive rating of 122.2, remarkably efficient.
The Asik-Howard duo took the court for 11 minutes last night and their offensive rating was a putrid 83.8 per 100 possessions per NBA.com. Combining the 15 minutes over two games, it's even worse offensively. They're slowing Portland's offense down but Houston is still getting outscored when the two bigs take the court.
Alas, after that bit of analysis, we've got a selection of reports from the front lines:
Jason Quick of The Oregonian writes that the trust Aldridge feels from this current Blazers team is unlike any other in his 8-year career:
Now, on this team, he said he feels embraced. There is no jealousy. No agendas. Just a team pulling for one another.

"This team believes in me to every extent,'' Aldridge said. "From the first guy to the last guy, they support me 100 percent. When I'm going good, there's not one guy who won't give me the ball.''

Has he not felt that before during his eight years in Portland?

"No. I haven't. I haven't felt it like this before. Never,'' Aldridge said. "This is the first time I felt where 1 through 15 on the roster is happy for me. And this is the first time where 1 through 15 knows when I'm going, they want to ride that wave. ''
John Canzano of The Oregonian writes that this series is in the hands of Aldridge, who is having a coming out party for all of America to see:
America, meet LaMarcus Aldridge.

Aldridge, this is America.

The rest of us know how dominant the Blazers' forward can be, and how laser-focused it feels when he's locked into a groove like the one he's enjoyed in back-to-back games. He's been this good for while. But he's never done it with the country settled in on their couches, watching him drop 17-foot sledgehammers on Dwight Howard's head.
Casey Holdahl of TrailBlazers.com writes that Terry Stotts was proud of the way the Blazers bench performed:
Wright, along with fellow veteran Mo Williams, would play an important role in the final quarter as well. Houston pulled to within two points with 9:23 to play in regulation, but back-to-back three-pointers courtesy of Wright and Williams, followed by a block by Wright on Chandler Parsons, pushed Portland's lead back to eight with 8:30 to play.

"I thought Dorell Wright coming off the bench really made a difference," said Stotts. "They made a run and we had a lead and they tied it up. He came in and I thought he made a lot of big plays. He was making some shots and he had a block and got some rebounds. Mo Williams, during that stretch as well. We need our bench to play well and it doesn't always mean scoring."

Wright and Williams would combine to go 8 of 12 from the field for 25 points.

"With us both not playing well in Game 1, we just looked at each other and said 'Tonight's the night. We've got to come alive and we've got to be aggressive and make shots,'" said Williams. "We both did a good job of that."
Mike Tokito of The Oregonian writes that things got a little chippy with Houston's James Harden and a reporter, whom Harden called a "weirdo."
"It's basketball – making shots," Harden said before moving onto the next question.

But when his media session in the Rockets opulent locker room ended, Harden went back at the reporter, asking if he had ever seen a player not play well before. The reporter answered that the struggle seemed unusual for Harden and was coming on a major stage, the playoffs.

The two went back and forth for a while, with Harden asking the reporter if he'd ever seen a basketball game before, then demanding to know whom the reporter was. The exchange got testy enough that team officials stepped in to usher Harden out.

As he left the room, Harden called the reporter "weirdo."
Chris Haynes of CSNNW.com writes that the Blazers were inspired by the the young Washington Wizards taking a 2-0 lead on the road against the Chicago Bulls:
On Tuesday, Lillard sat in his hotel room alone, watching some playoff action. He sent out a few text messages to teammates, urging them to observe what Washington is doing to Chicago, a team that started the series on the road and took the first two games in which erased the Bulls' homecourt advantage.

He wanted them to know that they could do the same exact thing.

"I text some guys and everybody was already watching," he said. "Everybody saw the same thing. It was kind of unspoken. Everybody understood what could happen and what can happen if we approached this game with the right mindset."
Haynes also reported earlier this week that the Blazers intend to hand out Red LED Thunder Sticks (noise makers) to fans for Game 3:
But the organization is distributing an item for all in attendance on Friday, we're told. Red LED Thunder Sticks will be handed out, which will make the Moda Center an even louder, tougher environment to play at than usual. In addition, tons of Fan Fest activities will be positioned on the Rose Quarter campus for your pregame enjoyment.
Kerry Eggers of the Portland Tribune writes that Aldridge's five-year old son Jaylen had a few things to say to his dad:
Jaylen had a couple of pretty big items to celebrate: His fifth birthday and the Trail Blazers' resounding 112-105 victory over Houston for a 2-0 lead in their best-of-seven NBA first-round playoff series.

"He texted me and said I looked like Spiderman when I dunked the one ball (in the fourth quarter)," Aldridge said.

No higher praise from a 5-year-old than that.

But Aldridge's plaudits basket was brim full after his 43-point search-and-destroy mission against a Houston team that, for the second straight game, had no answers for Portland's All-Star power forward.
Kirk Goldsberry of Grantland.com writes that Aldridge's performance could make the basketball world reconsider how they think about the midrange jumper and who is the NBA's best power forward:
So far in this series, Aldridge is 35-for-59 from the floor, amassing 89 points. Defending him presents a conundrum. If you try to take away his jumper, he'll beat you in the interior; if you try to take away his interior game, he'll destroy you in the midrange. If the Blazers go on to win the series, and Aldridge keeps this up, we may have to reconsider the whole "who is the best power forward in the game?" debate. Sorry, Blake. We also might want to take a look at the value of the midrange jumper. Sorry, Daryl.
Be sure to see that original link for Goldsberry's cool shot visualizations.
If you want to relive Aldridge's performance from last night, there's video over at Blazersedge.