The Scouting Report: Houston Rockets, Game 3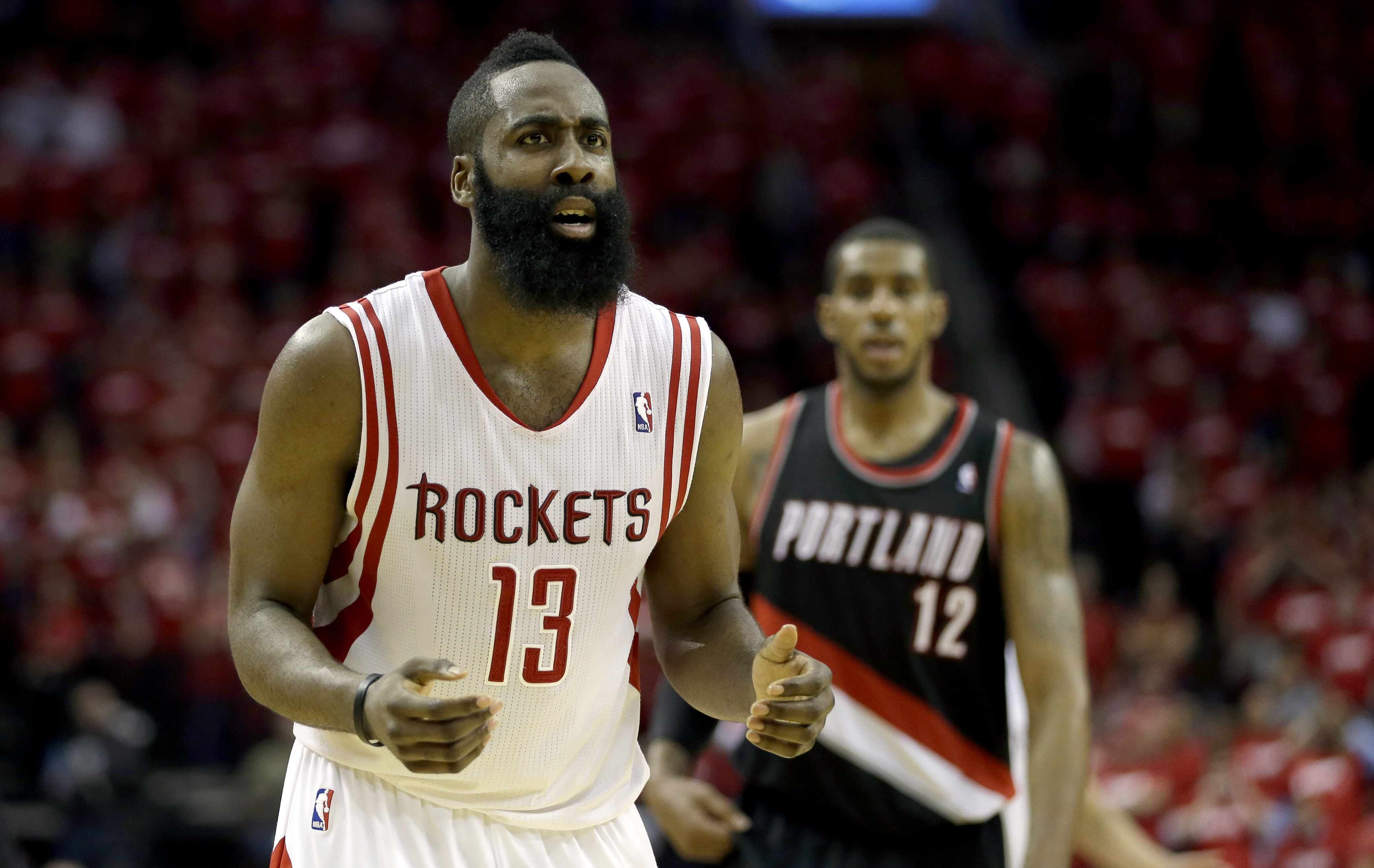 The look of bewilderment on James Harden's face basically epitomizes what the man in the background has done in the first two games of this series to the Houston Rockets.
The Rockets are down 2-0 after losing the first two games at home. The odds are no longer in their favor and they've done nothing to take the ball out of LaMarcus Aldridge's hands.
We illustrated what ways the Rockets tried to deal with Aldridge throughout the season this earlier this week but the Rockets did nothing of the sort on Wednesday. No bracket with Terrence Jones fronting him or Dwight Howard double-teaming from behind like Aldridge predicted.
The adjustment Houston and Kevin McHale elected instead was to go big with the "Twin Towers" line-up of Dwight Howard and Omer Asik. While the duo succeeded to slow down Portland's offense, Houston's offense suffered greatly. Still, that line-up has only been outscored by two points in 15 minutes of play.
However, Asik and Howard each picking up fouls helped push Houston away from the line-up.
James Harden hasn't been able to get going in part because Houston hasn't been able to play with the pace that they are accustomed to because of Portland's offense.
It will be interesting to see how the Rockets will try to adjust. Will McHale start the Twin Towers or commit to it even more to ugly the game up and try and slowdown the Blazers? Or does he give up on the strategy and go super small?
The Blazers feel like they have an answer to Houston's small line-ups with Dorell Wright and how he's played in that roll in the second half of the season, not to mention Game 2, could be very important should the Rockets decide to go small.
At the same time, Harden is running out of excuses. He also may not have had the ball in his hands enough. Howard had a team-high 22 field-goal attempts while Harden was 6-for-19 from the field. Portland's transition defense has held the Rockets below their average in fast-break points per game.
Also, after having a decent Game 1, Houston's Jeremy Lin didn't show up in Game 2. Lin went 1-for-5 in 24 minutes although he had a team-high 5 assists as the ball stuck a lot of for the Rockets. Portland's bench stepped up after a rough performance in Game 1, as Dorell Wright and Mo Williams combined for 26 points off the bench.
Portland's defense in the pick and roll has been effective, particularly on James Harden. They must continue to pay attention to the details.
But the changes are going to have to come from the Rockets in Game 3, surely. One wonders what it's going to be because so far nothing that Kevin McHale is trying is working. Whatever the gameplan was, Aldridge and the Blazers have forced the Rockets to break the glass on contingency plans.
Whatever that contingency plan is, they're going to need a better James Harden to go with it. There's no way to know for sure whether being targeted defensively and having to be fully attentive for 48 minutes on his man Matthews has made him fatigued or effected his offense.
Houston's season is on the line in Game 3 but a win will get them one game closer to re-taking the home court advantage. And perhaps just as importantly, the confidence that they can do it again.
For the Rockets to save a run that began with championship aspirations, they'll have to do it in a Moda Center that's smelling blood and ready to pounce.