Road Takes: Aldridge Drops Over 40 Again As Blazers Take 2-0 Series Lead Back Home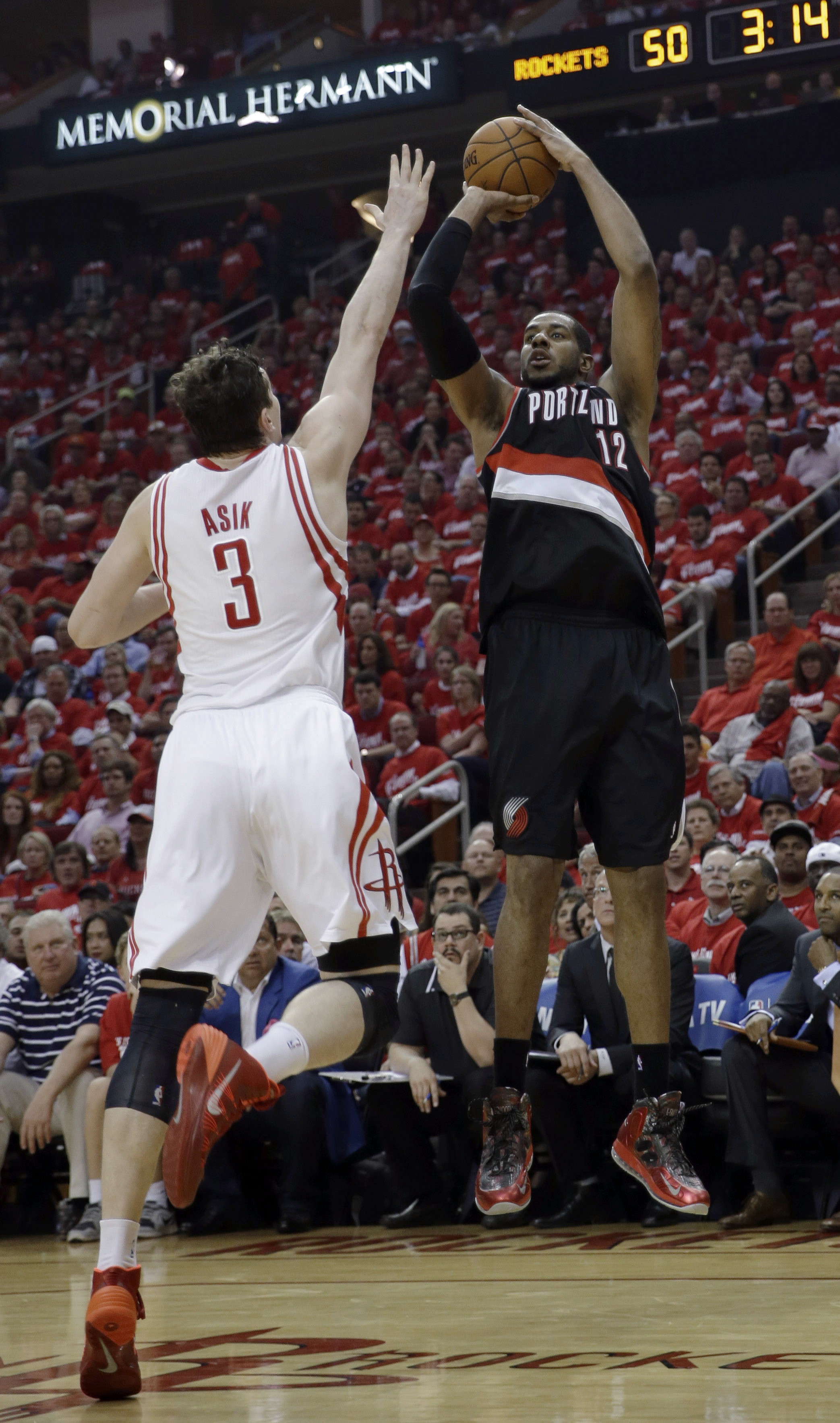 "He was luminescent, he was magnificent. He was inspired, I don't even know what else to say,"  said Robin Lopez on Jan 23 after LaMarcus Aldridge scored 44 points and grabbed 13 rebounds on TNT.
I wonder what kind of things Lopez will say after Aldridge averaged 44.5 points, 13 rebounds and 2.5 blocks per game as Portland took a 2-0 series lead heading back to Portland for Game's 3 and 4.
As far as Aldridge's company in that production, his performances have been nothing short of legendary in the first two games.
The beauty in Aldridge's game in the first two has been the diversity with which he's done it. On Sunday, he attacked the rim, got to the line and hit a couple of improbable step-back three-pointers from the corner.
On Wednesday–one game after going 3-for-12 from midrange–Aldridge lit it up. He went 13-for-19 from the midrange according to NBA.com. LaMarcus was LaMoney from the field with his shotchart showing a whole lot of green.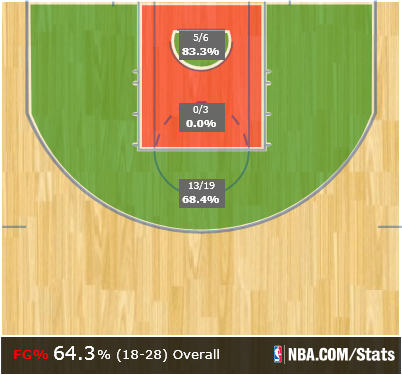 He finished with 43 points, 8 rebounds and 3 blocks in another all-out domination of Houston's frontline. Howard, Asik, Jones, whoever it was, they had no chance in single coverage as Aldridge bounced back from the midrange in a big way.
He also had big offensive boards again and the Rockets showed very few double teams in Aldridge's direction. Another cold cut feast was had by the L-Train.
Dwight Howard was eating up Robin Lopez in the first half but Portland refused to double and let Lopez take his lumps. Howard had 25 points on 11-of-17 shooting but he also had four turnovers and by the end of the night, the early success proved to be Fool's Gold.
Howard went 2-for-5 in the second half and he also had some foul trouble that hurt him in the second half.
However, the man that will take the biggest beating in the press is likely to be Houston's James Harden after going 14-for-47 from the field in his first two games of the series. Wesley Matthews and Nicolas Batum have each taken turns pestering him on the defensive end and it seems like every time he is on one of Portland's ball-handlers, they have the green light.
Portland's bench also bounced back after a rough Game 1. In particular, it was the veterans on Portland's bench that picked up the major slack. Mo Williams had 13 points on 4-of-8 shooting after scoring only 3 points in Game 1 but Dorell Wright had a stat-line every fantasy owner would love.
Wright finished with 15 points, 4 rebounds, 2 assists, 2 steals and 3 blocks off the bench and he went 3-of-4 from three.
Portland's unit without Aldridge helped extend Portland's lead to 8 points at the beginning of the fourth quarter while Aldridge sat until the 6:32 mark of the final period.
Aldridge's needed that rest because how much he was doing for the Blazers. Lillard was struggling and Houston continued to leave whomever was on Aldridge alone on an island for much of the game. He scored 39 of his 43 points in the first three quarters but he started to tire out.
Damian Lillard–who had struggled all game from the field–found a way to win the game.
Lillard finished with 18 points, 11 assists and 8 rebounds. 9 of those points came in the fourth quarter, all from the free-throw line as well as 3 assists and 3 rebounds. An offensive rebound earned him two foul shots with 43 seconds left, which he made. Lillard also made a heads up pass to Wesley Matthews, who leaked out after a Houston free-throw, getting a big bucket to put Portland up by 6 with 33 seconds left.
James Harden ended up fouling out and Howard only scored 7 points in the second half after being a first half hero. If all of the pressure was on Houston, imagine it now as they must head to what will surely be a wild Moda Center for Portland's first playoff game in three spring's. Throw in the 2-0 lead and it's going to be a Powder Keg of Blazermania.
Portland's starting line-up had an astronomical offensive efficiency of 154.6 points per 100 possessions. Over the 48 minutes, Portland held Houston to an offensive rating of 100.8, well below the league average in points and far lower than their average offensive production.
The line-up Portland used most heavily without Aldridge on the court stifiled the Rockets defensively and still managed to shoot well with Wright, Williams, Matthews, Lopez and Lillard.
Houston still has nothing new for Aldridge and James Harden has nothing special against the Blazers so far.
Portland comes back with the momentum, the crowd and the 2-0 lead. The underdogs coming into the series have a chance to take a