Trail Mix: Comebacks, Locker Room Speeches And How Many TV's Does LaMarcus Aldridge Have?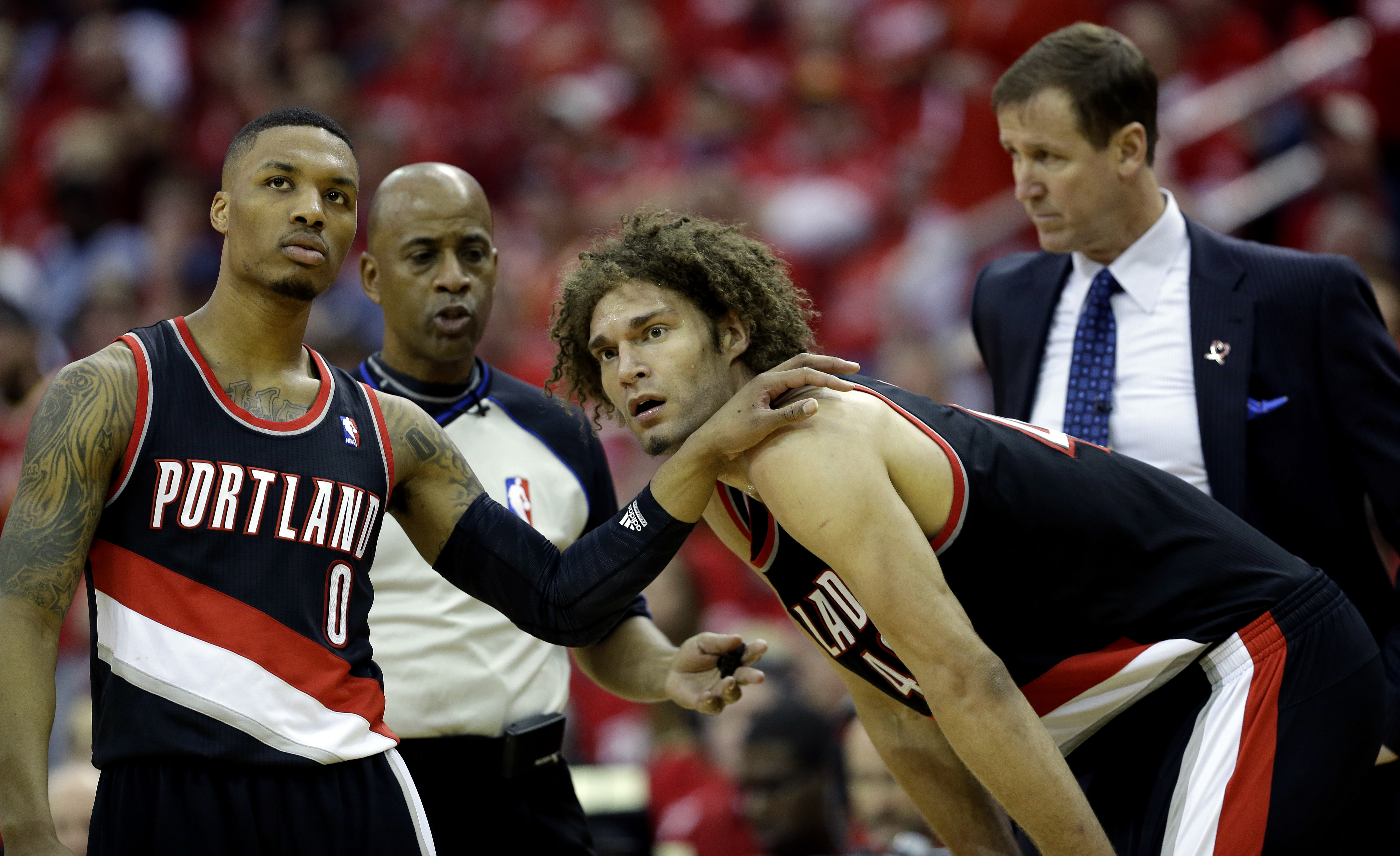 Game 2 of Blazers-Rockets is less than 24 hours away. The Trail Mix will attempt to stave off the hunger with the best Blazers links the internet as to offer.
Dane Carbaugh took a look at whether Patrick Beverley could actually hang with Damian Lillard over at BlazersEdge. With Beverley's health in question, Carbaugh writes it could spell trouble for Houston:
Beverley has said publicly that he plans to play on Wednesday despite suffering a right knee sprain in Game 1. If he is hampered at all, or unable to play, Rockets coach Kevin McHale may be forced to put another Houston wing on Damian Lillard. That will be trouble.

Jeremy Lin, James Harden and Chandler Parsons all guarded Lillard in Game 1, and all met the same fate: domination. Portland sought out Harden, and ran several wing screens to switch the bearded All-Star onto Lillard. Jeremy Lin couldn't stay in front of him to save his life and Parsons, despite his length, just didn't have the foot speed to keep up.
Carbaugh did great video work and showed great visuals and he even looked at plays where Portland can exploit Beverley. Read that post right here.
If you want to recount the greatness of Aldridge and Lillard in Game 1, Jordan White of Hardwood Paroxsym broke down the film of Portland's late comeback against the Rockets in great detail. Great breakdown with videos and pictures on what Portland did offensively to comeback.
Jason Quick of The Oregonian writes that Wesley Matthews laid into the Blazers with a profanity-laden rant at the behest of LaMarcus Aldridge back in the team's darkest hour in Orlando back in March:
Matthews said he was reluctant at first. He had already been vocal with the team earlier in the season. He felt like everything had already been said. But then Aldridge said something that clicked with him.

"He mentioned that we only had 10 games left,'' Matthews said of Aldridge. "And I don't know why, but that just kind of made me go.''

He stood before the team and laid it out.
Read the rest of Quick's piece for the full extent of what Matthews said and comments from other players regarding that moment right here.
Another note from the locker room, Casey Holdahl of TrailBlazers.com reports that Mo Williams let Nicolas Batum know that Chandler Parsons had the better of him in the first half of Game 1:
So Williams did what he was partially brought to Portland in the offseason to do: provide veteran leadership with the credibility that comes with having been an integral piece on numerous playoff teams through his career.

"Everybody has a role on our team," said Williams. "I just kind of saw it in (Batum) the first half, wasn't aggressive, thought Chandler Parsons was eating him for lunch. I just had to let him know at halftime because I know he's better than that."

And in the second half, Batum proved Williams right. He would finish the game with 14 points on 6 of 10 shooting, nine rebounds, three assists, two steals and a block in 45 minutes while holding Parsons to 3 of 8 shooting from the field and 0 of 4 shooting from three in the second half. According to NBA.com/stats, Parsons would finish the game shooting 40 percent when being defended by Batum in the half court.
I would have loved to be a fly on the wall for that. For more on that moment and how it helped Batum, read that right here.
Thanks very much to Holdahl for transcribing LaMarcus Aldridge's appearance on the Dan Patrick Show on Tuesday morning. They talked basketball but then they went right into discussing how many TV's Aldridge–noted lover of television–has in his house.
Dan Patrick: How many TVs do you have?

LaMarcus Aldridge: I'm a TV guy. That's tough. Let me just try to count really quickly here.

Dan Patrick: Over or under 12 TVs in the Aldridge mansion?

LaMarcus Aldridge: One, two, three, four, five, six … maybe under. Maybe right under 12.

Dan Patrick: Cause I like to watch myself on TV a lot on a lot of different channels.

LaMarcus Aldridge: I've heard that about you. I've heard that about you.
The interview is hilarious. Aldridge has been great with these interviews the past two seasons and this one is a must listen. The audio can be found here.
Joe Freeman of The Oregonian writes that the Blazers may need more from X-factor guard Mo Williams in Game 2:
The Blazers dodged a bullet in Game 1, but they aren't likely to survive many more in this first-round Western Conference playoff series without a more productive Williams. Not that the veteran guard seemed at all worried about that fact on Tuesday.

"I'm going to give what it takes to win," he said, when asked if the Blazers needed more from him in the series. "The playoffs are not about statistics. Everything you do is not going to show up on paper. At the end of the day, you want to do all of the little things to help a win. If you have a breakout game, that's big for the team. But … you want to make sure you're doing all the little things you need to do to get the team over the hump and win."
Chris Haynes of CSNNW.com also spoke with Williams:
"Offensively, I didn't play well but we won the game," Williams said. "Obviously if I do have a good game offensively, it gives us a lift. It takes pressure off of L.A. and Dame. They don't have to have those big games like they did. But on games when they do play big like that, on the offensive side, I don't hurt us as much. They're going to make adjustments on L.A. and I know I'm going to have to be productive on the offensive end for us on Wednesday night."

His aggressive mindset isn't going to change. When he's open he's going to let that bad boy fly.

"I'm going to shoot with confidence and most likely I'm going to make it," he said. "That's my mentality. If I got it going I'll be more aggressive and if not, I'll do other things to help my team get a win."
Thomas Robinson has a pretty great quote at the top of this one right here.
Grantland.com's Zach Lowe did a recap of the "Winners And Losers" of the first three days of the playoffs and the Blazers were featured heavily as "winners".
On LaMarcus Aldridge, Lowe writes and there is video of Aldridge's moves with the text below right here:
Aldridge played the game of the postseason so far, and the game of his life, in Portland's incredible Game 1 win in Houston. He is clearly healthy, and his game reflected that renewed vigor. He pushed for deep post-ups and jump hooks instead of settling for long jumpers, and when he saw Houston (kind of) giving him pick-and-pop jumpers, he mixed things up with drives to the rim and hard rolls.
He credited Damian Lillard's play in the clutch and said that Stotts' execution of the "Hack-A-Howard" was as good as there's ever been:
Lillard has struggled on defense, which was predictable, but holy hell, this guy has been remarkable all season in the clutch. Bonus points for Terry Stotts, who designed smart plays, understood the two-for-one implications, subbed offense/defense at the right times, and played Hack-a-Howard as well as it has ever been played.
Lowe also writes that "James Harden's Extra Defensive Gear" was a loser of the weekend. This part stood out:
My favorite sequence of the first 72 hours might be this: Harden juking Wesley Matthews for a second-quarter driving score, talking all kinds of crap in Matthews's face, and then immediately falling asleep on the next possession as Matthews cut behind him for an easy layup. News flash: That layup counts the same as a highlight drive.
Lowe, as always, knocked it out of the park and I recommend you read the whole piece here.
Lastly (SHAMELESS SELF-PROMOTION ALERT), I took a look at the different defenses that Houston has thrown at LaMarcus Aldridge this season to see how they will cover him in Game 2.
The countdown to Game 2 begins.