The Scouting Report: Houston Rockets, Game 1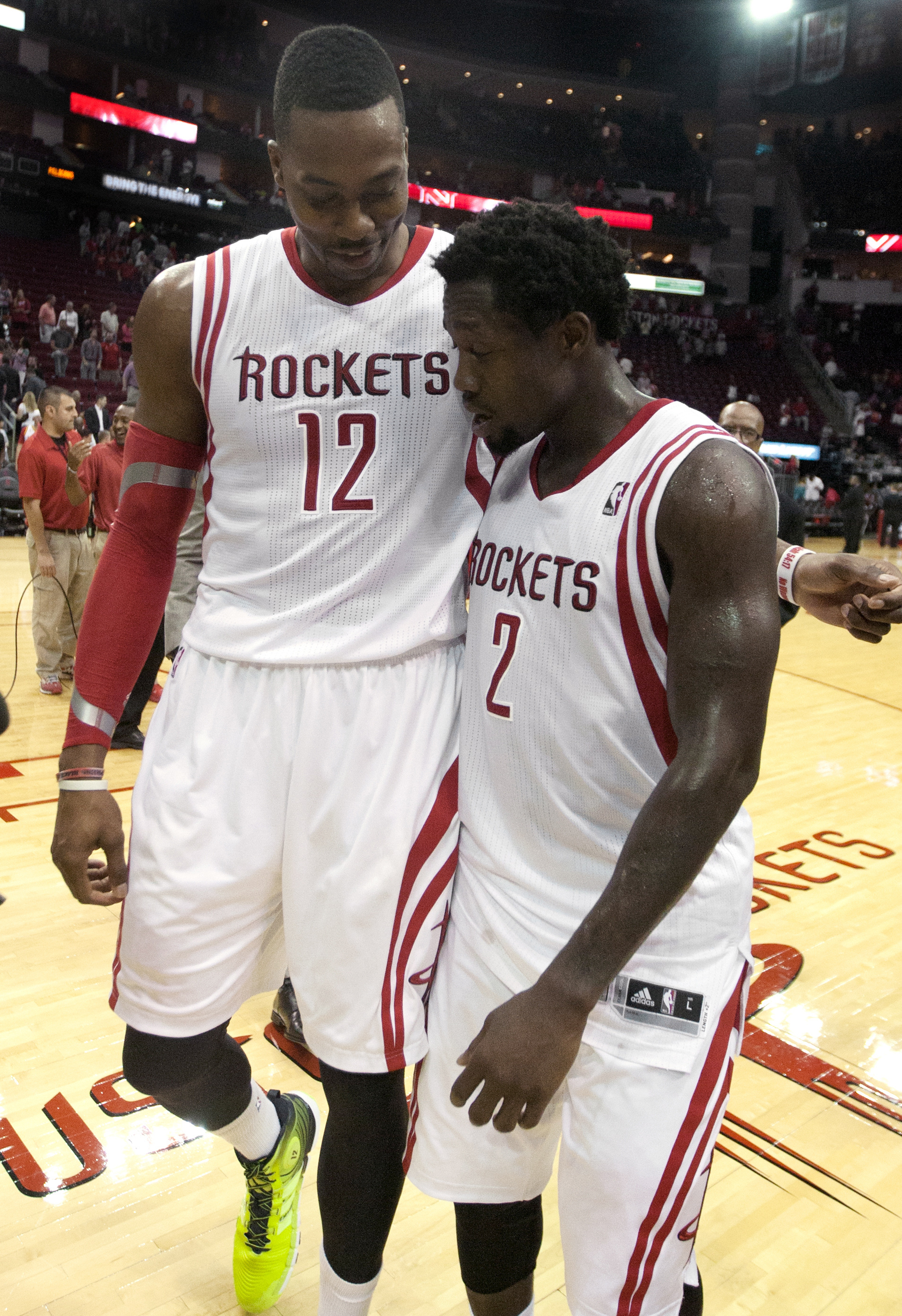 Projected Starting Line-up: Patrick Beverley, James Harden, Chandler Parsons, Terrence Jones, Dwight Howard
To some NBA observers, the pair pictured above hold the key to this series.
Via Grantland's Zach Lowe, Dwight Howard made quick work of Robin Lopez this season.
The Blazers were a below-average defensive team all season, and both of Houston's stars torched them. Dwight Howard overwhelmed Robin Lopez in the post, shooting 60 percent on about 10 post-ups per game against Portland and drawing a ton of fouls, per Synergy. The Blazers hate doubling the post, but Lopez had no answer for Howard's combination of speed and power. It was ugly.
Damian Lillard has talked about Beverley's "antics" and Beverley said that Lillard "whines."
While Beverley's real estate in Lillard's head is likely either overblown or maybe even non-existent, his skill and tenacity on the defensive end is very real.
Lillard fouled out of the previous encounter with the two players but had easily his most efficient out of four games against the Rockets this year. Beverley and Jeremy Lin got Lillard in foul trouble but offensively he took what the game gave him, scoring 21 points on 13 shots but he also had seven costly turnovers.
A few of them were lazy passes that can be easily corrected but it's hard to say that Beverley's constant attention wasn't a factor.
Lillard can't get caught telegraphing passes like this:
This is Lillard getting Portland into one of their basic sets, something Beverley clearly knows and a few turnovers at bad times could make or break the series. This one was in the first quarter but Lillard had a few in the final minutes of the last meeting.
However, whether Beverley and his recently healed (or not healed, since he came back in less than a month) meniscus can keep up with Lillard for the whole series is another question.
Offensively, the Blazers need Aldridge to continue his solid play against Houston, especially when they leave Terrence Jones on him.
Wesley Matthews' post-game and ability to run off screens to make plays and punish James Harden will also be key. Not only does Harden's effort on defense go from nothing to mediocre, but by scoring on him and making him work Matthews can wear Harden down. If you've seen teams attack Damian Lillard, it's essentially the same idea, although it's technically where Lillard is lacking more so than with his effort.
Defensively we know Matthews will take the challenge but Matthews scoring on Harden and making him work on defense can be just as valuable to the Blazers chances in this series.
According to Terry Stotts, the Rockets have guarded Aldridge with Dwight Howard about 50-50 and back-up center Omer Asik is the only other guy that really stands a chance against Aldridge straight up. Line-ups with Asik and Howard together have been a disaster, particularly offensively, per NBA.com.
The most likely strategy when it comes to covering Aldridge seems to be they will go to Howard earlier and stick Terrence Jones on Robin Lopez. Lopez has a nice touch in the post but if Howard is covering Aldridge away from the basket, it gives Portland an opportunity to use Lopez's excellence in the pick and roll.
Although Lopez's offense is sometimes forgotten, both his offensive rebounding and rolls to the rim are things other teams don't have. The Rockets have Dwight but he's not as eager or willing to run pick and rolls like Lopez. In fact, Lopez is the most efficient "roll man" in the league among players that have been involved in at least 100 possessions according to Synergy Sports
It's an efficient source of points the Blazers work in as part of their offense but it's a weapon for when things get stale offensively, which they have at times.
Defensively Lopez will have his hands full, but like Matthews against Harden, a good way to respond is to get buckets right back.
The Rockets are fifth in the NBA in pace, love to run and love to run to the three-point line. Portland defends the three-point line better than any other team in the league and this match-up of strengths will be fun to watch.
Conversely, the Rockets don't defend the three very well. The Blazers staff values three-point attempts over percentage and the Rockets allow the sixth-most attempts, which can be attributed to a lack of attentiveness from their wings and every perimeter player not-named Patrick Beverley.
The extra pass–which has been Portland's best friend when they are at their best–will be key to unlocking Houston's poor rotations.
The answer for Portland on defense will be determined with how they deal with these three questions: Can they get minimize Houston's transition that leads to dunks, free-throws and threes? Can they keep Houston's ball-handlers (Harden, Parsons, Lin) in front of them in the half court? Finally, can they make somebody other than James Harden beat them in the clutch?
Harden might be the best in the league at drawing contact and getting to the rim and Blazers twitter is going to lash out in his first 18+ free-throw game, because let's face it: it's going to happen.
Good things happen for Houston when Harden has the ball in his hands, how the Blazers force it out of his hands (trapping, double-teams, zone) is going to be interesting. If I'm the Blazers, if Howard is going to put up 35 and 25 in the series then so be it.
Hopefully we've got you covered for the start of the series.
We'll break down every game in the series because after Game 1, it's all about the adjustments.
Ooh the fun!