Trail Mix: Lillard "Close" To New Shoe Deal And Games To Watch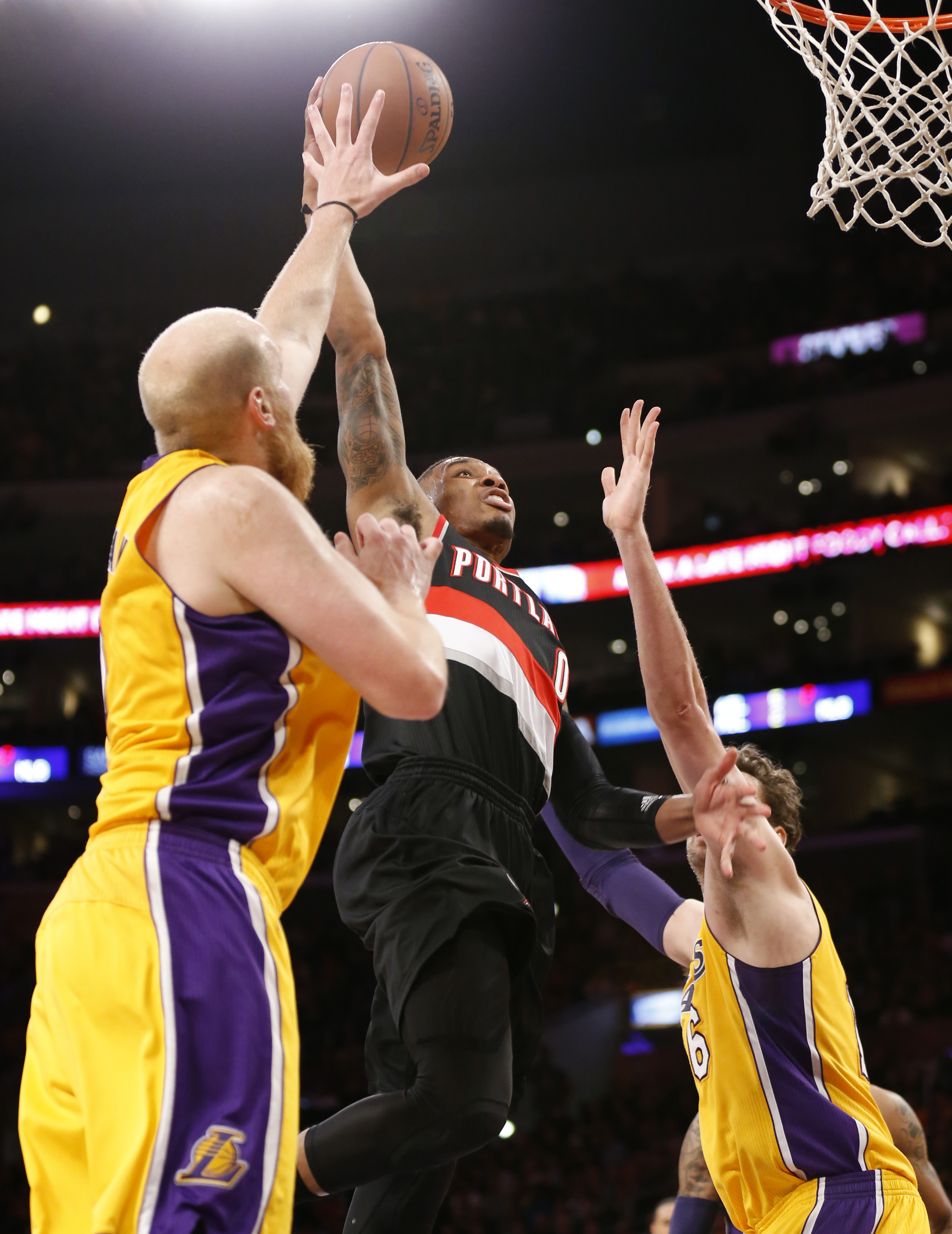 No Blazers hoops tonight but we do have some Trail Mix.
Chris Haynes of CSNNW.com reports that Damian Lillard and adidas are close to finalizing a new endorsement deal:
Portland Trail Blazers guard Damian Lillard and adidas are on the cusp of finalizing a multiyear, lucrative shoe endorsement deal barring any hiccups, a league source informed CSNNW.com.

…

"We're close," Lillard told CSNNW.com on Tuesday. "Nothing final yet. I'm excited."

Adidas had a 30-day exclusive window to reach an agreement with Lillard and that period was set to expire on April. 1, according to another source briefed on the situation. If a deal was not reached, conversations with Nike and other shoe rivals would have commenced as soon as this week, we're told.
Haynes reported in February that Lillard was going to opt-out of his current deal with adidas.
Ben Golliver of SI.com included Damian Lillard in his All-Spotlight Team as one of the five guards who could emerge in the 2014 playoffs
Like everyone else in the world, Lillard, 23, falls short when it comes to matching Curry's efficiency from deep (2014 Lillard is shooting 38.8 percent from deep, compared to 2013 Curry's outrageous 45.3 percent). However, it should be noted that he is the only player in the entire league who comes close to hoisting as often as Curry. Through Tuesday, Curry led the league with 557 three-point attempts, with Lillard on his heels at 523.

…

Even though his youth ensures that his first taste of the playoffs will be a no-risk, all-reward type of affair, Lillard simply isn't the overly patient or complacent type. Add all of this up — his personality, the nature of his game, the style of his team, the thrilling potential match-ups, and the positional tests he could face — and Lillard joins Wizards guard John Wall as the postseason newcomers to watch this year.
Read the rest here.
NBA.com writers debate where the teams in the bottom of the Western Conference playoff picture will finish:
Fran Blinebury, NBA.com: When you asked a version of this question several weeks ago, I said the scrappy, overachieving Suns would be the team left out.  Then they went and won six in a row.  However, I still believe Phoenix misses the playoffs.  The Suns have the toughest schedule — three at home and five on on the road to finish, including six games against West playoff teams.  In order, I'll go with: Portland, Golden State, Memphis, Dallas.  The Blazers have weathered the storm, and with LaMarcus Aldridge back in the lineup, they have the easiest path to the finish with five home games and only one roadie at Utah left.  Of the Warriors' final eight games, only two tough road games at San Antonio and Portland.  The Mavs and Grizzlies will battle it out for those last two spots and if it comes down to that final showdown game of the regular season, I'll take Memphis at home.

…

John Schuhmann, NBA.com: Portland is safely in the No. 5 spot, with a one-game edge in the loss column and only one road game (in Utah) and three (potential) playoff teams left on its schedule. Golden State looks good for sixth, with a two-game edge on the other three teams and six of their eight remaining games against the bottom six in the West. So it will (sort of) come down to the Dallas-Memphis-Phoenix round-robin on the 12th  (PHX @ DAL), 14th (MEM @ PHX) and 16th (DAL @ MEM). I think they'll all go 1-1 in those games, but Memphis will pick up an extra win elsewhere (they have more remaining games against non-playoff teams) and the Mavs will win the Dallas-Phoenix tiebreaker thanks to a win in that April 12 game. So I'm sticking with what I wrote a month ago. The Suns will miss out because they have the toughest schedule of the group.
The Blazers will be selling playoff tickets on this Monday, April 7.
Also, although the Blazers aren't playing tonight, there are some games of interest that could impact the Blazers' positioning or help them officially clinch a playoff spot. Portland's magic number is now 3, meaning any combination of Blazers wins or Mavericks losses will clinch a playoff spot.
Games to watch/keep tabs on:
Houston at Toronto (4PM on NBA League Pass): If the Rockets lose to a Raptors team fighting for the 3rd seed in the East, the Blazers will be one game behind them with six games to go. Houston owns the tiebreaker, however, having won the season series 3-1.
Golden State at San Antonio (5:30 PM, NBA League Pass): A loss for Golden State would drop them to 2.5 games back. Both teams play one more time on April 13 as the Warriors lead the season series 2-1 so far.