Trail Mix: Looking At The West Playoff Picture And Aldridge's Return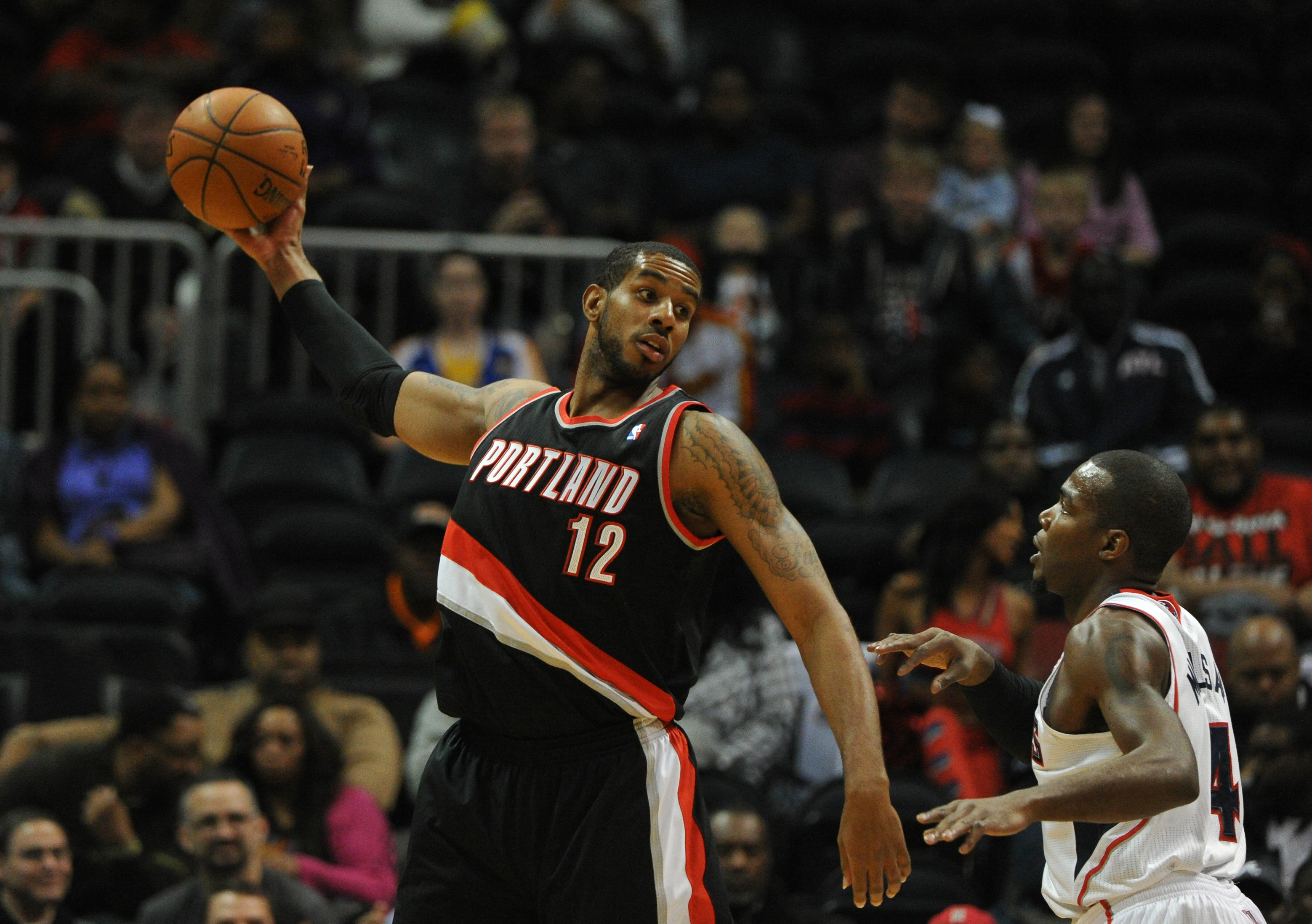 It's rainy in the Northwest and the Blazers are going to tip-off in Chicago in just a little bit. The game will be at 5PM on CSNNW. Here's a helping of Trail Mix to hold you over until dinner time.
Tom Haberstroh of ESPN.com's insider section broke down the chances of the five teams fighting for the final four spots in the playoff picture in the West, including the Blazers.
Record: 46-27 | Playoff odds: 98.8 percent
Games left: 9 | Home/Road: 3/6 | B2Bs: 1 | Projected finish: 6-3, 52-30
Tiebreakers owned: None | Tiebreakers lost: Memphis and Dallas (likely Phoenix and Golden State)

The Blazers possess the inside position now, but they had better not falter with their heavy road slate. It's a good thing that LaMarcus Aldridge has returned from his back issues because the Blazers have been just so-so outside the Rose Garden, err … the Moda Center this season (20-18). Not helping matters is the likelihood the Blazers will show up to the tiebreaker table empty-handed.
Although Haberstroh does a good job breaking down the tie-breakers, he does write that the Blazers have a "road heavy slate," while they actually have six of their final nine games at the Moda Center. Read the rest here.
Two of those six home games made Grantland's Zach Lowe's list of the five most important games for the Western Conference playoff picture: April 4 against the Suns and April 13 against the Warriors.
After doing a little bit of math, we've determined that Portland's magic number is 7. As the maximum number of games that Dallas can win is now at 52, Portland could get to 53 wins to clinch a playoff spot. Any combination of Dallas losses and Portland wins that adds up to 7 will get the Blazers in the playoffs with both teams having nine games left.
From CSNNW.com's Chris Haynes, apparently LaMarcus Aldridge used an article written by Comcast's own Dwight Jaynes as motivation.
However, extra motivation was what he got when a close friend informed him about an article written by a journalist near and dear to our site.

"Somebody told me what, what's his name?" Aldridge asked. " Dwight?"

I threw out Jaynes.

"Yeah, Dwight Jaynes said me coming back won't mean anything. So I was kind of motivated by his little article that he put out. So I was locked in.  I was ready to do anything tonight."
This was the passage from Jaynes that Aldridge was referring to (hat-tip to Ben Golliver at Blazersedge).
Yes, I'm also hearing that the return of LaMarcus Aldridge is going to change things. You know, it's said he's going to draw double-teams that will open up the three-point shooters. Well, maybe. The problem is, people seem to have already forgotten that over a good portion of the second half of the season, Aldridge has not drawn a lot of double teams. You don't need to double a player who is going to shoot a 22-foot, fallaway jumper. Aldridge's field-goal percentage has dropped steadily after the season's first 40 games. In his last 15 games he's shot 41.9 percent from the floor.
Losing usually lends itself to rumors about coaches, but according to Haynes, Blazers head coach Terry Stotts hasn't lost his team and still has open lines of communication with his players. Stotts has a team option after this season.
"I think our relationship with coach is good," Damian Lillard told CSNWW.com. "I love coach Stotts. That's the coach. I think when the boat starts to rock a little bit, that's when everybody is, 'Uh oh. What's going on with the coaches and the players? Why are they losing games?' It's tough, but our group is still here. We're staying together."

Small forward Nicolas Batum concurs, expressing that the line of communication continues to be present and open.

"We're all still talking to one another," Nicolas Batum said to CSNNW.com. "If you start to separate and get mad at each other, that's when things go bad. Coaches go on one side and the players on the other side, that's the worst thing that can happen to a team. But we're staying together. We're struggling but we're staying together."
In Casey Holdahl's recap over at TrailBlazers.com, he has audio of LaMarcus Aldridge's media session and towards the end he talks about Coach Stotts thanking him personally for playing after the game.
Mike Tokito has a fun little story about Terry Stotts' reminiscing about his Atlanta days and the one-game, 48-hour Rasheed Wallace era of Hawks basketball.
Before the Blazers' game against Atlanta at Philips Arena, Stotts reminisced a little about that time. After that game in New Jersey, the Hawks dealt Wallace to Detroit as part of a three-team deal that netted them Bob Sura and Zeljko Rebraca, as well as a first-round pick that Atlanta would later use to pick up Josh Smith, but after Stotts was gone.

"After the trade, Rasheed Wallace is up playing in Detroit, and we've got Bob Sura and Rebraca sitting behind our bench and we're getting beat by 40 at Miami, and I'm thinking, OK, this is how my career's going to end," Stotts said with a laugh.
You mention Sheed, you're probably going to get in the Trail Mix as he is the @BlazerBanter avatar.
In news that could potentially affect the Blazers, Houston point guard Patrick Beverley could be done for the year with a torn meniscus according to Yahoo! Sports' Adrian Wojnarowski.
Beverley, 25, will get a second opinion on the injury soon, sources said, and then it'll be determined whether there's possibly a rehabilitation process that could expedite his return before the end of the NBA playoffs, sources said.
Beverley made a play on Russell Westbrook during last year's playoffs which also resulted in a torn meniscus for Westbrook. If you remember, following Portland's March 9 game against the Rockets, Damian Lillard was less than pleased with Beverley's antics. Beverley also answered back saying that Lillard "whines."
Beverley made his way into the starting line-up over Jeremy Lin for his stellar defense and his ball pressure on opposing guards is a huge blow, making their perimeter defense much weaker when the playoffs come. Houston's best line-up also features Beverley according to NBA.com.
Dan Devine at Yahoo!'s Ball Don't Lie took a look at the buzzer-beating threes that Portland had at the end of each of the first three quarter of last night's win.  He has video as well.  Devine found that via Elias Sports Bureau that the Blazers were also the last team to accomplish such a feat. That game also was against the Hawks.
The Blazers and Hawks, connected forever in this dance of death, time flat circle, etc., etc., etc. Portland won this time around, though, earning a 100-85 win to snap a three-game losing streak and increase their lead for the No. 5 spot in the Western Conference over the Golden State Warriors to a full game. LaMarcus Aldridge was a beast in his return from a seven-game absence due to a lower back contusion, scoring 25 points and grabbing 16 rebounds in 32 minutes of work against an overmatched Hawks front-line missing both long-injured star center Al Horford and floor-spacing fill-in big Pero Antic. Lillard added 21 points, six rebounds and four assists, while Williams chipped in eight points and 11 dimes in 24 minutes off the pine for Terry Stotts' Blazers, who improved to 46-27 with the win.
Finally, the Blazers have been having a contest for fans to submit their designs for the Moda Center's new court which is due to be replaced. Two of the three designs come from Vancouver residents Andrew Stalheim and Foster Lavender (great name, by the way). You can vote for your favorite design here.