Road Takes: Aldridge Huge In Return For Slump-Busting Win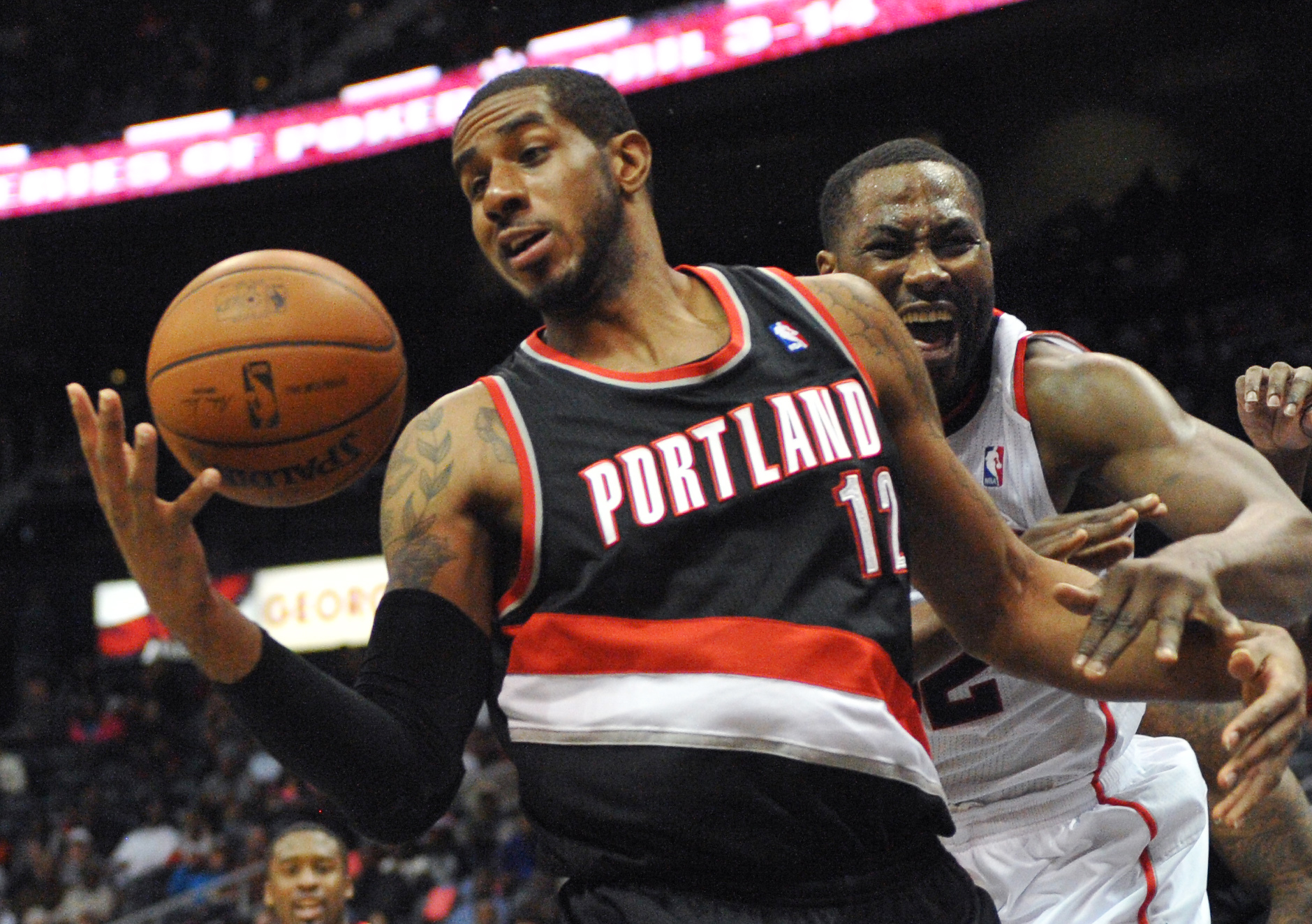 You don't trade a dollar for four quarters in the NBA as ESPN's/Grantland's Bill Simmons has said a few times.
Portland by necessity had to play with their change after LaMarcus Aldridge took a hard fall 15 days ago in San Antonio. Four quarters got them an above five-hundred record but all of the change was beginning to become a drag as evidenced by their recent three-game skid where they lost by a combined 42 points.
In his return looked like a reminder of what a nice feeling it is to have, in the words of Randy Moss, "straight cash, homey."
Aldridge racked up 25 points and 16 rebounds on 9/21 shooting in 32:46 to help the Blazers a relieving win against the struggling Atlanta Hawks who are also fighting for their playoff lives in the Eastern Conference. Aldridge also went 7/7 from the line for good measure. 
Although the Hawks don't look like world beaters, it's evident after their loss in Orlando that you didn't need to be to beat the Blazers as of late.
Aldridge made his presence felt early in the game even though he airballed his first shot of the game. In the first eight minutes of the game Aldridge racked up 8 points and 5 rebounds. Everything else just looked easier for the Blazers than it did the other night in Orlando. 
Sure, there were moments when the Hawks looked like they could steal away a win from a team that had dominated them for most of the game. Jeff Teague finished with 22 points and Louis Williams caught fire in the fourth quarter, where he scored 13 of his 16 points. 
The Hawks took advantage of Portland's 13 turnovers, leading to 17 points but Portland was more able to do the same and mitigate Atlanta's success in that regard.
Terry Stotts continues switching up his rotations and according to Blazers play-by-play man Mike Barrett, the initial plan was to cap Aldridge's minutes at 28 or 30 but because the Hawks were able to keep things interesting because of Williams, he played nearly 33 minutes.
Damian Lillard was also more efficient and effective than he has been on any game during this trip. He had a solid 7/15 night from the field but he was 4/9 from three and had his most frequent pick and roll partner back.
The best example of that was in the final minute of the first half when Lillard hit Aldridge for a jumper on a pick and pop play with 58 seconds left and on the ensuing offensive possession Lillard drove to the basket with little resistance as the rest of the Hawks defense had to pay attention to Aldridge.
Lillard's drives to the basket have been much improved and he has been more efficient in his attacks, but it's clear just from watching him that things were much easier on him tonight.
The Blazers bench units continue to be a mystery and probably will continue to be so until they get Joel Freeland back in the line-up. Thomas Robinson got an early call to replace Robin Lopez and play Aldridge at center and Will Barton continues to get minutes as the third wing.
Terry Stotts said before the team even embarked on the trip that it's very hard to play CJ McCollum alongside Damian Lillard and Mo Williams because they don't have a lot of length. With Stotts often staggering a lot of Mo Williams' minutes alongside Damian Lillard, it would make sense that that's why we are continuing to see Barton in that spot.
In Aldridge's postgame interview on the broadcast, he stated that his comeback from this injury compared to his comeback from the groin involved more hard practice time before he came back. 
Whatever he did, it worked and he looked to be in early season form on both ends.
They will fly to Chicago tonight before taking on the Bulls tomorrow who have had the best record in the NBA since the New Year.
At least now with Aldridge back Portland won't have to bring their change to get into the game.
Straight cash, homey.