The Scouting Report: Orlando Magic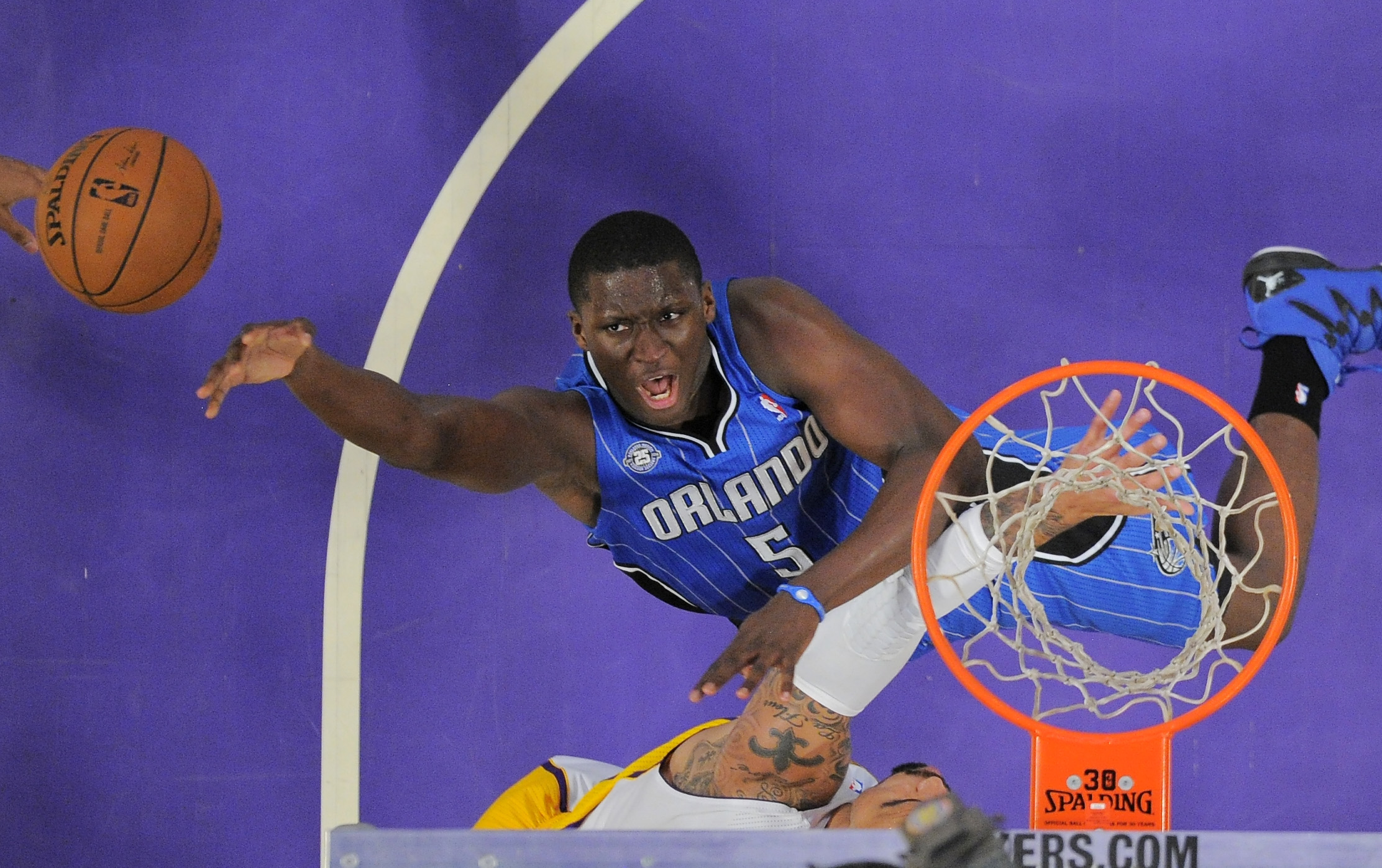 Projected starting line-up: Victor Oladipo, Arron Afflalo, Maurice Harkless, Nikola Vucevic, Kyle O'Quinn
Injuries: Point guard Jameer Nelson will be out with a sore left knee
Tip-off is at 4PM on CSNNW
The Orlando Magic should be in their final year of being THIS bad.
After trading for Dwight Howard and getting young players and cap space back in return, they were awful last season and they traded their most tradable player in JJ Redick at midseason.
Their record helped them get the number two overall pick which became Victor Oladipo who is still putting together his case for the 2013-14 Rookie of The Year award.
As far as storylines concerning this Magic team, that's probably the most important one. Jameer Nelson's injury has flung the more off-guard suited Oladipo into the role of point guard. In March, his assists are up as he has started the last three games at point guard. However, his three-point percentage has dropped.
His turnovers, which have been a concern since he started playing point guard in summer league, have also gone up from his stellar month of February. He's putting up 3.4 turnovers a game. He will likely be starting at point guard and the Blazers should be able to take advantage of his still shaky ball-handling and decision making.
The Trail Blazers won the previous match-up between these two teams by 16 points, although they were without Vucevic who certainly will present problems for Portland's interior defense again.
Vucevic's production has taken a slight dip but he's still averaging a double-double at nearly 14 points per game and just under 11 rebounds. He's no Al Jefferson in the post but he's still a very good post player and he's improved his free-throw shooting in his third season.
While Vucevic is a solid interior threat and Oladipo has a lot of potential, the man Portland has to watch out for the most is Arron Afflalo. His 7th season has been the best one of his career in terms of production as he is averaging just over 19 points on close to 44 percent shooting from the three-point line.
The Magic have been playing more and more young players since the trading deadline. They've played veteran guard Ronnie Price at the back-up point guard spot out of necessity but they've basically stopped playing Jason Maxiell, who may be the worst player in the NBA.
In place of Maxiell, the Magic have started to play Kyle O'Quinn as well as youngster Dwayne Dedmon at the center position. Tobias Harris has showed promise coming off the bench, most notably when he had a 30-point, 20-rebound game last season.
The Magic are still hopeful that someone that they've drafted, mainly Oladipo, can become a superstar. However, they're losing enough that they may be able to snag another game-changing player in the draft in June.
The Magic will not only have their own high pick but they will also get the draft pick from the team that has a better record out of Denver and New York as a leftover from the Dwight Howard trade. As it looks right now, they will be getting the Nuggets pick.
The Magic aren't good but the Blazers are shaken. A drama-free win could be useful here heading into another back-to-back against playoff teams but anything will do the job for Portland to keep distance from the bottom of the Western Conference.