Road Takes: Blazers Invisible in 30-point Beatdown to Bobcats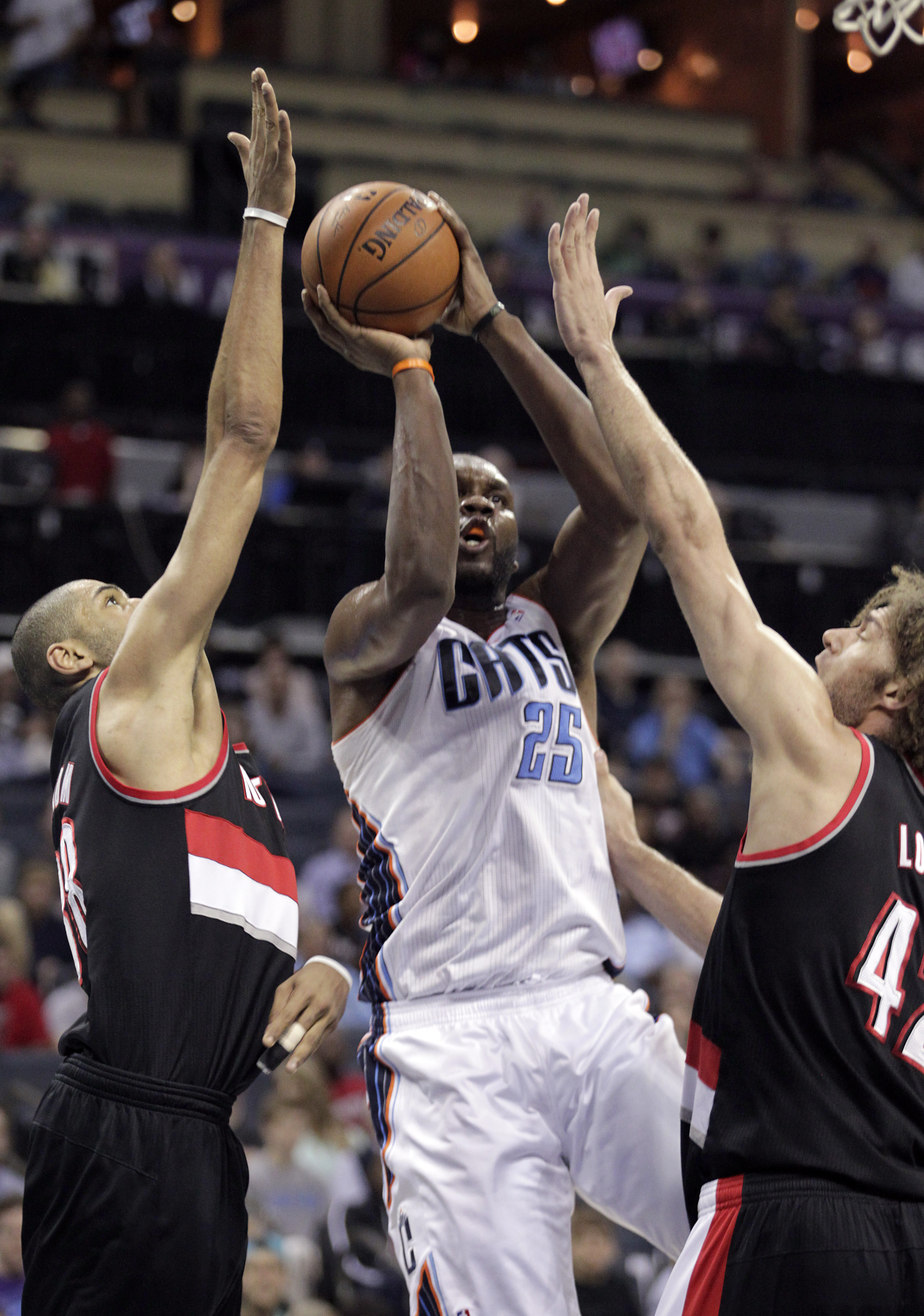 There were no valiant feel-good comeback attempts to give hope leading into the next game. After the Bobcats started seeing the ball go in, almost anything they put up seemed to go in.
Early in the 4th quarter, Terry Stotts pulled his starters and apparently decided that his team could not stop the Bobcats normally 25th-ranked offense on Saturday night.
Portland's long night on the defensive end began with their inability to stop Al Jefferson. I'm fairly certain that about 10 possessions of the Blazers defense will now be added to this highlight mix:
Jefferson was beating every Portland double team with spins the other way and would hit shooters and cutters when he didn't find an angle for his shot. He hit his jumpers. He did everything in the first quarter where he scored 16 points, grabbed four rebounds and dished three assists.
Jefferson would finish with 28 points, seven rebounds and six assists. His play around the paint and a couple of drives from Michael Kidd-Gilchrist got the Bobcats going to the rim.
The Bobcats had a 33-22 lead after the first quarter and that set the tone for the night as two other Bobcats would take turns torching the Blazers defense.
The Blazers actually allowed more attempts at the rim in the second half but the Bobcats just started to miss their lay-ups that were essentially automatic.
Kemba Walker turned things up in the 2nd quarter, shooting like he was putting Connecticut on his back in the Big East tournament. Walker torched Damian Lillard and the Blazers defense but it must be said that his three-point shot was more accurate than normal as he went 4/5. Still, he had the Blazers on their heels every time he touched the ball.
The Blazers went into halftime down by 23 points and needing to both find their groove offensively as they did not enjoy the same ball movement they had the other night against the Wizards.
In the third quarter, the Blazers started to find their offense as Wesley Matthews started to get into attack mode but everything the Portland did offensively was moot because the Bobcats just kept on coming.
Gerald Henderson started lighting up the midrange with turnaround jumpers like Kobe Bryant and it appeared that Charlotte wasn't going to lose confidence in their offense no matter how hard Portland defended.
Portland looked helpless from the very beginning and Jefferson shredded Portland's interior defense to pieces which then opened up everything else. The Blazers were not able to finish plays as they did on Thursday as they totaled just 17 assists one game after racking up 32.
Up next, the Blazers head to Miami to face the two-time defending Champion Heat on Monday.
While they are the two-time champs, there may not be a better time to face them as they've lost 6 of their last 10 and LeBron James is battling back spasms.
But, as we saw in December, no LeBron is far from a guaranteed win for the Blazers.
Notes
Dorell Wright continues to be in a groove on the offensive end as a stretch-four. He finished with 17 points and six rebounds on 12 shots.
Wesley Matthews also continues to be more efficient even in a losing effort, scoring 15 points on 6/12 shooting.
Many times we take for granted the performance of Mo Williams but you can see how when he has a bad shooting night like he did tonight (1/5) how much harder it makes things for everyone, especially without Aldridge.
Blazers play-by-play man Mike Barrett said during the broadcast that LaMarcus Aldridge would return during the road trip but there is no set return date.
Josh McRoberts drove all the way to the basket for a thunderous dunk in the 3rd quarter and Michael Kidd-Gilchrist destroyed Meyers Leonard with a dunk of his own. We will update the post with video when we get some.