Road Takes: Spurs Drop Blazers, Blazers Lose Aldridge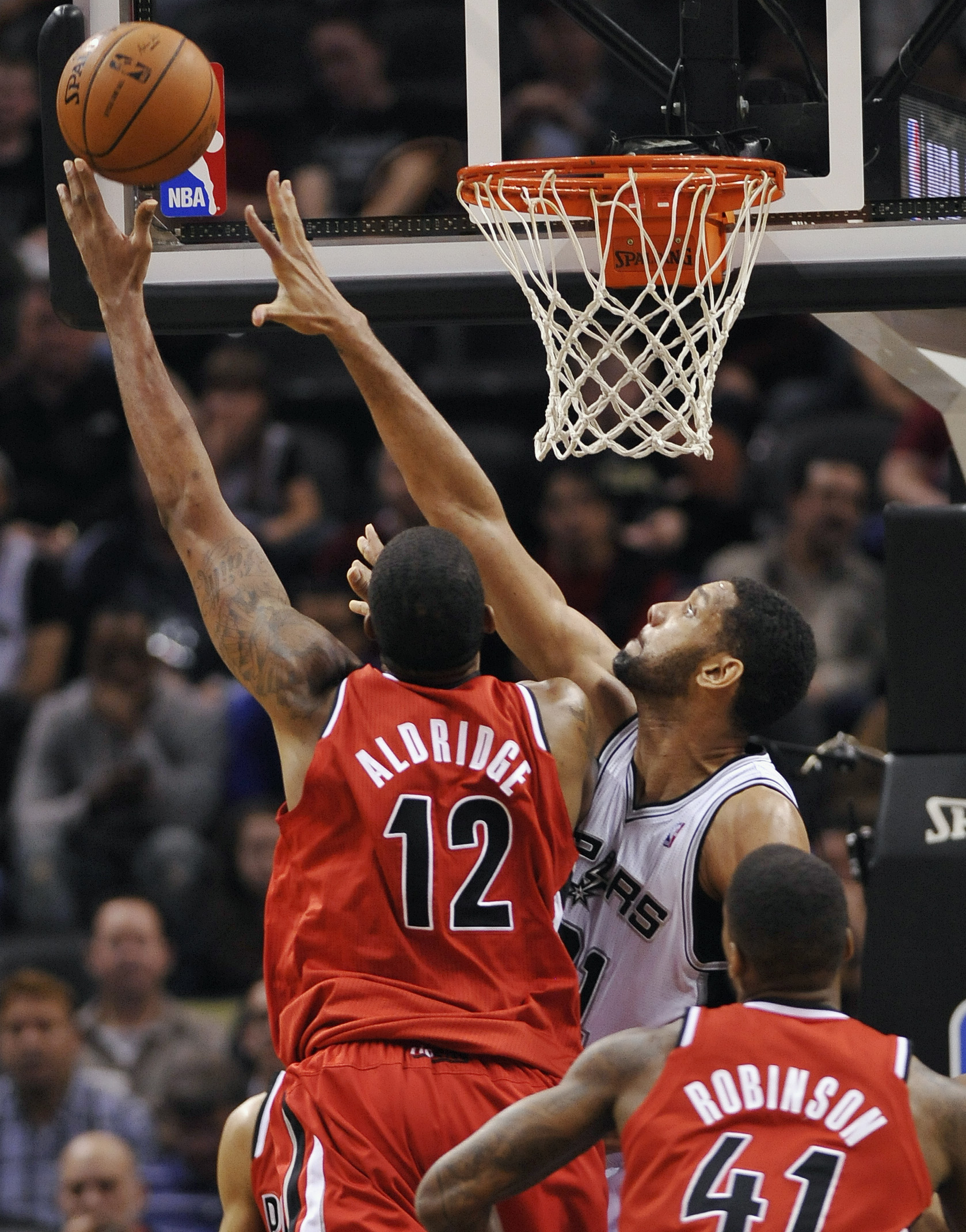 LaMarcus Aldridge was having a good game but then he got knocked off balance as he was taking a running lay-up and took a nasty fall before having to be carried off by his teammates.
Aldridge did not return after being carried off the court by his teammates and the Blazers then announced that he has a "back contusion," and would not return.
UPDATE 11:01 PM: There was no prognosis for how long Aldridge would be out but they did take x-rays and they came back negative. So, if nothing is broken I suppose that's a good thing but we still no far too little to know about how long he will be sidelined or if he will be at all.
The Spurs took the Blazers to school from the beginning with their flawless execution.
However, it wasn't like last night's dominance by the Grizzlies as the Blazers showed signs of life throughout the game.
Aldridge started to find his groove early on, hitting three of his first five shots and before he finished 6-for-11 from the field with 14 points and four rebounds.
The Blazers were already without back-up point guard Mo Williams and were playing shorthanded on the bench, using Earl Watson alongside CJ McCollum as the second-unit backcourt. Dorell Wright had a nice game off the bench in probably one of his best performances with 10 points and 6 rebounds off the bench.
Wright was forced into power forward duty after Aldridge's injury but there was an initial spike in the Blazers play after Aldridge left the game.
The small line-up opened up the court, allowing Lillard to attack the basket and cut the Spurs lead that was at 16 at halftime, down to six points midway through the third.
However, the Spurs are not phased by concepts such as momentum and continued to carry on as they always do.
They kept on scoring, running their offense which created high-value looks from the three-point line and great looks all over for their shot makers.
The Blazers looked to be in position to at least force a close game after they trailed by nine heading into the fourth quarter, but the Spurs bench reeled off a quick 6-0 run which put the Spurs back in control.
Portland's shots didn't go down from deep, making matters worse without Aldridge. They shot 4-of-21 from the three-point line, although they had at least three by my count that rattled in and out.
Either way, the Spurs ran their sets to perfection and abused the Blazers normally stout three-point defense. The Spurs attempted 24 three-pointers, making 11 against a Blazers team that allows just under 18 three-point attempts per game.
Combining the shaky three-point defense (the Blazers best defensive asset up to this point in the season), a bench re-defining thin without Williams , losing Aldridge and a 1-for-6 night from the normally dependable Robin Lopez was a disaster against the best team in the NBA.
Now they will have a day break before they face the New Orleans Pelicans on Friday at Smoothie King Arena.
Yes, that's its real name.
UPDATES:
CSNNW.com reported on their twitter that Aldridge was taken out of the AT&T Center in San Antonio on a wheelchair by Portland Director of Player Perfomance Chris Stackpole.
Photographer Bruce Ely of The Oregonian was apparently escorted out of the building in order to not get a picture of Aldridge exiting the building according to Ely's twitter.
Jason Quick of The Oregonian describes the scene in the Blazers locker room, where Aldridge was in a training room and did not leave while the media where in there:
The only thing to gather from the situation was the mood inside that room, and the reaction of the people who came in, then out. It was far from grim. In fact, there were more smiles than anything.

Chris Stackpole, the team's director of health and performance, and Brant Helms, the team's equipment manager shared a good laugh inside the room. And when assistant Kim Hughes emerged, he had a crooked smile, hardly the look of a man burdened by worry.

Shortly after Hughes left, the team released a statement saying X-rays on his back were negative.
Here's the rest of Quick's story.
Casey Holdahl of Blazers.com writes:
"When a guy takes a a tough fall like that, when you're airborne, you just don't know what can happen you land," said Trail Blazers head coach Terry Stotts. "The longer he stayed down, you just don't know."

Aldridge did not return to the game, finishing the night with 13 points on 6 of 11 shooting and four rebounds. X-rays on his back came back negative, though his status for Friday night's contest in New Orleans against the Pelicans is not yet know.
Check his game story here.
And, about the rest of the team.
According to Chris Haynes of CSNNW.com, Damian Lillard initiated the Blazers' first players-only meeting of the season after their first four game losing streak.
Earl Watson, Mo Williams and Dorell Wright were amongst some of the players to vocally address what was going on and what needed to change from here on out, we're told.

"I just felt like it was something that needed to be said," Lillard responded when ask why he initiated the dialogue. "At some point, it's up to the players."