Trail Mix: Lillard Defends Defense, Freeland Could Miss Rest of Regular Season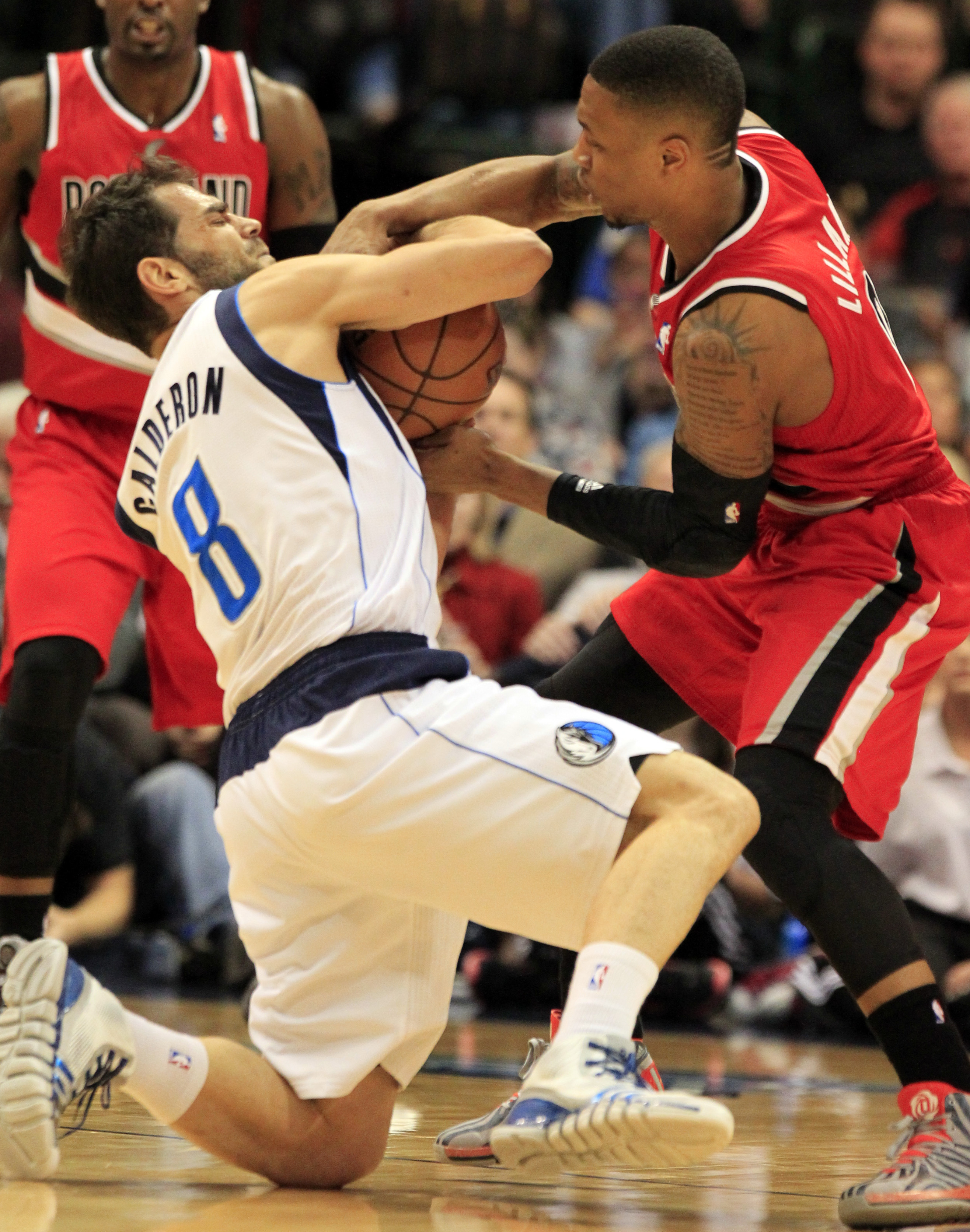 Blazers are close to tipping-off against the Memphis Grizzlies. The pantry was scarce, but we can at least get you a snack before the team's face off at the FedEx Forum.
Jason Quick said that the Blazers big three of LaMarcus Aldridge, Damian Lillard and Nicolas Batum had to step up.
Quick pointed out Lillard's defense and one fan said that Lillard had to be "at least semi-cognizant" on defense prompting Lillard to ask what the fan suggested he do other than what he had been doing.
This ended up sparking a conversation with Quick and Lillard about his defense.
Quick: I couldn't tell if you were tweeting at me, or the other guy, on Sunday.

Lillard: Nah. It was at him. What do you suggest? That's what I'm saying to him. Sometimes the fans think they know, you know what I mean?

Quick: I hope you see where I was coming from.

Lillard: No, I understand. I understand. But for me, it's like … what … what do I need to do? I'm out here going through 80 pick and rolls, 60 pick and rolls a game, using that same amount of pick and rolls. If you go to look at film — and that's why I say 'are you looking at box scores or are you actually watching the game?' — if you look at film, I'm not just out here getting scored on. How many people iso me and break me down and score? Or is it pick and roll?

What happens when I play against another point guard and I have a good defensive game? I've had plenty good, really good defensive games …

…

Lillard: I know. I know. But this is the thing: people need to see my improvement. Maybe people forgot how tough it was from last season until now. You don't see people taking me to the block, because they know it's not going to be that easy. You know it's not going to be a mismatch.
We noted Lillard's improvement as a post defender earlier this season in The Columbian and that the Blazers aren't afraid or have been hurt of bigger players trying to take him on the block.
From having seen Lillard's progression from last year to this year, he has improved, even if it's subtle. He gives up less on plays when he gets hit by a screen and is continuing to learn how to effectively fight over picks.
Dane Carbaugh broke down his defense in video and pictures at Blazersedge earlier this season.
It also hasn't helped his reputation that guards like Ricky Rubio or Devin Harris in the the Dallas loss have had out of the norm production in the scoring department when facing Lillard and the Blazers.
He talks about how the Blazers guard pick and rolls in particular and how guards must fight over as something that's been tough. A technique that Lillard specifically could get better at his getting his hip over the screen to effectively fight over.
However, getting the hip over also comes with the awareness of when and where that pick is coming from and in only his second year, there are still things Lillard can grow into on that end.
Good stuff from Quick and Lillard.
Joe Freeman of The Oregonian reports that Joel Freeland has now turned his goal towards getting ready for the playoffs and could miss the remainder of the regular season.
"I look at it like I've got a month to get ready for the playoffs," Freeland said.

Freeland 

injured his knee on Feb. 11

, during the Blazers' 122-117 loss to the Oklahoma City Thunder. At the time, his timeline for a return was four-to-eight weeks. But his recovery has been slow from Day 1, and he 

grew so frustrated

 he sought a second opinion from an independent doctor on March 5. The diagnosis on the injury was the same, but the timeline for a possible return was slightly extended.

It's unclear exactly when Freeland will resume basketball-related activities — that all depends on the health of his knee — but he said Tuesday he's been told it could take up to five more weeks. The Blazers' season finale is April 16 — exactly five weeks from today.

"It's frustrating," said Freeland. "I've never had an injury in my life."
Casey Holdahl has a very cool post from the Blazers shootaround including some sweet photos from the team's trip to the National Civil Rights Museum in Memphis.
After losing two games in a row, Wesley Matthews said that the trip to the museum and visiting kids at the St. Jude's Children's Hospital was "perfect timing."
"It was almost perfect, timing-wise. We had just come off two tough losses, two losses where we could get caught up in ourselves and our profession and we forget what's outside of basketball. It's always important to be able to have something to bring you outside of this life. Going to St. Jude and the Civil Rights Museum just puts everything back in perspective for you." — Wesley Matthews
The photos were taken by Jim Taylor of the Blazers PR Staff and they are very, very good.
Read the rest for some always worthwhile quotes from Will Barton on his return to where he played his college ball.
Speaking of college ball, Damian Lillard has a positive opinion on Adam Silver's belief that the players should be required to play two years after high school before going pro via Jeff Caplan of NBA.com. (Hat-tip to Casey Holdahl for that find)
"I definitely don't think guys should be able to leave [for the NBA] after high school," Lillard said during the All-Star break. "Back in the day there were guys like LeBron James coming out, Kevin Garnett. I don't think you have that anymore, guys that can come in and do what they do. As far as college, it's different situations. My freshman year in college, I wasn't ready to be an NBA player. What was best for me was to play four years of college. Some guys, Anthony Davis, 6-foot-10, great defender, it was perfect for him, it was time for him to be an NBA player."

Every few years there will be a special talent such as Davis, who was the top pick in 2012. He seemed ready to enter the big leagues at age 18 or 19. But would it have benefited Davis' Kentucky teammate,Michael Kidd-Gilchrist, to spend another season with the Wildcats rather than go No. 2 overall (at 19 years old) to the Charlotte Bobcats in 2012?

"A lot of it is mental and having that college experience helps because I was in that situation so many different times when my team depended on me to make a play, to make a shot, bring us back, stuff like that," said Lillard, who has hit four game-winners this season. "Just having that experience over and over and over those four years helped prepare me for whenever that came up in the NBA."
Lillard and his NBA.com contributor/radio show host teammate CJ McCollum also has some interesting perspective here too.
As Blazers fans and fans of Damian Lillard, you probably hate Patrick Beverley of the Rockets but Grantland.com (and I) loves the guy's pesky style of play.
This is coming off the heels of Beverley saying that Lillard whines (hat-tip to Ben Golliver at Blazersedge for the transcription):
"Damian Lillard whines. So, I'm not a big fan of that. I don't go out there and try to start fights with anybody. I go out there and play my game. That's what I do. I don't go out there and try to hack people. I don't go out there and do that. Prior to this game he was shooting 29 percent against me. That's a credit to our team defense and what we're doing. We don't go out there and try to hurt people, we don't go out there and try to hack people. We go out there and be aggressive on defense and that's what gets us stops.

…

"I don't care what he says. You're a grown man. You're a professional basketball player – professional first. He fouled out before I did.

…

"You always push and shove, and that's basketball. I don't know how other people were raised, but that's basketball. That's how you grew up playing, battling. You get pushed down. You get back up. You battle the next guy. You should enjoy the competition. No one is going out there to hurt someone, and I was kind of offended the way that he was talking. I'm a positive person. I usually don't say anything about anything, but if I feel that something is not right, I'm definitely going to mention about it. And the things that he was saying yesterday really bothered me. I played against all the other top point guards, all the other All-Star point guards, and it was nothing but praise. 'Patrick pushes me, Patrick plays hard, he forces me to better my game. Patrick does this.' He whines and says that I'm pushing and all that. I just wanted to get that off my chest."