Trail Mix: T-Rob BACK, but Will He Play?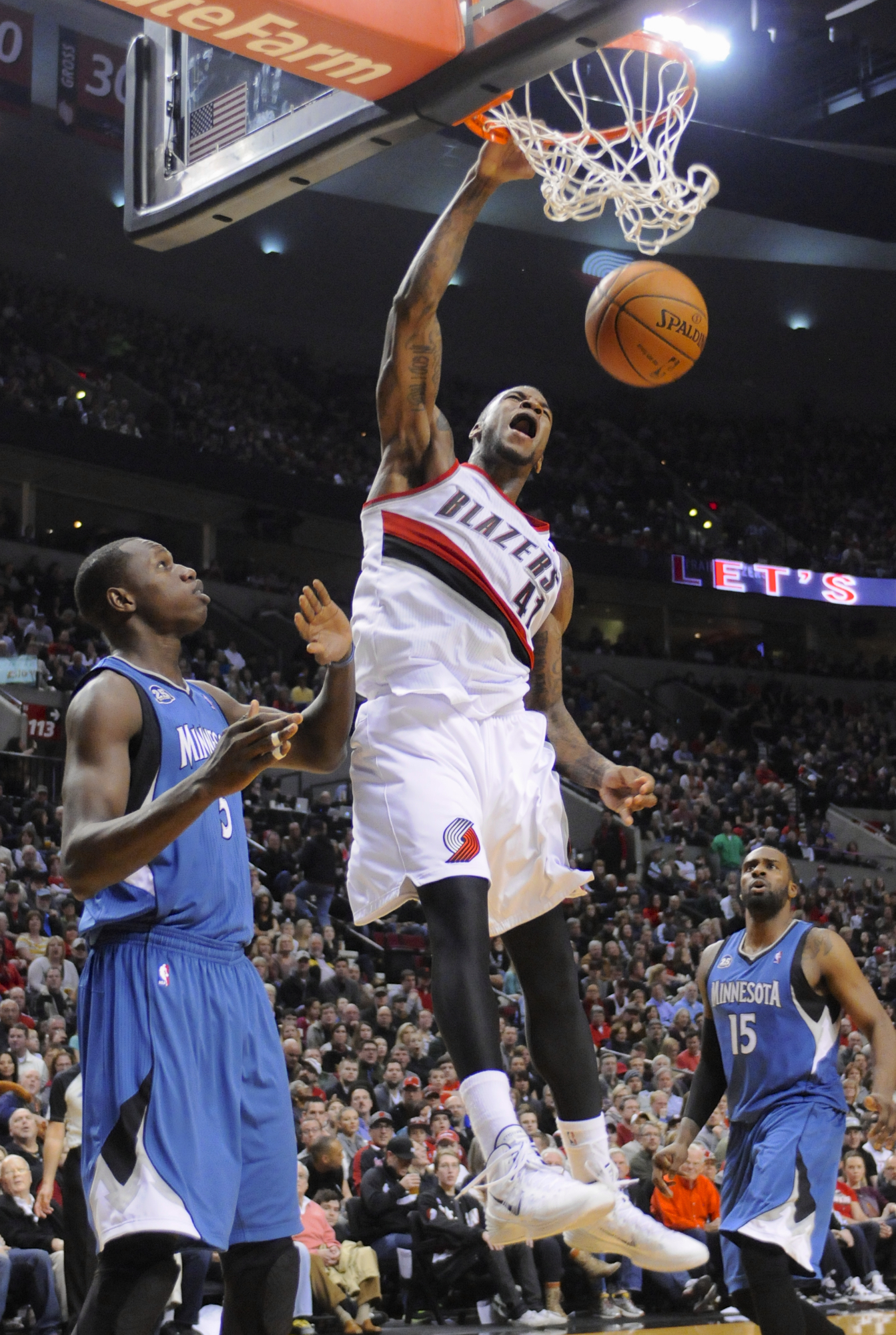 Some good news came on the injury front for the Portland Trail Blazers when they found out that Thomas Robinson, the man on which there was no update until Friday, will be activated against the Mavericks.
Chris Haynes of CSNNW.com writes:
DALLAS — Portland Trail Blazers head coach Terry Stotts announced at shootaround this morning that forward Thomas Robinson will be activated for tonight's game against the Dallas Mavericks.

Whether he plays tonight or not is unknown.

Robinson, 23, suffered a left patella tendon strain on Feb. 25 in game against the Denver Nuggets when he went up for a dunk attempt. The team listed him day-to-day from that point on.
The key is the second paragraph. Stotts has, because of necessity, fallen in love with Portland's small line-ups as of late. Those line-ups, specifically the one with Dorell Wright in at power forward along with the rest of the starters, are doing especially well on the defensive end. That line-up is giving up 99 points per 100 possessions in about 63 total minutes.
A small sample size but that line-up, likely because of its success, is already Portland's seventh-most used line-up. Even though Robinson is back, I don't expect his minutes to come at the cost of Wright and that line-ups playing time.
Casey Holdahl of TrailBlazers.com had a nice feature on how Damian Lillard's trip to the All-Star game gave him a confidence boost and that it helped him when Aldridge was injured.
While some of that Lillard's statistical improvements since the break can be attributed to there being more shots to go around with Aldridge out of the lineup, the ego boost that Lillard took away from New Orleans strengthened his belief that the Trail Blazers could survive without their best player, at least for a while.

"I think it's leadership, taking control," said Lillard on how his new-found confidence transfers to the court. "There's situations in a game where I have to take control. I might have to go attack a little bit more or I might have to make sure I get Wes [Matthews] going. I've got to be able to notice things that, if we had LA out there, I might be able to just say 'Drop, throw it into [Aldridge]' and let LA go to work. But now I've got to find a solution. Basically it's me taking ownership of what's happening on the court."
Apparently the team had a really fun practice yesterday during a "maintenance day" at the Mo Williams Academy in Dallas according to Jason Quick of The Oregonian.
But Thursday turned out to be no ordinary maintenance day for the Blazers.

Virtually every Blazers player was engaged in competition on the court, even thepreviously injured Thomas Robinson. On one side it was 4-on-4. The other side 3-on-3.

"The environment,'' Stotts said, "was terrific.''

There was a reason: For the second time this season, the Blazers held their practice in Dallas at the Mo Williams Academy, an 18,000-square foot facility built two years ago by Blazers guard Mo Williams.

The academy is where five youth teams ranging from fourth graders to juniors in high school are mentored by counselors about not only basketball skills, but life skills.
Earl Watson may be considering a switch to coaching according to Chris Haynes (h/t to Ben Golliver at Blazersedge).
Just last offseason, according to a league source, Watson turned down an offer to be an assistant coach for a Western Conference team. He ultimately decided he still had something left in the tank. At the current moment, Watson, 34, will continue playing both roles for the Trail Blazers – coach and player.

Youngsters, Will Barton and Thomas Robinson, refer to the vet as the player-coach of the squad and credits him for keeping their minds right when buried in frustration over lack of playing time.

"He's the one guy that I know that's going to keep things in perspective," Barton said. "He has a calming influence. When you're young in this league, it's good to have a veteran who has been down that road already. You can respect that, knowing he's trying to help you out."
Amin Elhassan of ESPN Insider says that only a few players in the league set better screens than Robin Lopez, using some tracking data on that action. That quality is determined by the "solid screen %," where Lopez comes in third.
AAV: $5.1 million | Set Screens Per 100 Chances: 52.4
Solid Screen %: 78.8% | Set Screen Outcome Efficiency: 37.0%

Lopez, another player I had the privilege of working with in Phoenix, embodies the spirit of a blue-collar player who excels on white-collar teams. Teammates frequently praise him for the daylight he creates with screens, and that bears out in his solid screen percentage, which places him third on the leaderboard. His arrival in Portland has been a success not only because he is a defensive anchor but also because of his prowess as a screen setter.
H/t to Casey Holdahl for that one.
I spoke with Damian Lillard about his improved finishing around the basket a few weeks back and Dane Carbaugh has a more technical breakdown of his improvements over at SBNation.
Lillard seems to have concentrated on protecting his dribble since the All-Star break. You'll see Chris Paul and Tony Parker do this often, and Lillard has taken a page from their book. His mid-dribble hesitation keeps help defenders second-guessing about his trajectory and puts the ball as far away from the defender as possible.
I highly suggest clicking this link for a lot of visualizations and video on Lillard's attacks.