Trail Mix: Damian Lillard learns from Bruce Lee in the clutch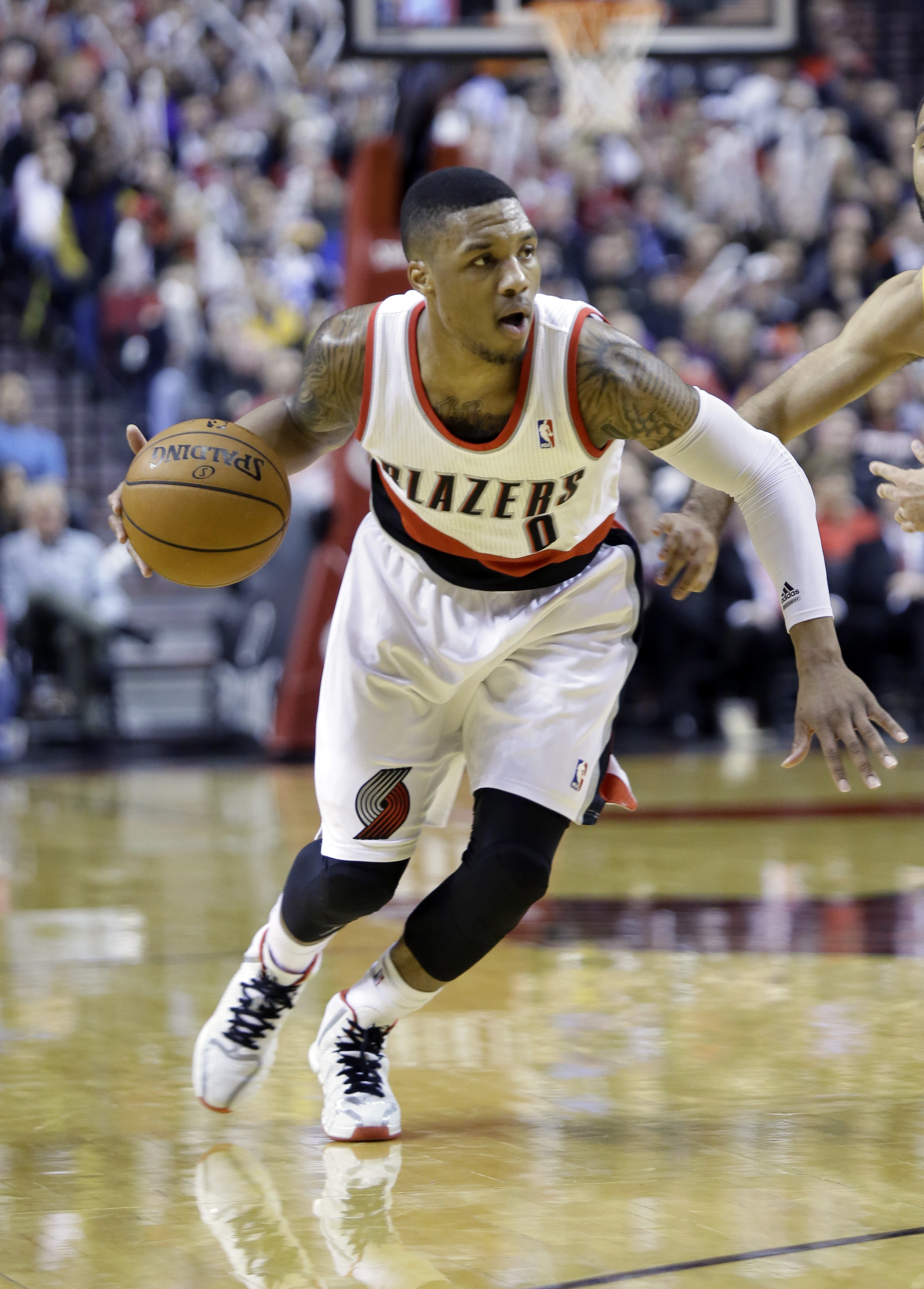 It's Wednesday, and we were a little slow on the blog front so we are going to give you the essential mix of everything we think you need.
And isn't calling just a page of links, "links," pretty basic? Yes, so we are going go call these the Trail Mix from now on because it's a better name and Trail Mix is awesome. Go Trail Mix.
First of all, we've got the full version of Adam Figman's SLAM Magazine cover story on Damian Lillard that was released online today.
Figman writes that Lillard's Oakland-based trainer Anthony Eggleton–who has imparted breathing exercises on Lillard–sends him YouTube videos of Bruce Lee talking about the focused mind:
As we went to press, Dame's numbers were similar to last year's—2 more ppg, 1 less apg—but with the insane clutch performances and the little fact that the Blazers are swiftly becoming a fully formed contender (evidenced by victories over just about everyone, save the Miami Heat, who beat them by a single point), Lillard's selection to the ASG was a sure thing.

"It just seems like he's one of those guys that practices every day, and some of those shots he makes when he attacks the basket are like…" Blazers guard Wesley Matthews says, unable to finish his sentence while smiling and shaking his head. "He's coming into his own."

Lillard also stays in touch with Eggleton throughout the season, receiving text messages from the trainer filled with notes about improving his mental toughness and overall mindset. In early January, Eggleton sent Dame a YouTube link to a video called "Power and Serenity of the Focused Mind," a series of Bruce Lee highlights from Enter The Dragon spliced together as Lee, and then a separate narrator, describe how one can use mind control to defeat an opponent.

Sure, it's difficult to imagine an NBA player finding much use in the material there. But then you think about two teams sitting on their respective benches during a timeout, two minutes left in a close game, everyone exhausted to the brim, 10 sets of lungs searching for air. And you think about Damian Lillard, closing his eyes, somehow (successfully) convincing his body that it isn't tired, perhaps remembering one of those ridiculous but timeless Bruce Lee quotes, and you realize, clock ticking down, with just enough time remaining for one player to step up and close it out … who the hell could possibly be better prepared for the moment than this guy?
Make sure to read the rest of the cover story.
Jason Quick of The Oregonian spoke with how Damian Lillard was inspired by his involvement in the Special Olympics to "end the R-word."
The athletes swarmed the team. One in particular took a fancy to Lillard.

"Jason Deppen,'' Lillard said with a smile. "He was so happy to see me. He knew my name and everything, said I was going to make the NBA.''

The next thing Lillard remembers, he was joining the Special Olympians in the layup line. Then he began throwing alley-oop passes. He says he still remembers the trash talk from some, saying they could dunk better than him, but more than anything, he remembers how much electricity and joy there was in the gym.

"I realized then, that I could change someone's attitude, change someone's mentality,'' Lillard said. "I knew if I ever got to the NBA, I could have even that much more impact. So since that day, I've always wanted to be a part of Special Olympics. That's when I really bought into it.''
Quick also told the story of Army Soldier Glenn Furukawa who surprised his mother and family at Monday's Blazers-Lakers game over at OregonLive.com.
In her seat in Section 114, Wagner cried Monday night, and I saw quite a few other misty eyes around the arena as well.

Thanks to the Blazers and Kia Motors, Wagner got to see her baby boy Monday night. In a surprise that played out on the scoreboard video screen during a second quarter timeout, she was reunited with her youngest child, Glenn Furukawa, a Sergeant First Class in the U.S. Army. She hadn't seen him in more than 10 months, since he left to Afghanistan for his third tour of duty in the Middle East.

Dressed in his Army blues, Glenn, 44, emerged from around the tunnel leading into the arena and faced his mom, who thought she was merely being honored for her son's service. Wagner went blank. Then all the worry, all the wondering, and all the love came pouring out. She grabbed his face and kissed him. Then she wrapped her arms around him and squeezed tight. She whispered in his ear that she loved him.

"I was just so happy,'' Wagner said. "Just so happy to put my arms around him and hold him again. You know, he's my little boy.''
Bruce Ely has photos as well.
Howard Beck of BleacherReport.com was at the Sloan Sports and Analytics Conference and used Damian Lillard as a case study in his longer piece about how understandings about shot efficiency still aren't mainstream.
We now know, too, that field-goal percentage is a poor indicator of a player's effectiveness, because it fails to account for the added payoff of a three-pointer.

Consider the case of Portland's Damian Lillard, who is wrongly tagged as a poor shooter because of his .433 field-goal rate. But he shoots a robust .403 on three-pointers, and he takes a lot of them—nearly seven per game. Lillard's effective field-goal percentage—a metric that is weighted for three-pointers—is .519, the 13th-best mark among guards, per Basketball-Reference.com.

Add in Lillard's frequent trips to the foul line, and his true shooting percentage—which adjusts for both free throws and three-pointers—is .578, 10th-best among guards.
Insightful piece, read the rest here.
Dane Carbaugh, of Blazersedge Playbook breakdowns and AYoungSabonis.com, has a hilarious take on the Blazers new court design contest.
And, since we didn't do them this week, here is a sampling of the league's power rankings after the Blazers won five straight before losing to the Lakers.