Blazers links: Tying up loose ends from All-Star weekend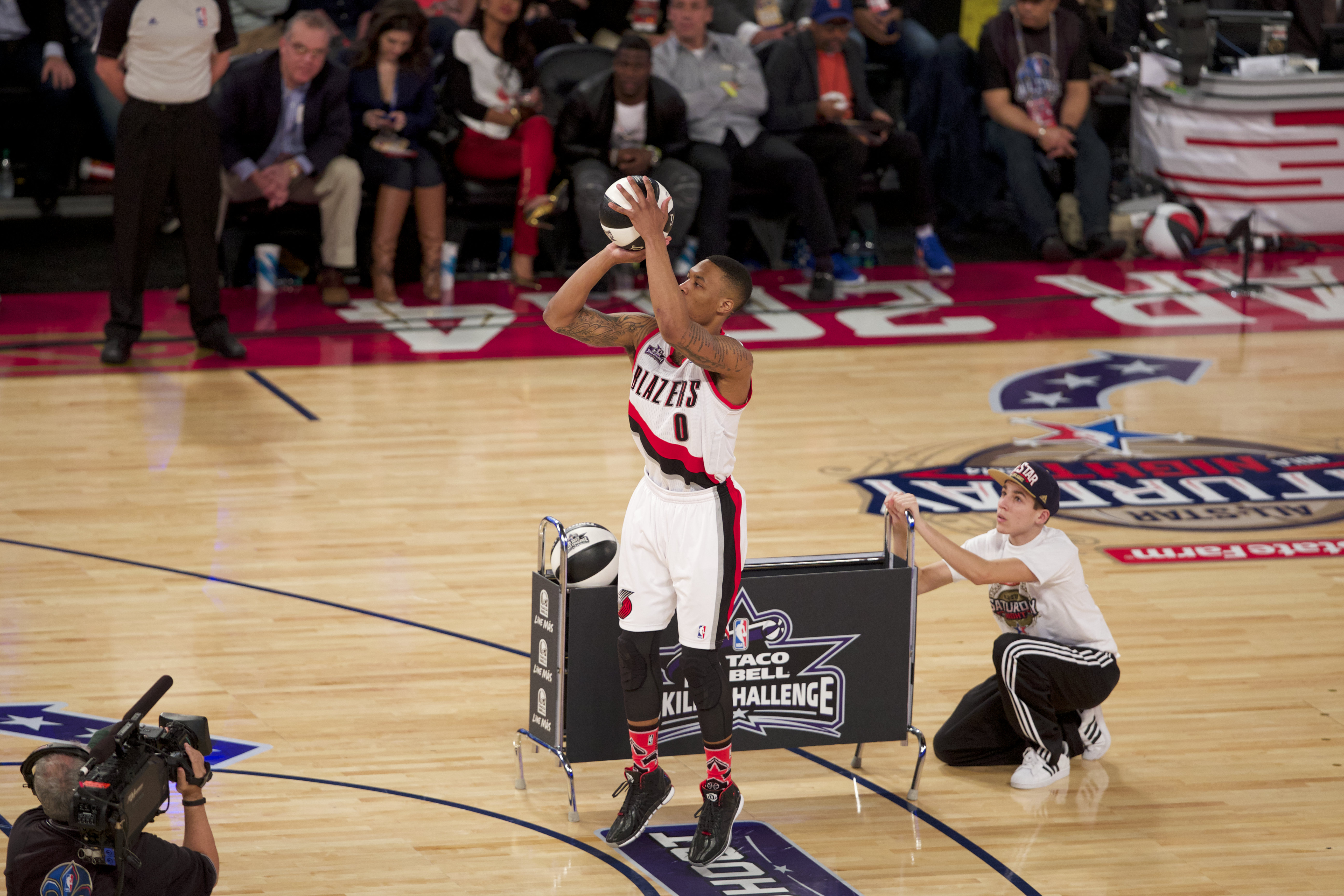 Damian Lillard and LaMarcus Aldridge were busy guys this weekend in New Orleans. Here's a round up of some of the best content that came from All-Star weekend.
The Trail Blazers put together a nice video recap from the weekend:
http://www.youtube.com/watch?v=esOZ6YGbhbE&feature=youtu.be&a
Chris Haynes of CSNNW.com reports that some anonymous players told LaMarcus Aldridge they have interest in coming to Portland to play with he and Lillard.
When you're winning, players want to follow. And according to Aldridge, a couple of All-Star players that shall remain anonymous have approached him, telling him that they would like to play with himself and Damian Lillard in Portland.

"Definitely a few guys have told me that this weekend," Aldridge informed CSNNW.com.

Aldridge and Lillard say they haven't actively recruited players over the course of the weekend, which is revealing, meaning those anonymous players went out of their way to express their interest in playing for the Trail Blazers.

"I think winning and the type of people that we are will attract people," Lillard said. "In that way, I guess we are recruiting but I haven't actively done so."
Haynes also reported that Portland is out of the running to host the 2017 All-Star game.
Bruce Ely of the Oregonian put together a nice photo essay of Lillard's weekend.
If Instagram is more your style, Casey Holdahl has instagrammed pictures and videos recapping the weekend over at ForwardCenter.net.
Ben Golliver had a more league-wide perspective with the same idea over at The Point Forward blog for SI.com.
The NBA featured Damian Lillard heavily in their All-Star Saturday mini-movie
http://www.youtube.com/watch?v=PmD2W1plFUc
My buddy Sean Highkin of USA Today covered the first live event for Damian Lillard's #4BarFriday rap competition in New Orleans.
All season, Lillard has been posting raps on his Instagram account with the #4BarFridayhashtag, and it's taken on a life of its own.

"The #4BarFriday concept started when Instagram came out with the 15-second videos, and I said, 'That's enough time to do four bars,'" Lillard told the crowd when he took the stage at about 11p.m. on Friday night. "So I talked to a few people who thought it was a good idea to make it a trending topic on Instagram and come up with something every Friday.

"I've been fortunate enough to have a lot of famous people and a lot of my friends and people who follow me on social networks really jump onto it and help me spread the word and get a lot of people involved in it."

Eight contestants, hand-selected from the regulars on Instagram, competed with each other in pairs, backed by the influential Cash Money Records DJ and producer Mannie Fresh. The contestants could each choose to rap for 15 seconds a cappella or with musical accompaniment (they were about evenly split), with the volume of the crowd picking the winner of each round.
Matt Moore of CBSSports.com reports that LaMarcus Aldridge feels "vindicated" as he is finally getting recognition for his production.
For him, the vindication of being an All-Star and getting recognition for his play is a long time coming.

"It's definitely a good feeling of vindication. I think I've done some pretty good things. "

So why has it taken this long?

"Being in the Northwest and not being on national TV as much I think has had something to do with it. But it definitely feels good to be a part of the conversations now."
Ben Golliver transcribed the post-game quotes from Aldridge and Lillard following the All-Star game over at Blazersedge.com.
Mike Tokito had a recap of the game over at OregonLive.com.
Sean Deveney of the Sporting News had a lengthy feature on Lillard where Damian says he feels like he belongs amongst the game's biggest stars.
But here he was in a room with the best players in the NBA, some of the greatest of all time. And it struck him that he was not out of place. He was one of them, one of the best. There was no overlooking him now.

Asked what his favorite part of the weekend has been, Lillard said, "The company. Last season, I was just in awe, being here and looking around and seeing all the Hall of Famers and LeBron and Chris Paul and Blake Griffin, I was in awe. Now, I am part of that group. I am in the All-Star game, it is a different feeling. I feel like I belong. I always had that confidence, but now it is like, I am here, I am here with them."
Joe Freeman had an excellent piece from Friday on LaMarcus Aldridge, why he has been so guarded until this season where he has been more open, and a look back at a younger Aldridge by his high school coach.
Just when LaMarcus Aldridge seems ready to take down his guard, the walls shoot up. Just when he seems ready to let you in, he pulls away. Just when he seems ready to move on, the memories materialize. Some things, he can't forget.

"I'm so different, when (bad) things happen, I usually block it out," Aldridge said. "That's just how I am. I don't want to let people's negativity or any negative energy affect me. But the stuff I do remember — I think about it all the time. People who doubted me and said I wouldn't make it. People who tried to hurt me growing up. It doesn't matter because I've always shown that I'm going to be what I think I'm going to be. But I remember."

Aldridge, who will play in his third All-Star Game this weekend, not only is etching his place as one of the best players in franchise history, he's also establishing himself as one of the best players in the NBA. He ranks seventh in the NBA in both scoring and rebounding, and he's averaging career highs in points (23.9 per game), rebounds (11.4) and assists (2.8). In his eighth season, he's never been more dominant, dependable or delightful to watch. But even more, he's never been a better captain. Beyond the gaudy statistics and MVP-like performances, what's made this season unique — for Aldridge and the Trail Blazers — is his evolution off the court.

Everybody can see the buttery jumper, the versatile defense, the unstoppable post moves on the left block. But it's his growth behind the scenes, as a leader and a teammate, that has catapulted Aldridge to new heights and the Blazers to unexpected success. One of the best traits of this Blazers team is its chemistry, and Aldridge's leadership has been a linchpin to its closeness.
For a big picture story, it was NBA Commissioner Adam Silver's first All-Star game as commissioner. Bleacher Report's Howard Beck had a very nice feature on him and his plans for improving the game.
The subject was Silver's lifelong relationship to the game he has now been entrusted with as the NBA's first new commissioner in 30 years. It is a role he has trained for in the classic sense as a 22-year executive with the league, the last seven-plus as deputy commissioner under David Stern.

Like many modern commissioners, the 51-year-old Silver is a lawyer and a businessman, not a product of the game itself. He did not play or coach at any significant level. But his attachment to basketball is palpable as he recounts his ascent to one of the most powerful positions in sports.

Silver's uniquely tempered fandom shaped his journey, through the Knicks games he attended in his youth, to the solitary moments he spent shooting in the side yard at his family's home in Rye, N.Y., to the nights he spent during law school watching a young Michael Jordan ascend at the old Chicago Stadium.

When the subject is collective bargaining, Silver speaks with the practiced cadence of a lawyer. But when the discussion turns to basketball—meeting Bob Lanier, befriending Bill Russell, sitting courtside for Jordan's title-clinching shot in 1998—Silver's face lights up and he speaks in double-time.

The fan within emerges.

"He loves the game," said Duke coach Mike Krzyzewski, who has worked extensively with Silver through USA Basketball and counts him as a close friend. "People can know the game, like the game, but then there are those who love the game.…He's very proud of the game and his part in the game. He knows he's part of something bigger than him."
And finally, @HeyBelinda has this great GIF of Damian Lillard getting his dance on during All-Star weekend.