Blazers Links: Addressing the Joel Freeland injury and Grantland analyzes Blazers offense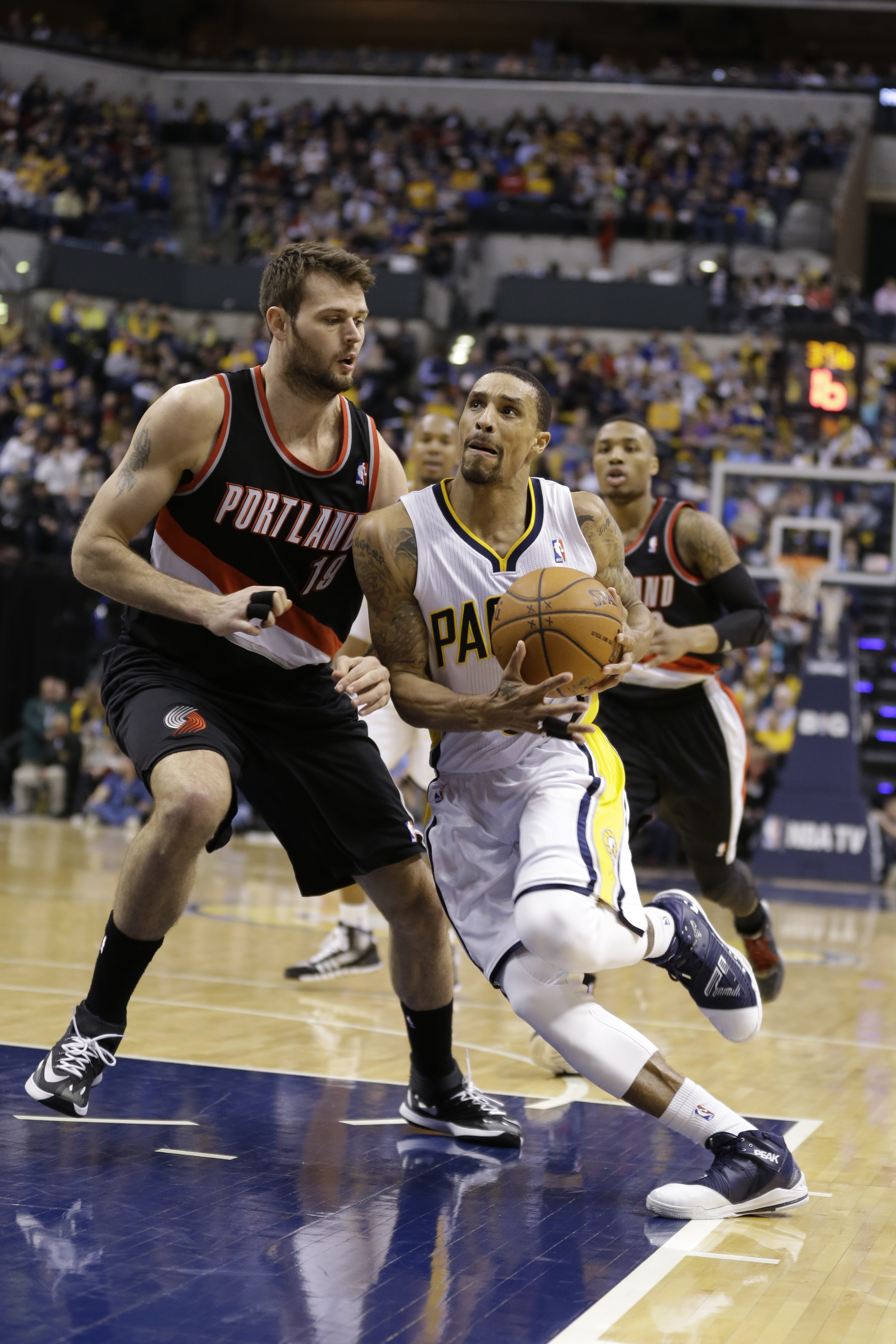 On Tuesday night the Portland Trail Blazers suffered their first extended injury to a player who has been a consistent part of their rotation. Blazers big man Joel Freeland will be sidelined for 4-8 weeks with an MCL sprain in his right knee. 
The reality of last night's injury will force Meyers Leonard or Thomas Robinson to significantly improve for the Blazers to maintain their place in the top half of the Western Conference. Both have been very up and down, lacking the consistency that got Freeland in the rotation.
Freeland has been praised all season by his teammates for his unselfishness and dedication to dirty work. Freeland brought a little bit of toughness and a fearlessness to be physical combined with excellent "verticality" technique in contesting shots.
Many didn't believe he would have a place in the league but worked hard to become a serviceable big of a Western Conference contender. Only time will tell what this will mean, but a few writers decided to tackle what is currently the Blazers' most pressing issue.
Kevin Pelton of ESPN.com's Insider section believes that the Neil Olshey may be forced to make a deal before the deadline to maintain their place in contention.
Every game counts for Portland, which could drop into a virtual three-team tie for third in the Western Conference with a loss in Wednesday night's first-half finale at the L.A. Clippers. Projections of the remainder of the season show the Clippers likely to finish third in the West, which would leave the Blazers — who are 5-7 over their past 12 games — battling the Houston Rockets for the fourth seed and home-court advantage in the opening round of the playoffs.

Already, there was talk about Portland adding a veteran big man before next Thursday's deadline to complement Freeland. The question is what the Blazers can offer. They will surely lose their protected first-round pick to Charlotte from the Gerald Wallace trade. They don't have a second-round pick, either, or any in the next two years.
Ben Golliver of Blazersedge.com addressed the hairy issue of the playing Thomas Robinson or Meyers Leonard in Freeland's place in last night's Media Row Report
The sentence above  — "Freeland is Portland's only reserve with at least 50 minutes under his belt this year who possesses a positive net rating" — actually undersells the potential for danger here. At the moment, Portland's two worst reserves, with at least 50 minutes logged, are Thomas Robinson and Leonard, who just so happen to be the only two available bigs to fill in. A glance at the following top-down comparison should be sufficient to raise the blood prssure…

Joel Freeland — Off. Rating: 106 | Def. Rating: 105.5 | Net rating: +0.5
Thomas Robinson — Off. Rating: 104.2 | Def. Rating: 110.8 | Net rating: -6.5
Meyers Leonard — Off. Rating: 95.4 | Def. Rating 108.4 | Net rating: -13

When Robinson was benched a little less than two months ago, the conclusion here was that his early season production had been shaky enough to warrant the "Try anybody else" treatment. Although Leonard has still yet to log as many minutes as Robinson did prior to the benching, his candidacy as "anybody else" has so far been a flop. Remember, both Robinson and Leonard are putting up those numbers with Freeland in the mix; their responsibilities and the potential for mismatches will increase without him.
Dane Carbaugh of AYoungSabonis.com analyzed the play of Leonard and Robinson and how the minutes might be divided up.
Robinson provides a great spark off the bench, and has improved his ability to move the ball within the confines of the Blazer offense the last six weeks. His habit as a ball-stopper seems to have subsided, but it doesn't make up for the fact he's a complete liability as a shooter, a crucial issue considering he's not yet versed enough in footwork to be a roll-only pick man in the mold of, say, Tyson Chandler.

Leonard hasn't done much better, despite his ability to shoot the ball out to three-point range. The young center is still learning how to play in the post, and his pick setting, positioning and defensive awareness are a work in progress. As fans may have missed, coach Terry Stotts is substituting these players — either by quarter or by game — situationally and that may be the case moving forward. Leonard provides better total rebounding numbers and shooting ability but Robinson grabs more contested rebounds by percentage. Both have shown improvements in defensive decision-making since the start of the year.
Grantland.com's Kirk Goldsberry took at look at the Blazers offense and finds out that Nicolas Batum is the league's second-most efficient finisher at the rim only behind LeBron James. The Blazers offense has struggled over the last few weeks but still are second in the league in offensive efficiency. 
Batum's an adequate shooter who looks plain average compared with Lillard and Matthews, but he's become an efficient attacker; he's freakishly effective near the basket. Out of 203 players with at least 100 attempts inside eight feet, Batum trails only LeBron James in field goal percentage. He's made 75 percent of his shots down there, 20 percent better than the NBA average. Batum's inside play is a perfect contrast to Matthews's and Lillard's bomb-throwing, and it helps create space for the Blazers' centerpiece.
Definitely read the rest of this one for more juicy shotcharts and analysis on what makes the offense click. However, if you're looking for talk about about how important Robin Lopez is to the offense, don't be too displeased when you see only his shotchart. All jokes aside, great work as always from Goldsberry.
Ben Golliver, wearing his hat for SI.com, ranked Blazers legend Clyde Drexler as one of the five greatest dunkers never to win a dunk contest.
here is only one man who tried and failed to win the Dunk Contest more times than Kemp. That distinction belongs to Drexler, a Hall of Fame guard who went 0-for-5 during the 1980s.

Drexler began his Dunk Contest career as a 21-year-old rookie, fresh off a successful college career with the famed "Phi Slamma Jamma" squads at Houston. By the time he called it quits, six years later, he was well into a stretch of seven consecutive All-Star appearances and — it must be noted — he had significantly less hair. Drexler was technically sound and consistent but he never quite had a signature moment to put him over the top. He favored precise looks — double-clutches, cock-backs, reverses and windmills — that were good enough to help him advance in 1987 and 1988 but not quite good enough to topple the monolithic Jordan. That matchup would prove to be a problem in the 1992 Finals, too, as Jordan's Bulls prevailed over Drexler's Trail Blazers.

The closest Drexler came to winning was 1989, a contest held in his hometown of Houston. That year marked the only time he advanced to the finals during the contest's old three-round format. He got there with a pretty 360, in which he kicked up his legs as he spun (watch here at the 0:45 mark), and a smooth windmill. Once in the finals, Drexler missed his first two dunks and didn't attempt a third, as Kenny "Sky" Walker had run (flown?) away with the victory.

That wasn't the storybook ending Drexler was hoping for, but it wound up securing his title as the most prolific Non-Champion ever. That's not a totally bad thing. By coming up empty on so many occasions and living to tell about it, Clyde The Glide will always serve as the go-to example whenever excuses are made for why someone like LeBron James shouldn't participate.