The Scouting Report: Denver Nuggets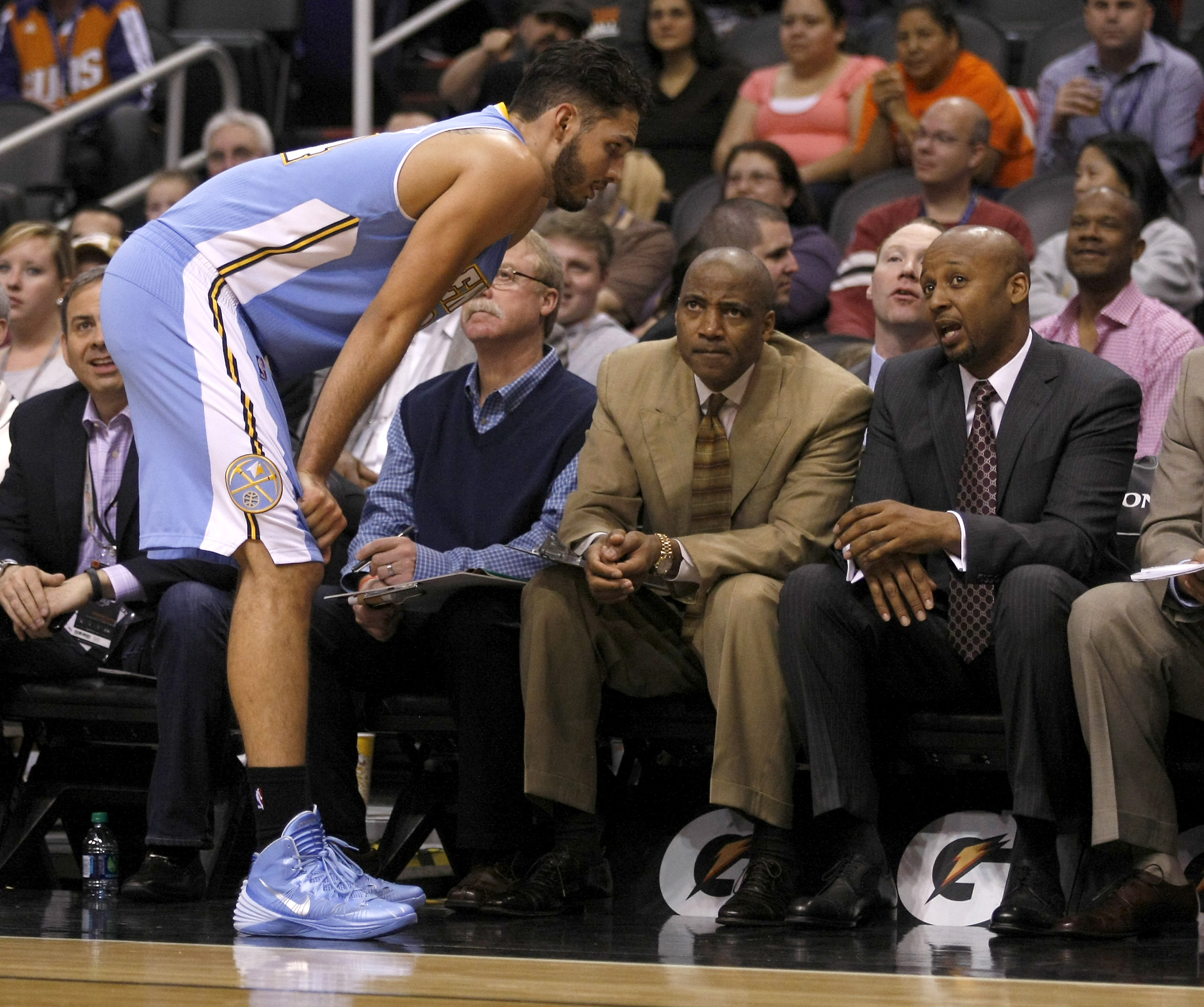 Projected starting line-up: Ty Lawson, Evan Fournier, Wilson Chandler, Kenneth Faried and (our old friend) J.J. Hickson
We all know the "Keep Portland Weird" slogan but few teams this season are weirder than these Nuggets.
There are so many parts of this team that don't really fit on paper but then you look at their overall talent and deduce that they have more than your average team.
They traded Andre Iguodala, they brought in Brian Shaw after firing 2013 Coach of The Year George Karl. They chose not to match a lucrative offer from the Toronto Raptors for the 2013 Executive of The Year, Masai Ujiri.
Brian Shaw started changing earlier in the season, looking to post-up their big men and using some Triangle offense looks that he brought over from his days coaching under Phil Jackson.
However, the reality of their personnel has required Shaw to adjust and the keys to the offense are back in the hands of the speedy Ty Lawson. The Nuggets play at the league's 5th-fastest pace in the league.
Without Iguodala, Corey Brewer and the injured Danilo Galinari (who won't come back this year after getting his ACL repaired this week) their defense isn't quite as good as last year.
Some thought that the Nuggets had a real shot to win the West last season but Galinari's injury before the playoffs and Stephen Curry dashed those hopes.
Looking at the previous match-up between these two teams wouldn't be all that useful in helping us tonight since the Nuggets look a lot more comfortable in their style of play.
But then again, this Nuggets team seems to have crazy swings, which is why I feel they are so weird.
They started the season 0-3, then in mid-November they went on a seven-game winning streak. Right now, they are 6-4 in their last 10 games but have lost three out of their last four.
The one win? A 123-116 at Golden State, an elite Western Conference team that a lot of people consider to be a championship contender. A game in which they were led by a 13-point, 24-rebound performance from J.J. Hickson and 24 points off the bench by Nate Robinson.
They followed up that performance by losing to the Cavs at home and getting beat by 14 on the road in Phoenix.
This is why the Nuggets are so weird.
They've been able to withstand a myriad of injuries like a stress fracture to JaVale McGee that's kept their second-highest-paid player off the court since early November.
Once again, J.J. Hickson is starting at center and he's doing well averaging 11.5 points and nine rebounds per game.
Nate Robinson can get red hot with the best of them off the bench but the featured player and the number one priority for Portland is Ty Lawson.
Lawson is having an excellent season, averaging 18 points and nearly nine assists per game. His efficiency has gone down a little bit this season, but the team around him isn't quite as good as last season.
All of that said, the Nuggets still find themselves only three games out of a playoff spot. All of these injuries, losing key parts of their core and organization, players playing out of position and still they are here.
Denver remains probably the most confusing of the teams able to make it in to the Western Conference playoffs.
While confusing as a unit, one thing is certain, they've got a lot talent. The talent is why they are still relevant in the Western Conference playoff picture. With a weary Blazers team returning on a road trip, they could be ready to pounce.