Road Takes: Durant takes over to bury Blazers late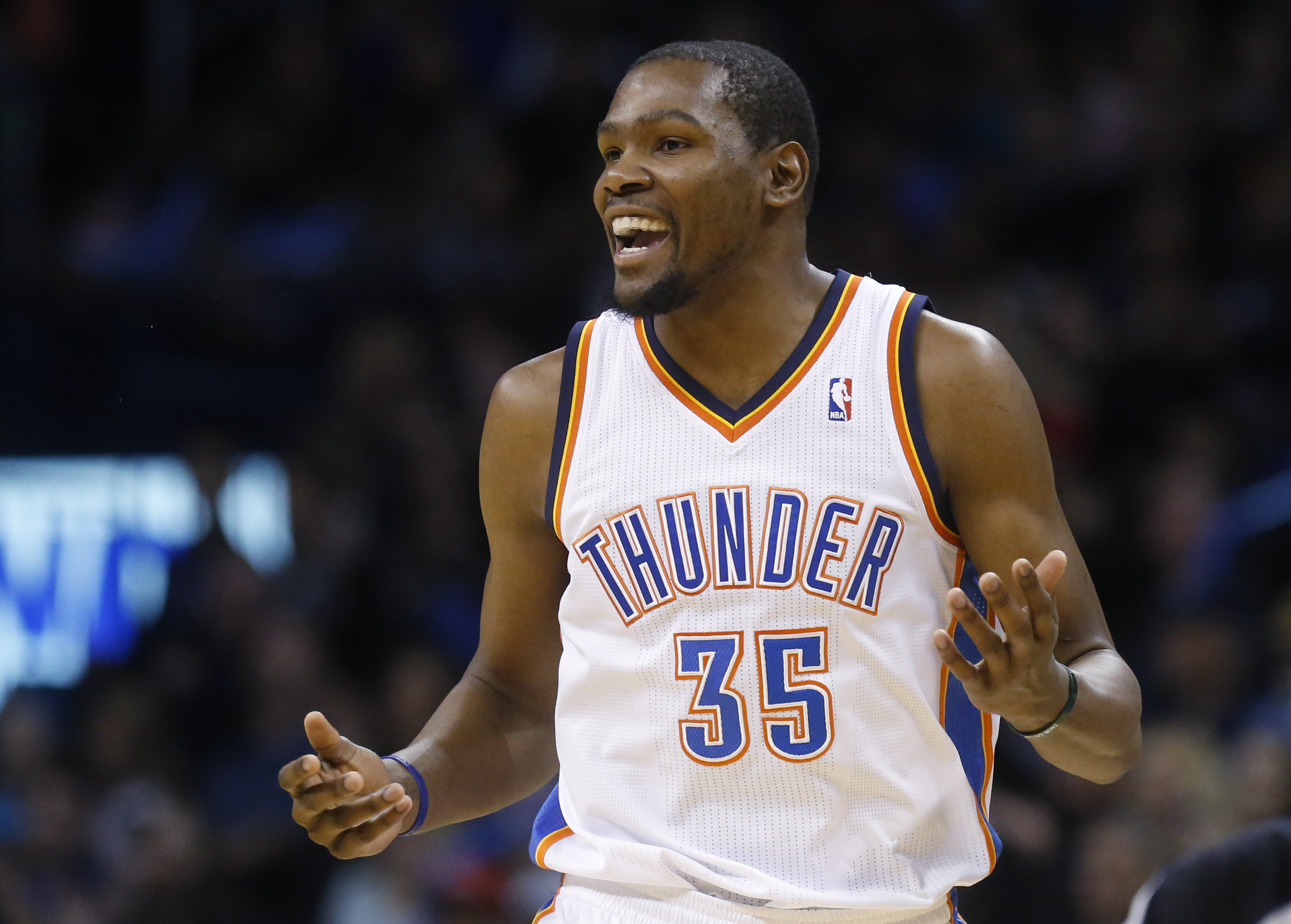 There was quite a bit to takeaway from tonight's fantastic clash of Western Conference elites in Oklahoma City. The Thunder won 105-97 in a game that was much tighter than the final score would indicate.
The first of these takeaways is OH MY GOD KEVIN DURANT. Durant just dropped 54 points four days ago and then he just couldn't help himself tonight. Durant scored 46 points against the Blazers tonight and it was essentially the exact opposite of what happened in the previous meeting. Last time out, Durant had 37 points through three quarters and failed to score in the 4th. Durant wasn't about to let history repeat itself and Portland's defense was powerless to stop it.
Tonight the curse of the 4th quarter cold streak went to LaMarcus Aldridge. The Blazers wouldn't even have been in position to win the game had it not been for Aldridge but it still matters that he went 1-of-8 in the 4th quarter. To give you a little bit of an idea of how this one went down the stretch: Kendrick Perkins made a midrange jumper (of which he's taken 21 total on the season) with 1:36 left to put Oklahoma City up by four and Aldridge missed a turnaround on the ensuing Blazers position.
The Blazers tried to milk the Aldridge-Perkins match-up down the stretch as much as they could but Portland probably could have gone with some more conventional offense. Aldridge against Perkins is a mismatch every time, but sometimes you're going to miss shots no matter who you are.
Wesley Matthews, as it seems like we say every other game, was fantastic tonight for the Blazers. Matthews scored 21 points to go along with four rebounds and four assists.
Nicolas Batum played tonight even after re-injuring his left middle finger. He told reporters about how important he felt the game was and it looked like he focused nearly all of his effort into guarding Kevin Durant. Batum took only five shots, had two assists and grabbed five rebounds. Durant took no mercy.
The Blazers defense followed up probably two of their best defensive games of the season in San Antonio and Dallas (including the Cleveland game they had an above-average defensive rating of 101.7 in those three games) with two rough performances. Last night they had a defensive rating of 127.8 and followed it up tonight with a defensive rating of 121.4.
The Blazers needed some help from their bench tonight and they got some scoring from Mo Williams and C.J. McCollum. Williams had 13 points on 10 shots off the bench and McCollum had five points in the fourth quarter. It certainly wouldn't hurt Portland if they could get more scoring out of their bench units.
How about this stat from the Blazers: Robin Lopez's 10 points and 10 rebounds gave him his 16th double-double this season which is more than Lopez had in all of his previous seasons combined.
Damian Lillard didn't have a great game from the field tonight. His 0-for-5 line from behind the three-point wouldn't have been so bad for the Blazers had Batum been his normal self but he wasn't. Batum took only two threes tonight and had been averaging nearly six per game coming in.