The Scouting Report: Cleveland Cavaliers (Dame v. Kyrie III)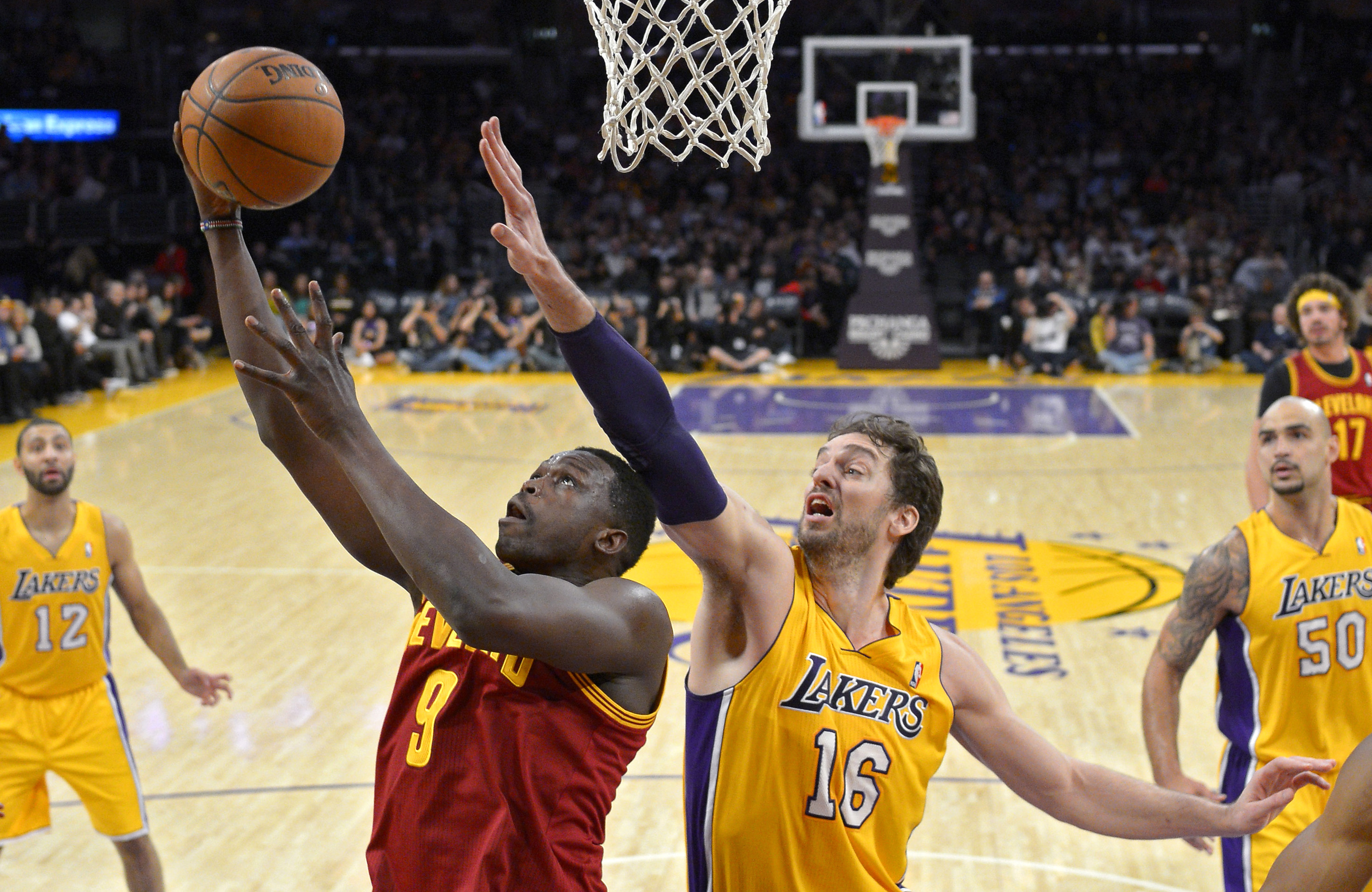 Projected starting line-up: Kyrie Irving, C.J. Miles (two C.J.'s tonight!), Luol Deng, Tristan Thompson, Anderson Varejao.
See ya later, Andrew Bynum.
That's what the Cavs said last week in trading him to the Chicago Bulls, ridding themselves of his contract, his knees and a player lacking the desire to play for them.
In return, they got some much needed legitimacy to the wing position and their locker room in All-Star forward Luol Deng. Deng, a well-regarded veteran who plays about as hard as anybody in the league should help and he dropped 27 points in Cleveland's 120-118 win over the Lakers last night.
The Cavaliers were supposed to make the leap this season. They were supposed to make the playoffs and look like an attractive destination for LeBron James to return to.
So far, the 2013-2014 season has been anything but ideal for the Cavaliers.
This season has only given critics more reason to scrutinize their draft picks, outside of Kyrie Irving. Such questionable choices include the ball-dominant Dion Waiters alongside the ball-dominant and much better Irving, choosing Tristan Thompson over a true center in Toronto's Jonas Valnciunas and finally, the coup de grace, picking Anthony Bennett with the number one pick in last year's draft.
Bennett is on pace for the worst rookie season ever in terms of player efficiency rating, falling ten TEN! 10! points worse than KWAME BROWN. That's right, poor Anthony Bennett is playing worse and than Kwame Brown but yet the Cavs keep him on the bench to keep the seats warm.
Why he hasn't gone to the D-League yet is a mystery.
With that said, as you know, the Eastern Conference is awful. The Cavs, at 14-24, are only four games out of getting the 5th seed in the East.
Kyrie Irving is still amazing and does things with the ball that only a few in this league can do, and that alone makes them a team to be careful with.
All the more reason to be careful with Irving, he didn't have a great game last night. He scored only 13 points in 30 minutes and was hampered with foul trouble for most of the game, something that makes me wonder if he's planned to get revenge on Damian Lillard.
Lillard said that while he gets excited for every game, the elite point guards and All-Stars such as Irving get him even more excited because he wants to be on their level.
The last match-up was tantalizing even though the two players rarely guarded each other down the stretch with Nic Batum picking up Irving and Alonso Gee guarding Lillard.
Tonight should be great fun once again. Last year when Cleveland visited Portland, Irving came off a bad game only to drop 31 including 10 points in the fourth quarter, where Irving tends to shine.
Tristan Thompson and Anderson Varejao both have a knack for getting on the glass and both are capable offensive players. Varejao had a solid 18 point, 18 rebound performance against the Lakers last night.
Since the Deng trade, they are 2-1 with wins against Utah and the Lakers with their one loss coming in blowout fashion against Boogie and the Kings.
Andrew Bynum had a solid first half in the last meeting and Cleveland won't have that this time.
The addition of Deng gives them something more dangerous: one of the league's best wing players and a career winner who will be there when needed.