Blazers' Aldridge moves up, Lillard stays put in latest All-Star balloting results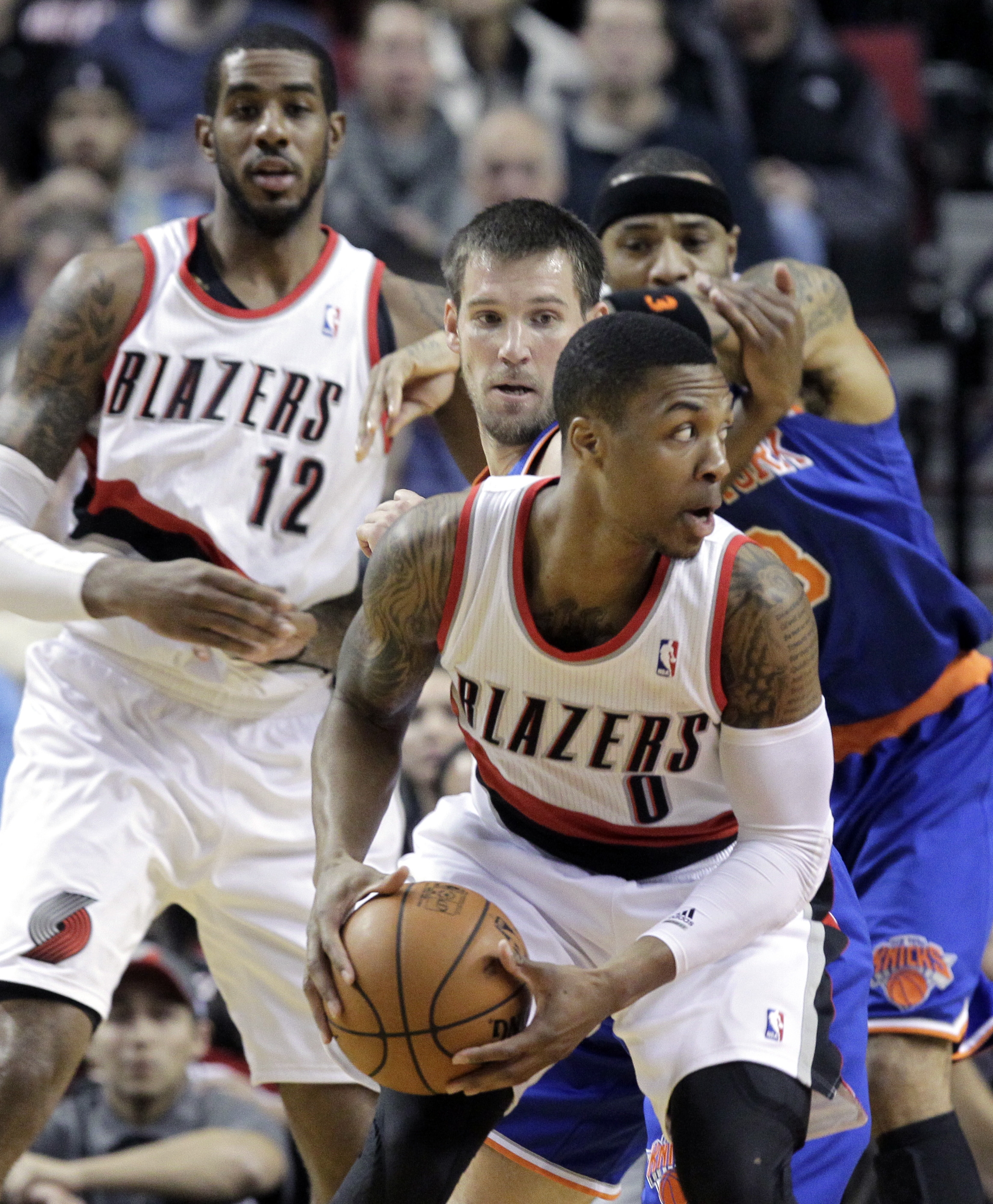 The NBA released the most updated balloting returns for the NBA All-Star voting by the fans.
LaMarcus Aldridge moved up one spot in the voting, now 5th in the frontcourt voting for the West. Damian Lillard did not move up in the backcourt voting as he is still in 8th place despite his endorsement from Kobe Bryant.
LeBron James is the leading vote-getter while Kevin Durant comes in second place. Kobe Bryant, despite saying fans should vote for other people, is still first in the backcourt voting in the Western Conference.
Here are the full voting results:
Frontcourt

1.         LeBron James (Mia) 1,076,063

2.         Paul George (Ind) 899,671

3.         Carmelo Anthony (NYK) 702,869

4.         Roy Hibbert (Ind) 385,964

5.         Chris Bosh (Mia) 304,986

6.         Kevin Garnett (BKN) 164,021

7.         Joakim Noah (Chi) 128,201

8.         Andre Drummond (Det) 120,844

9.         Tyson Chandler (NYK) 101,637

10.       Jeff Green (Bos) 96,336

11.       Luol Deng (Cle) 90,730

12.       Carlos Boozer (Chi) 80,271

13.       Paul Pierce (BKN) 72,581

14.       David West (Ind) 61,612

15.       Brook Lopez (BKN) 58,477

Backcourt

1.         Dwyane Wade (Mia) 718,109

2.         Kyrie Irving (Cle) 652,522

3.         Derrick Rose (Chi) 323,099

4.         John Wall (Was) 278,516

5.         Ray Allen (Mia) 190,086

6.         Rajon Rondo (Bos) 133,448

7.         Deron Williams (BKN) 95,309

8.         George Hill (Ind) 89,428

9.         Lance Stephenson (Ind) 77,364

10.       DeMar DeRozan (Tor) 68,985

Frontcourt

1.         Kevin Durant (OKC) 1,054,209

2.         Dwight Howard (Hou) 509,116

3.         Blake Griffin (LAC) 500,964

4.         Kevin Love (Min) 483,031

5.         LaMarcus Aldridge (Por) 404,793

6.         Tim Duncan (Por) 385,342

7.         Anthony Davis (NO) 223,956

8.         Pau Gasol (LAL) 207,213

9.         Andre Iguodala (GS) 192,616

10.       Dirk Nowitzki (Dal) 156,792

11.       DeMarcus Cousins (Sac) 148,604

12.       David Lee (GS) 141,509

13.       Chandler Parsons (Hou) 135,387

14.       Omer Asik (Hou) 101,372

15.       Kawhi Leonard (SA) 91,859

Backcourt

1.         Kobe Bryant (LAL) 844,538

2.         Stephen Curry (GS) 677,372

3.         Chris Paul (LAC) 651,073

4.         Jeremy Lin (Hou) 471,980

5.         James Harden (Hou) 338,788

6.         Russell Westbrook (OKC) 260,499

7.         Tony Parker (SA) 195,328

8.         Damian Lillard (Por) 162,363

9.         Klay Thompson (GS) 108,404

10.       Ricky Rubio (Min) 97,265