Nicolas Batum "not yet" dribbling with left hand will wear splint non-stop for 6 weeks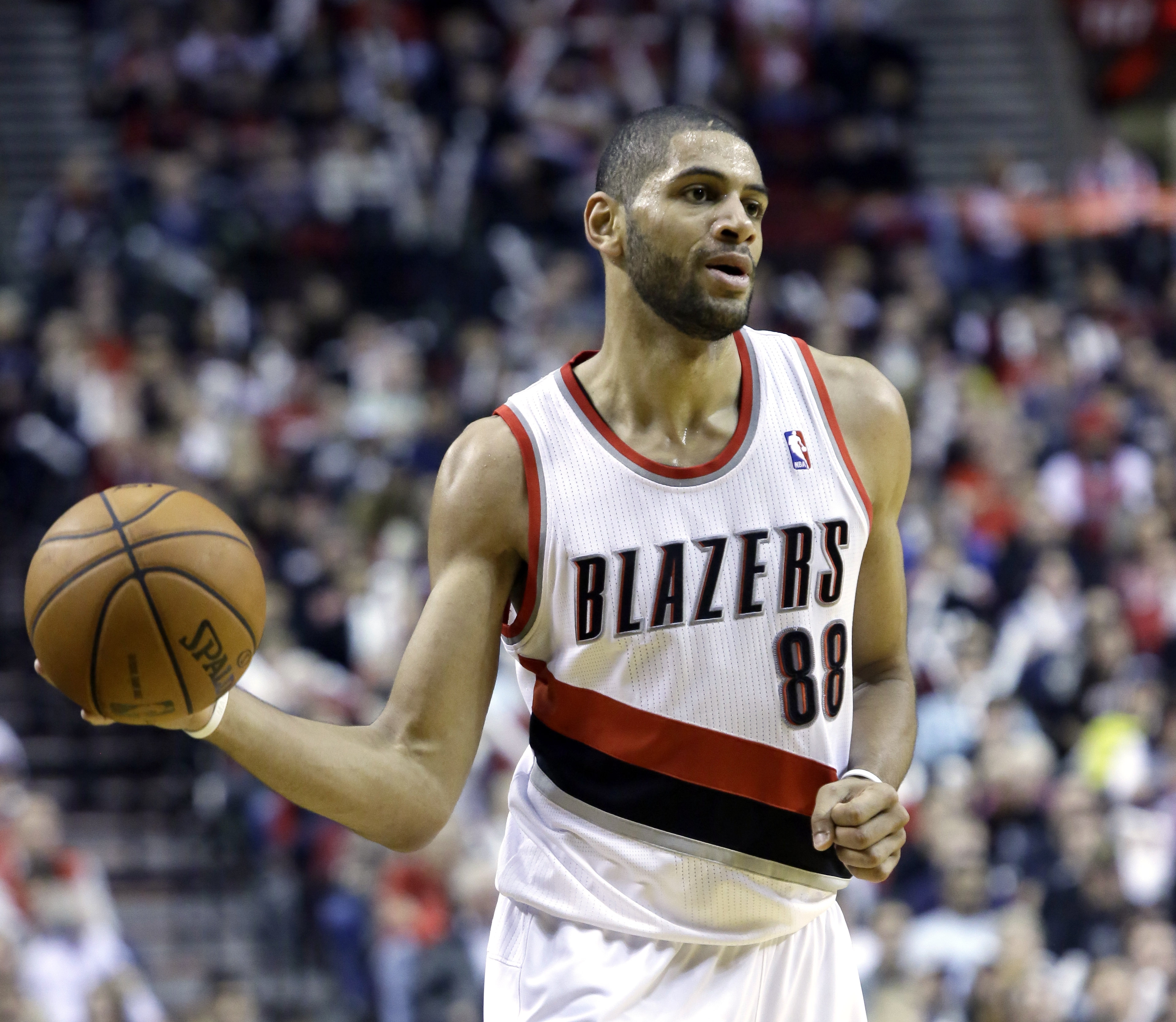 Nicolas Batum suffered an "avulsion fracture" of his left middle finger in the Trail Blazers' Saturday night loss to the Philadelphia 76ers.
Batum said he initially felt pain but then when he looked at his finger, rushed to the Portland bench so a team trainer could put the finger back in place as Batum said his nail was off to the left.
On Monday, Batum took the practice court for the first time since x-rays revealed that the finger was fractured. According to Wikipedia, an Avulsion fracture is when a fragment of the bone separates itself from the bone's main mass due to physical trauma. That trauma happened when Batum tried to foul a Philadelphia player late in Saturday's game.
Batum has a protective splint on his left middle finger that he has to wear 24-7 for the next six weeks.
"My first time practicing with it, it's my left hand, not my shooting hand," Batum told reporters on Monday. "I can shoot the ball pretty well. I can catch it and dribbling is kind of different so it's an adjustment for me but I'll be okay."
When Batum was asked how it is when he dribbles with his left hand, he said he still hasn't gotten there yet.
"Not yet. Not really," he said in response to questions about his dribbling with his off hand.
Batum believes that it won't affect him too much since he dribbles with his right hand. He did say, however, that he will have to adjust his game.
In the heat of battle, he said the pain wasn't so bad but after the game and the next morning where when really started to feel it.
Blazers coach Terry Stotts said that Batum looked more comfortable in practice than he had anticipated, saying that he went through contact and made some threes.
"Obviously it's bothering him. As far as limitations it's probably up to him," Stotts said.
Batum has not talked about what limitations he may have and said that his injury this season, unlike the wrist injury that plagued him for much of last year, won't have as much of an impact because it's on his off hand.
Batum has final say on whether he plays tonight and said that he can determine if the pain is too much to play.
However, with C.J. McCollum being activated for tomorrow, the Blazers added another wing player and playmaker in case somebody has to pick up the slack with Batum injured or if he has to sit out for a period of time.
"In any event, we'll be ready," said Stotts.