C.J. McCollum (foot) will be activated Tuesday vs. Sacramento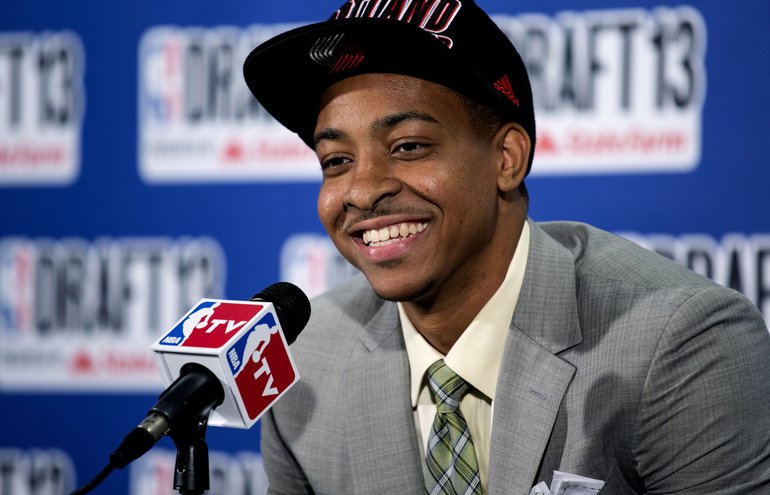 Portland Trail Blazers guard C.J. McCollum made his return to the Blazers practice court on Monday after playing in two games for the D-League Idaho Stampede over the weekend.
McCollum will be activated for the first time in his NBA career on Tuesday against Sacramento. Allen Crabbe will take his spot on the inactive list, said Blazers coach Terry Stotts on Monday.
McCollum hadn't played much competitive basketball in 2013 and his stint in Idaho was the first time he had played since participating in the Las Vegas Summer League.
"It was fun," he said about his stint in Idaho. "I love this game, I love playing the game. When you get hurt your rookie year before your season starts after you finish training camp and two a days it kind of hurts a little bit."
While McCollum has had to watch games from the sidelines as well as his fellow rookies play and do well, he hasn't lost perspective of the situation he finds himself in.
"But at the end of the day I'm in this position, I'm thankful to play in the NBA and play for a good team."
While Stotts will put McCollum on the active list, he did not say that McCollum would play and suggested that he probably won't make his debut Tuesday night in Sacramento.
"I don't know if he's really ready to come back and play," said Stotts. "I thought his two two games in Boise were good. He's had good practices but you know the decision will be made when it's made. I think the most important thing is that we get a win in Sacramento."
Stotts said that McCollum brings an ability to make shots to the Blazers, something that teams can never have too much of.
McCollum, in fact, even made a joke about whether he might hurt the team's chemistry by talking about concerns about the Blazers last year that they weren't deep enough.
"Last year you guys complained and said the team wasn't deep enough and the bench didn't provide enough energy. Now I'm hearing 'oh they are too deep where does CJ fit?' and stuff like that," he said.
McCollum is still getting used to being back in the offense and knowing the terminology of what the Blazers are trying to do. He also says he needs to work on getting the ball to players in their spots when plays are called for them, especially the big man.
"When the play is called for someone you have to make sure they get the ball. Especially LA," he said.