Blazers slip in power rankings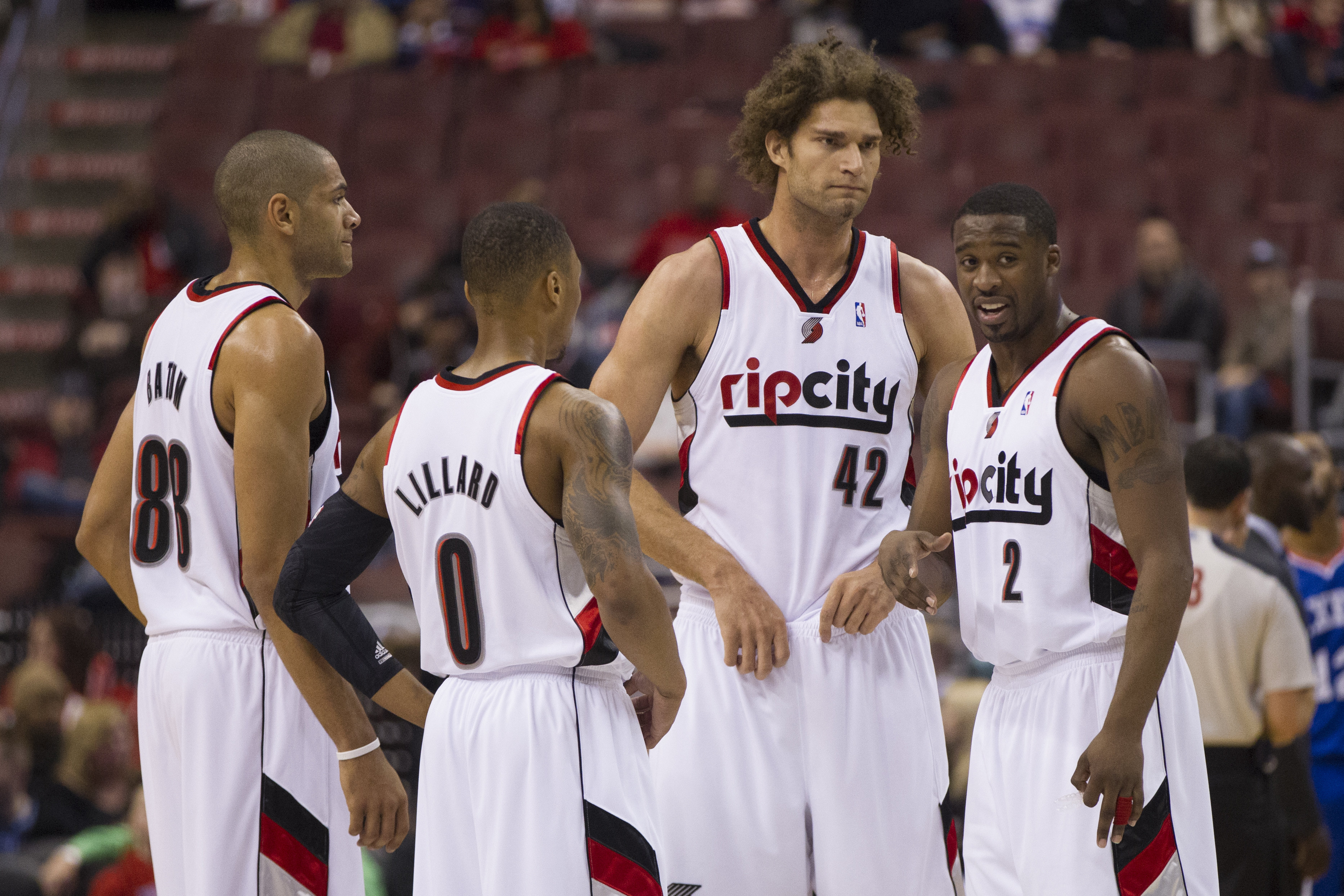 Two losses in the past week, even if they came in very close fashion, didn't bode well for Portland's place in the power rankings this week.
Marc Stein of ESPN.com: 4 (last week: 4) 
A home loss to lowly Philly is not the sort of start that the Blazers wanted to see in Game 2 of a soft stretch featuring six straight Tastykakes. Look at it this way, though: Portland made it all the way to the first week of January before suffering a real cringe-worthy loss. Can't complain too loudly, then.
Marc Spears of Yahoo! Sports: 4 (last week: 4)
 C.J. McCollum averaged 18.5 points in 20.5 minutes in two games with D-League Idaho. The rookie's NBA debut could come Tuesday at Sacramento.
Are they finally dropping off? Don't count on it; they play four consecutive teams with losing records.
David Aldridge of NBA.com: 4 (last week: 4)
First-round pick C.J. McCollum (broken foot) finally makes his pro debut with the Blazers' NBA D-League affiliate in Idaho.
John Schuhmann of NBA.com: 6 (last week: 4)
Portland (26-8)
Pace: 97.6 (10), OffRtg: 110.1 (1), DefRtg: 104.5 (20), NetRtg: +5.5 (5)
Defense has been the issue in most of their losses, but the Blazers' offense finally came up empty against the Sixers on Saturday, when they shot 6-for-26 (0-for-6 from 3-point range) in the fourth quarter. They got a nice win in Oklahoma City on Tuesday and hit 21 threes (for the second time this season) against the Bobcats' top-10 defense on Thursday, but have lost three of their last five games.
This week: @ SAC, vs. ORL, vs. BOS
Matt Dollinger of SI.com: 5 (last week: 4) 
Is this the fall from grace that Blazers skeptics have been waiting for? Portland has dropped four of eight after losing only four of its first 26 games. It's worth noting that the last three have come by a combined five points, including two via last-second shot (Chris Bosh's three-pointer and Tyreke Evans' pull-up).
Matt Moore of CBSSports.com: 5 (last week: 4)
They're not frauds, they genuinely are a great Western Conference playoff team. But maybe we should chill out on the title contenders bit.
Kurt Helin of NBCSports.com: 6 (last week: 4)
 They have gone 2-3 in their last five and while they have gotten to the line a little less and not been quite as strong on the boards, the reality is they have lost the kind of close games they have won much of the season. Those kinds of wins tend to even out over time.
The Blazers are still rolling with the NBA's best offense, and it was on fully display during a 134-104 shellacking of the Bobcats on Thursday. However, Portland is just 21st in the league in defensive rating, which could be a big problem come playoff time.