Transcript of Terry Stotts on The Dan Patrick Show (VIDEO)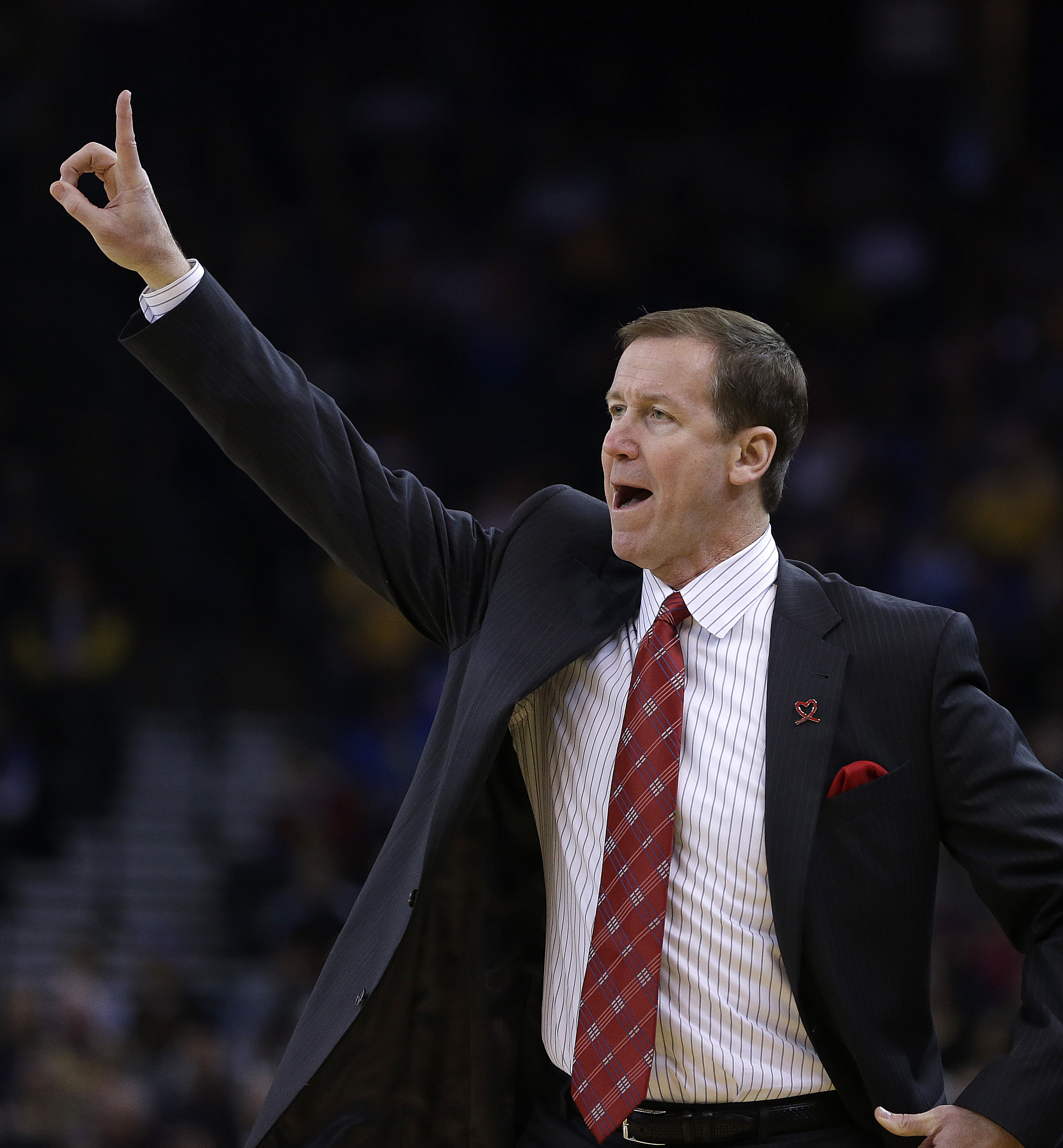 This morning Trail Blazers Head Coach Terry Stotts was interviewed by Dan Patrick on the Dan Patrick radio show which is also simulcast on the NBC Sports Network and the Audience network.
Here is a transcript of the interview with Stotts
Dan Patrick: Let's bring in Terry Stotts, Blazers Head Coach. I don't know how much media they are getting but they are one of the better stories of the year considering last year and then the change to this year. 
Terry let me go back to London when I'm there for the Olympics and I see you. 
Stotts: (Laughs)
DP: Do you remember in the hotel lobby running out the door? I only saw you for about nine seconds. 
Stotts: You have a good memory. I was on my way to interview with Mr. Allen on his ship. 
DP: Okay. First of all, it's not a ship I think. Is it called a yacht? It's so big. 
Stotts: It's called a yacht but if you google it, it's a ship. 
DP: I see you in the lobby of the hotel and you said I gotta go, I'm going for a job interview. I'm thinking is there an NBA team in London here, who are you interviewing with? And then I realized you were interviewing for the Blazers job. So Paul Allen has his yacht there, what's it like when you walk on the yacht. 
Stotts: Well to be honest it's beyond words. It is a ship. I've never been on a private vessel as big as that obviously. It was impressive, it's got eight or nine floors or, I don't know if they call them floors on the ship…decks. But I got a tour of it afterwards but I was much more concerned about the interview then the yacht at the time. 
DP: But did you get the job that day? 
Stotts: No I didn't. I flew back after that interview and shortly thereafter a decision was made. 
DP: I'm looking at the yacht now. It's got two helicopters on it. 
Stotts: Yes. 
DP: It's big enough to have two helicopters land. 
Stotts: Well Mr. Allen is a private person and I don't want to go into too much detail but the fact that you're able to look at it that's good enough. 
DP: Congrats on the start so far, what's the difference between this year and last year in your opinion.
Stotts: Well we filled the needs that we had going into the season. Last year our core group of four players, Damian, Wesley, Nic and LaMarcus all played very well. But it's been noted we didn't have a lot of scoring off the bench. We didn't have a defensive center and we didn't have a true backup point guard. We filled all of those needs and that along with the chemistry that developed very quickly put us in the position we are today. 
DP: I got to watch most of the second half against Cleveland.  There's a lot of things to like but there is a lot of things that make me nervous come playoff time for you guys. You guys can shoot, you guys can make free-throws. Defensively I'd be a little concerned. Lillard I'd like him shooting a little better from the floor but he's spectacular, he's fun. LaMarcus Aldridge, I think the national media may be getting a chance to see him and putting up numbers. He's rebounding a little bit more. It"s just hard to be a great jump shooting team I think. Once you get to the postseason it feels like can you live and die by that jump shot? Your thoughts on this built for the long haul and once you get into the postseason.
Stotts: Well, i think those are all legitimate observations. Our defense is not where it needs to be to be a contending playoff team. It's going in the right direction and we've had some slippage lately. But I think the loss to Minnesota will kind of get us back on track with our focus on defense. The conventional thinking about jump shooting in the playoffs, I think that's convenient. If you have a team that make jump shots, you know, you've got to play to your strengths. The way I look at it is, the best defensive teams takeaway the paint. The best defensive teams takeaway the rim and takeaway easy baskets. So the fact that if you're able to shoot and I was part of a championship team and that was our strength in Dallas. It's conventional wisdom that jump shooting teams don't do well but not all teams are good jump shooting teams. So, I think it's important that you play to your strengths and shooting perimeter shots like I said is a strength and Indiana and San Antonio take away the rim, they takeaway all that stuff so you have to be able to take jump shots. 
DP: Miami takes away the perimeter, though. 
Stotts: Well let's worry about Miami when we get to the Finals. (laughs)
DP: You'll take that if it means getting to the Finals. Where is your championship ring from when you were with Dallas. 
Stotts: It's at my house in a case. 
DP: Do you ever bring it out and show the guys in Portland? 
Stotts: No. I had a replica made paper weight which weighs about two pounds and about three times the size so the replica paper weight sits on my desk as a reminder. 
DP: Did you play for George Karl? 
Stotts: Yes I did. I played for George for three seasons in Great Falls, Montana, for the Montana Golden Nuggets from 1980 to '83. 
DP: What did you learn? What's one thing you took away that helped you as a coach? 
Stotts: I don't know if it's just one thing. George is a terrific offensive coach. In Seattle we had great defensive teams but he's fantastic offensive coach and probably the biggest thing from my mind is you let your players play offense and give them the freedom to make offensive plays. You try and give them confidence and let them do what they do well. 
DP: You went to high school in Indiana didn't you? 
Stotts: Yes I did, Bloomington North. 
DP: Did Bob Knight recruit you?
Stotts: Not really. My senior year in high school, that was the year they went undefeated and won a national championship so they recruited six All-American's and quite frankly I wasn't good enough. 
DP: Did you ever meet Coach Knight?
Stotts: Yes I did. I went to his basketball camp, met with him a few times. As a 17-year old I was very intimidated. 
DP: Did he yell at you? 
Stotts: No, no. He didn't need to. 
DP: (Laughs) You were scared already? 
Stotts: Yeah, just standing in front of him and having his eyes stare me down was enough. 
DP: When we come to Portland in maybe April, I'm going to assume courtside seats. 
Stotts: Sure. 
DP: Is there a celebrity row there in Portland? 
Stotts: We have our local celebrities. We have Portlandia here and those are celebrities. But it's not the celebrity row of New York and LA. 
DP: So we'll fit in fell there. 
Stotts: Well, you'd be a hit here. 
DP: Can we stay on Mr. Allen's yacht when we come? 
Stotts: Well I don't know where it's stationed. You'd have to go through his people for that one. 
DP: Where it's "stationed." His ship, I like that. Well congrats so far on the great start and we're trying to get out there in April and hopefully we will go out and see a game in person. 
Stotts: Looking forward to seeing you. 
DP: Alright Terry, thank you. 
Stotts: Thank you. 
DP: Terry Stotts, the Blazers head coach, he can get a little nervous talking about Mr. Allen's ship.