C.J. McCollum participates in first full practice since October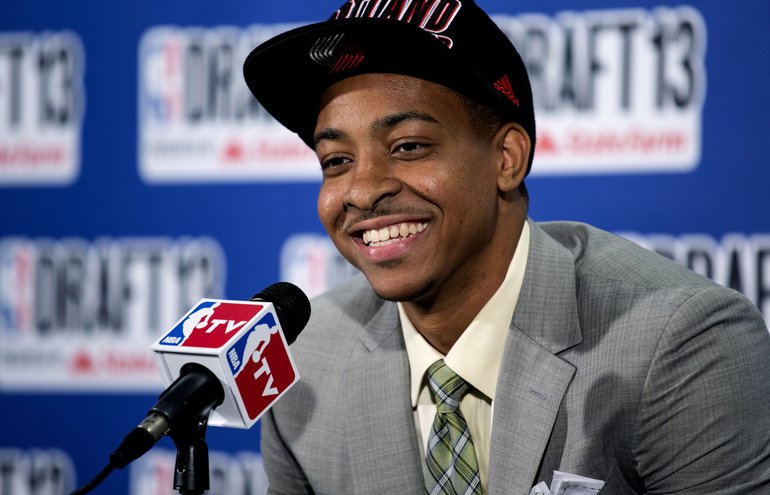 Portland's only first round pick from the 2013 draft made his return to full practice on Friday at the Trail Blazers practice facility in Tualatin.
On October 5th, C.J. McCollum broke the fifth metatarsal in his left foot during a practice drill and it put him out for an indefinite amount of time and he had an ultrasound procedure on the foot 10-days after.
Terry Stotts told the media on Friday that McCollum made his return to the practice court with no restrictions, even participating in 5-on-5 play in practice.
"He went 5-on-5, he had a good practice, he looked good," said Stotts. "There is still no timeline on when he is expected to play but it's just the next step of the process of getting back."
For McCollum, it hasn't been easy sitting out or seeing other rookies play while he's been in street clothes.
"It's hard," McCollum said. "Especially watching the other rookies, you played against rookies that you know and watching them have success makes it tougher. It kind of humbles you and makes you continue to want to work hard and get your chance."
When McCollum will get his chance to wear the Blazer black and red has still yet to be determined. McCollum says that he wants to return soon and Stotts commented that McCollum looked good in practice, but the plan is to take it one day at a time.
" It was good to get out there in practice and get some live action in there but obviously the next step will be playing a game but I don't know when that will be," McCollum said.
"He moved well, he shot well," Stotts said. "Going from 1-on-1, to 3-on-3 to 5-on-5 is a lot of the same things. Just getting back in the flow of things with his team."
McCollum was drafted byPortland with the idea that he could play both guard spots to help Portland's backcourt and he practiced at both positions on Friday. He ran fullcourt 4-on-4 in Minnesota on Wednesday but admits he's still not fully in the flow of things and needed some help executing the Blazers offense.
"I actually got in some full court 4-on-4 a couple of days ago so that wasn't my first time kind of running," McCollum said. "I already knew what that was going to feel like so it's a lot easier when you got guys that can score on your team. Guys that can kind of help you out and walk you through the plays and stuff like that."
McCollum says that he is back to his playing weight of 195 and that he's anxious, not nervous, to make his NBA debut.
"I've thought about it for a long time," McCollum said about his debut. "We're pretty deep into the season now so all of the games feel the same. It will feel a little different when I play in here but I think I'll be ready."