Blazers continue to fly high in Power Rankings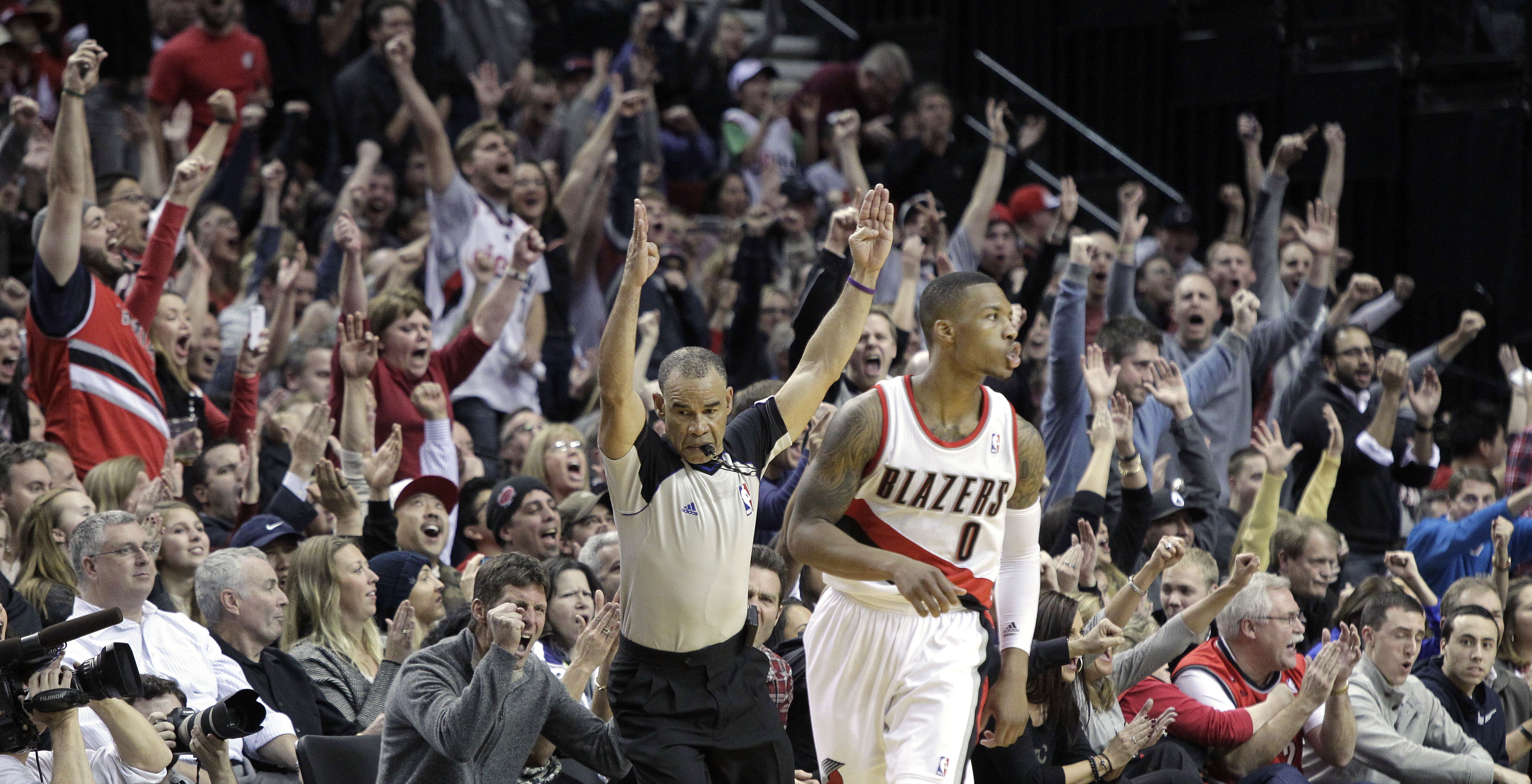 Here's a sampling of where experts believe the Blazers are ranked around the internet.
Marc Stein of ESPN.com (Rank No. 2, last week: No.2)
Second-best start in team history through 25 games. 100-plus points in 12 straight games for the first time since 1993-94 … which happens to be our first season covering the NBA. And Bill Simmons proclaims Portland his favorite League Pass team. Does anyone even notice the rain these days?
Marc Spears of Yahoo! Sports (Rank No.2, last week: No.2)
Portland has won four straight games and eight of its past 10. Damian Lillard takes on Cleveland's Kyrie Irving on Tuesday.
 David Aldridge of NBA.com (Rank No.3, last week: No.4)
 Most impressive part of Portland's amazing start this season: Blazers won their 11th road game Sunday with their overtime victory in Detroit, tying the amount of road wins they had all of last season.
John Schuhmann of NBA.com (Rank No. 1, last week: No.1)
Pace: 96.7 (14), OffRtg: 110.3 (1), DefRtg: 103.5 (19), NetRtg: +6.8 (5)
Damian Lillard was shooting 30 percent for the week, but that didn't matter in the final seconds of overtime in Detroit on Sunday. His game-winner kept the Blazers perfect (10-0) against the Eastern Conference and gave them as many road wins (11) as they had all of last season. Their offense just isn't slowing down, scoring 116 points per 100 possessions over their last seven games.
This week: @ CLE, @ MIN, vs. NOP
USA Today (Rank No. 2, last week: No.2)
They are 9-0 against the Eastern Conference, but don't hold that against them.
Matt Dollinger of SI.com (Rank No.1, last week: No.1)
It's one thing to reach No. 1 in the Power Rankings, but it's another thing entirely to stay on top. The Blazers have now done both after another perfect week, while improving to 10-0 against the Eastern Conference. Terry Stotts has emerged as the front-runner for Coach of the Year in light of Portland's transformation from a 33-win lottery team into the Western Conference leader.
Kurt Helin of NBC's Pro Basketball Talk (Rank No.1, last week: No.1)
They keep winning and the offense keeps clicking — on the season they are scoring 110.3 points per 100 possessions (best in the NBA by 2 points) but in their last 10 games that is up to 114.7. (That covers up the 24th ranked defense the last 10 games.)
 Matt Moore of CBSSports.com (Rank No.2, last week: No.2)
They're playing how I play NBA 2K right now. Launching threes, running up the score, beating everyone (and not playing defense at all).