The Scouting Report: at Utah Jazz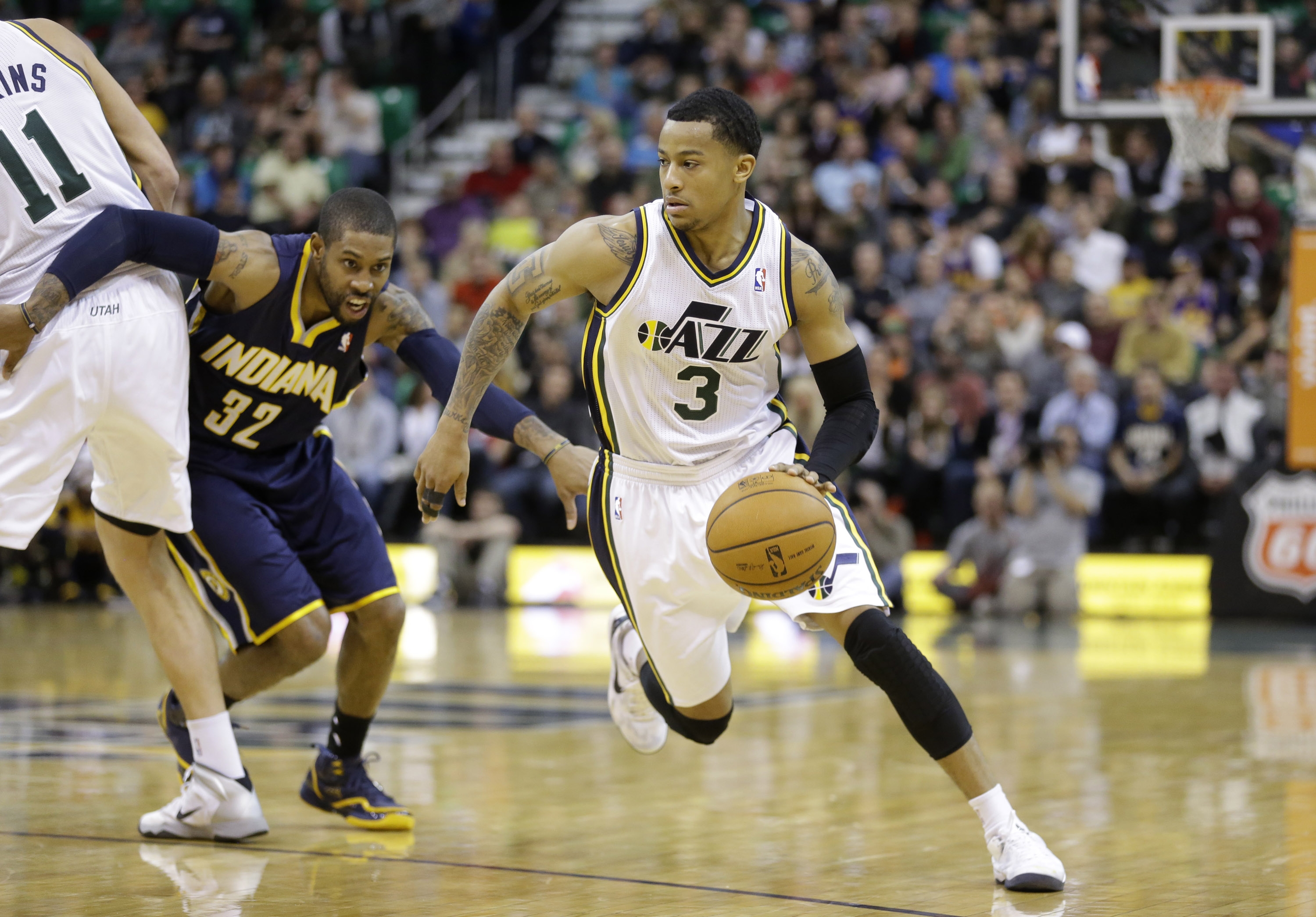 In an attempt to help you get to know the Blazers opponent each night, we are going to post a little bit of a scouting report of each team on the blog before each game. Tonight's opponent are the 4-18 Utah Jazz in Salt Lake City. Tip-off will be at 6PM on CSNNW.
Projected starting line-up: Trey Burke, Gordon Hayward, Richard Jefferson, Derrick Favors, Enes Kanter
New faces: Burke (draft from Michigan), Jefferson, Andris Biedrins, Rudy Gobert (drafted from France)
Since Burke's return to the line-up on November 21st, the Jazz have gone from being the league's worst offense to scoring at an average rate. They are scoring 10 points per 100 possessions more than they did while Burke was injured, according to NBA.com. Burke has been averaging over 12 points and four assists in eight games.
Burke came three assists shy of notching his first career triple-double on Saturday as he finished with 19 points, 10 rebounds and seven assists.
However, make no mistake: these Jazz are not a good basketball team
After seeing them in person on Friday at the Moda Center, they are very clearly in the driver's seat of the Jabari Safari (Jabari Parker may not go #1, but Jabari Safari is by far the best tanking related pun of the year. It's the NBA, we like puns.). 
Another thing that jumps out at you when seeing the Jazz is they have to find more floor time for Rudy Gobert. Alas, the season is long and we could see him unleashed in the last few months of the season.
Give Jazz kid something to root for, Ty Corbin.
http://www.youtube.com/watch?v=A-z1hcYfFO0
The Jazz started off the season by losing their first eight games of the season. Defensively, they've struggled with the pairing of Enes Kanter and Derrick Favors proving especially bad so far.
Line-ups with Utah's supposed front court of the future have defended at a rate that would be by far the worst in the league according to NBA.com.
Alec Burks showed some nice things in the second quarter of Friday's match-up as the Blazers were pretty sloppy on both ends, letting the Jazz get back to within 11 points.
They just lost a close one in overtime at home to the Kings on Saturday night. Burks continued his solid play off the bench scoring 19 points on 50 percent shooting while Gordon Hayward scored 22 points, but continues to struggle shooting from the field.
What's more unfortunate for the Jazz is that it seemed they had a found a line-up to help them be competitive until Marvin Williams got injured.
Coach Corbin decided to go small and open up the floor with Williams starting at power forward with Derrick Favors playing center.
Those line-ups still got outscored by 5.9 points per 100 possessions, but then you look at the rest of Utah's line-ups and you realize how much better that actually is.
https://twitter.com/bryantklug10/status/409216342118510592/photo/1
There isn't much to what is going on here, after the Jazz let Millsap and Jefferson go, it was clear their front office was looking towards the future.
They acquired a 2014 first round pick and one in the 2017 draft from the Warriors for taking on the bloated salaries of Andris Biedrins and Richard Jefferson as Utah was a facilitator for the Andre Iguodala sign-and-trade with Denver.
Basketball is not what it once was in Salt Lake City, but after this year with multiple draft picks in a loaded draft, things will be looking up.
The Salt Lake Tribune reports that Derrick Favors is a game-time decision and that Marvin Williams will not play.
Should Favors sit, look for Jeremy Evans to start at power forward and match-up against LaMarcus Aldridge.
#JABARISAFARI