The Scouting Report: Oklahoma City Thunder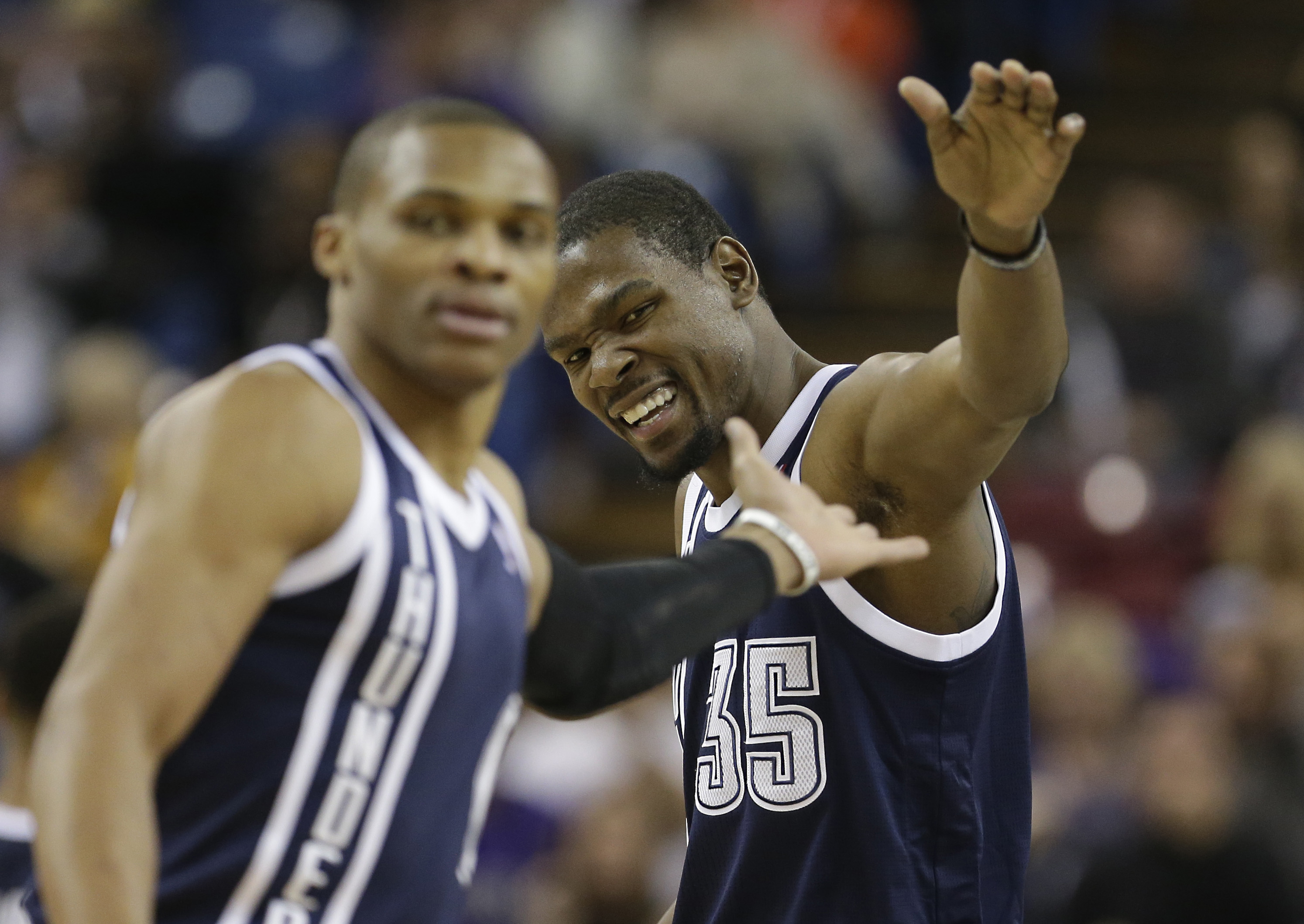 In an attempt to help you get to know the Blazers opponent each night, we are going to post a little bit of a scouting report of each team on the blog before each game. Tonight's opponent are the 13-3 Oklahoma City Thunder. Tip-off will be at 7PM and the game will be shown on CSNNW. 
Projected starting line-up: Russell Westbrook, Thabo Sefolosha, Kevin Durant, Serge Ibaka, Kendrick Perkins
New faces: Steven Adams (rookie from Pittsburgh)
HE'S BAAAAACKKKKKKKK
The Oklahoma City Thunder are officially back as a championship contender with the return of Russell Westbrook from meniscus surgery.
It took Westbrook a little bit to get back into his rhythm and it's still not all the way back. But as we saw last year in the playoffs, Westbrook takes the Thunder to the next level, no matter how spectacular Kevin Durant is.
The Thunder are riding an eight-game winning streak to the Moda Center. A win for the Thunder would move them into first place in the Northwest and second place in the West.
The Thunder may have lost James Harden but their young talent that they've accumulated in the draft throughout the years has started to become major contributors.
Reggie Jackson (aka Mr.OKCtober, I'm trying to make this a thing), Jeremy Lamb and Steven Adams are all major contributors.
Jackson has been playing like a starting point guard off the Thunder bench, averaging over 11 points per game and nearly four assists in 21 minutes per game. Lamb has been getting crunch time minutes lately and has shown he isn't afraid to take and make shots down the stretch.
Adams has given the Thunder a dimension that they haven't had at center with his strength and athleticism. He's earned his way into the rotation as a rookie center which is very rare to see, especially on a team as good as Oklahoma City and is a good change up to Kendrick Perkins. And, at times it looks like the Thunder would be better off starting the rookie at center.
Something else with this Thunder team as that they love to go small, usually in the form of three-guard back courts (Shout-out to the Brandon Roy-Andre Miller-Steve Blake starting line-up days). It will be interesting to see the small line-ups of the Thunder against those of the Blazers to see who comes out on top.
The Thunder would have been the favorites to go to the NBA Finals representing the Western Conference but those hopes went down when Westbrook tore his meniscus.
Riding a winning streak, they look poised to be the favorites in the West again as they combine their dynamic offensive firepower with discipline and athleticism on the defensive end. They have a top-ten offense and a top-five defense.
The Pacers were a tough test, but the Blazers have experience beating them. This Blazers team, at least since Damian Lillard was drafted, has no experience beating the Thunder.
A win won't be easy to come by as the Thunder are on a roll, but defeating a Western Conference favorite who has had their number will be just as, if not more impressive than Monday night's win.