The Scouting Report: New York Knicks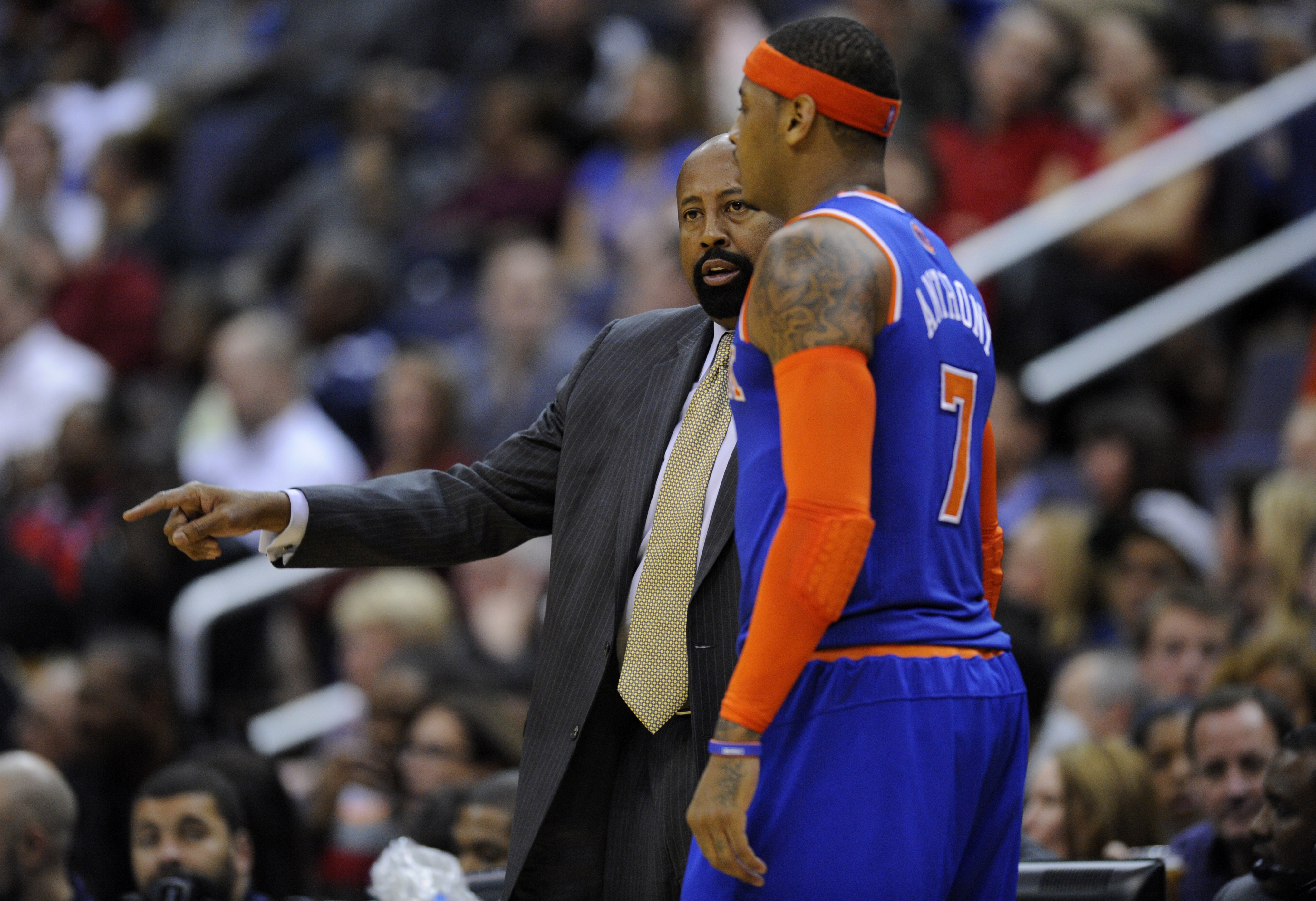 In an attempt to help you get to know the Blazers opponent each night, we are going to post a little bit of a scouting report of each team on the blog before each game.  Tonight's opponent are the 3-9 New York Knicks. Tip-off will be at 7PM at the Moda Center and the game will be shown on CSNNW. Brian Wheeler will have the call on 620 AM.
Projected starting line-up: Beno Udrih, Iman Shumpert, Carmelo Anthony, Kenyon Martin and Andrea Bargnani
New Faces: Bargnani, Udrih, Cole Aldrich, Tim Hardaway Jr. (draft), Toure Murray, Metta World Peace
For the last two seasons, Tyson Chandler has been the lynchpin that holds the Knicks together on both ends. He anchors their defense but is also valuable on the offensive end by setting good picks, rolling to the basket and getting offensive rebounds.
It shouldn't be much of a surprise that they've struggled without him since he broke his fibula on November 5th, which was slated to keep him out for 4-6 weeks. They've gone 2-6 since Chandler got hurt, but that doesn't tell the full story.
Last year the Knicks jumped out of the gate, much like the Trail Blazers have in this early season. They played small, Carmelo Anthony committed to playing power forward, the ball zipped around the perimeter and the Knicks set an NBA record for three-pointers made and attempted in one season.
Things are also getting weird off the court. A Madison Square Garden employee reportedly follows their head coach Mike Woodson everywhere he goes. Woodson is apparently not worried about his job security despite saying publicly his team is not the 54-win team of last season.
They fired their GM who built the 54-win team was fired before the season. The sports agency CAA has very strong ties within the Knicks organization. They represent Anthony, J.R. Smith and General Manager-in waiting Allen Houston. They currently represent the league's most expensive D-League player in Chris Smith, brother of J.R. Smith, which some rival agents believe was part of the negotiations with J.R., who could have taken more money to leave the Knicks in the summer.
For more on the Knicks, we're joined by Taylor Armosino who writes about the New York Knicks for various websites including the Meloship of The Ring, The Knicks Wall and KnicksNow.
For the Knicks, it's all about the lineups. Center Tyson Chandler's injury has been catastrophic to the team on both ends of the court, but their problems run far deeper than the absence of the 2011 Defensive Player of the Year. Rather than force opponents to adjust to the Knicks' strengths, a philosophy that proved successful last season, Head Coach Mike Woodson has decided the team will adjust to its opponents' specialties. He has abandoned the two point guard small-ball identity of last season's 54 win squad to play taller lineups that clearly won't work for this group of players. The Knicks were 16-2 last season in games which Raymond Felton and Pablo Prigioni started together, yet that duo has seen just 79 minutes of floor-time over nine games this season – Felton is now injured and has missed the last three contests. In fact, Woodson has recently resorted to playing no point guard lineups in the fourth quarters of games. Shockingly, those lineups have been unsuccessful. As of late, Carmelo Anthony has been jettisoned from the power-forward spot where he won a scoring title and his efficiency has predictably dropped. Over the last three games, all losses, Anthony has logged half the team's overall minutes on the court at small forward. He's less efficient at that spot and they don't have good 4-5 combinations to play alongside him. Woodson has toyed with JR Smith's role as well, initially starting him for a few games before wisely putting the reigning Sixth Man of the Year back on the bench. Amar'e Stoudemire is a shell of his former self and even when he shoots well, he's a detriment to the team because he's abysmal on defense and they don't have good enough schemes or personnel to compensate for his errors. We have a great deal of evidence – lineup data over two plus seasons – that suggests the Knicks are better with Stoudemire either in a diminished role or out of the rotation altogether, but now there is a concerted effort by the team to actually work him into more minutes on the floor and a bigger role. There was a formula that worked well for them last season and Woodson has abandoned it. Faulty defensive schemes, atrocious defensive personnel and a drop in both three point attempts and efficiency have all been major contributing factors to the team's 3-9 start, but it all circles back to the head coach and his inability to consistently put the right group of guys on the floor each and every night.
Follow Taylor on twitter: @tarmosino