Road Takes: Aldridge leads 4th quarter comeback to win 10th straight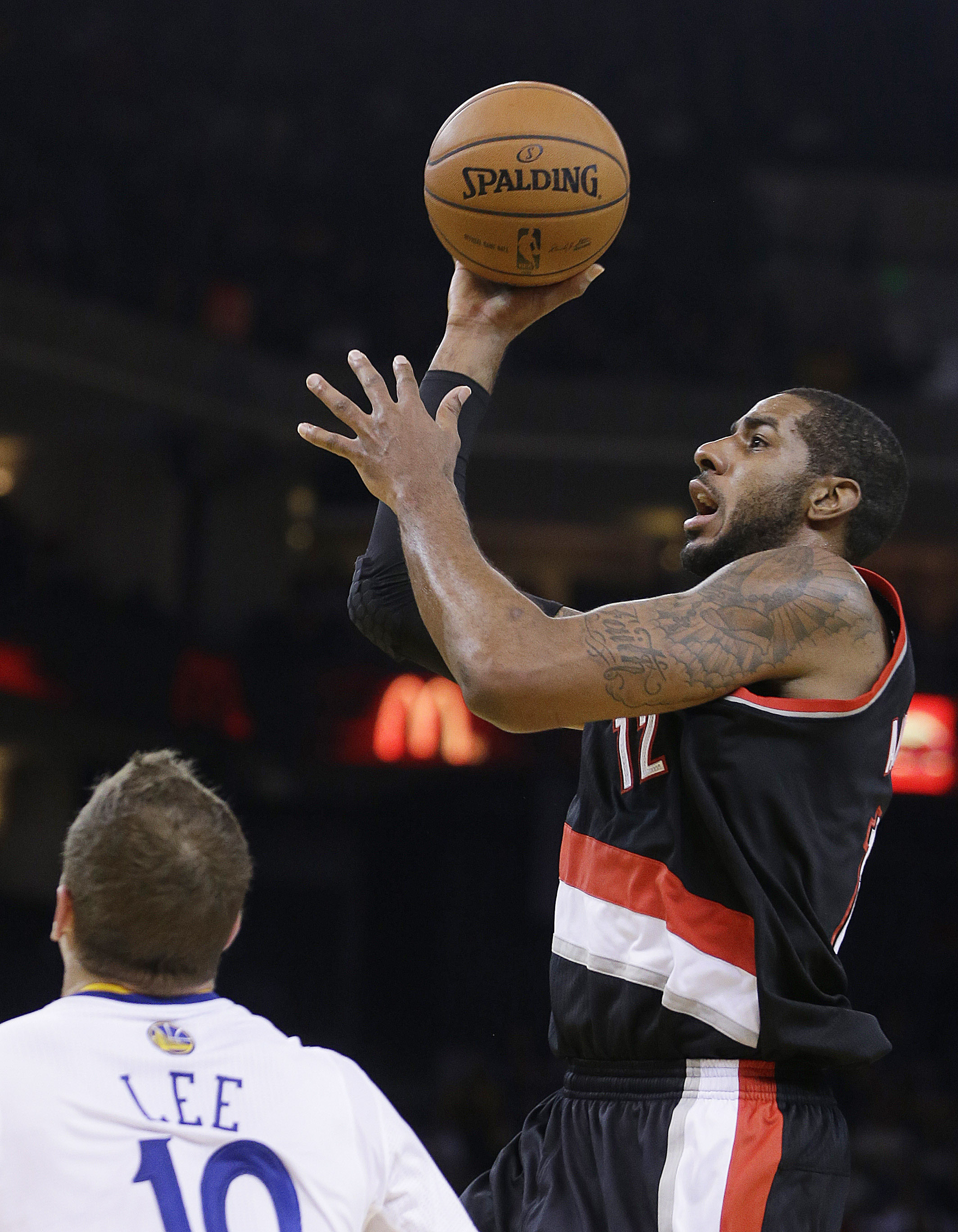 The Blazers, quite literally, got hit in the mouth.
But LaMarcus Aldridge, along with some help from his friends, clawed back to get their 10th straight win in easily the toughest situation they've faced during this streak.
Wesley Matthews had been the hero that they needed through three quarters as he continued his superhero like play. He was hitting stepbacks in people's faces and looking almost unguardable.
But Andrew Bogut instigated a skirmish by sending an elbow into the jaw of Joel Freeland. Wesley Matthews got into the skirmish and ended up getting shoved by Jermaine O'Neal who was in street clothes on the Warriors bench. Mo Williams, giving up nearly an entire foot, went after Bogut with no fear, standing up for his team.
Matthews, who scored 23 points, was ejected from the game. Williams and Matthews were ejected, Bogut and Draymond Green were given technicals and Freeland, too, was T-d up. Green was ejected from the game and Aldridge was called for a technical foul.
http://www.youtube.com/watch?v=Qx8uWVAdwfI
video via YouTube user A Young Sabonis
The Blazers were down 79-71 with 3:42 left in the third quarter and closed the game on a 42-22 run to win the game 113-101.
After Matthews' departure, Aldridge put the team on his back as it seemed every single play ran through him in the post down the stretch. Aldridge made a couple of shots but was masterful in getting to the foul line. Portland's All-Star went to the line 19 times, making 16 of his attempts and finishing with his third career 30-point, 20-rebound performance. Aldridge became the first Blazer ever to have three such games.
Aldridge has closed games down the stretch this year, but tonight was one of his best all-around games not only this year, but probably of his career. He scored 15 points and had nine rebounds in the fourth quarter alone and finished with 30 points, 21 rebounds, three steals and three blocks. Aldridge was the first player since David Robinson in 1992 to record such a stat line.
Aldridge's fourth quarter would have been all for not had it not been for the supporting cast. Terry Stotts dusted off Earl Watson and relied more heavily on Dorell Wright in the fourth quarter. Also, Joel Freeland, who has made it in the rotation for his defense, hit two huge jumpers to keep the Blazers run going when the Warriors were throwing the kitchen sink at Aldridge.
Nicolas Batum hit a big three to put Portland up by 13 with 2:33 left to essentially put the game away.
Robin Lopez was also dominant in the games final moments, literally swatting away some of the Warriors attempts to come back, getting four of his five blocks in the game's final 5:25.
With Stephen Curry, you knew it would be a challenge. Damian Lillard went 6-for-20 and the Blazers still managed to win the game.
The Blazers stood up for each other and they lost their starting shooting guard who has been playing just as good as anybody in the league and their first reserve guard. Somehow, they bounced back.
Last year, they don't win this game.
The Blazers 10th consecutive win, was easily the most impressive of them all.