Holdahl: Blazers to bring back player caricature glasses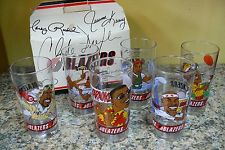 Casey Holdahl of ForwardCenter.net team broke news this morning that may bring tears of joy to the eyes of many in Rip City.
The team is bringing back the famous player caricature glasses featuring five current Blazer players beginning with LaMarcus Aldridge's glass being given away on the February 19th game against the Spurs. On these giveaway nights, the Blazers will also be wearing their "Rip City" jerseys.
The original ones made by Dairy Queen featured the best players from the last Blazers team to make the NBA Finals such as Clyde Drexler, Kevin Duckworth and Cliff Robinson.
Holdahl writes about the glasses:
The Trail Blazers have produced some quality promotional items over the years, such as the Rasheed Wallace lunchbox from Oil Can Henry's, the Blazermania vinyl record featuring Bill Schonely from the folks at Equitable Savings and various bobbleheads from Wells Fargo.

But no item is held in higher regard by Trail Blazers fans than the series of drinking glasses featuring caricatures of Clyde Drexler, Terry Portland, Buck WIlliams, Kevin Duckworth, Jerome Jersey and Cliff Robinson that the team produced in consort with Dairy Queen back in the early 90′s. Those weren't the first drinking glasses the team put out with local restaurants (for example, the team had a "Blazers Favorite Pizza" glass promotion with Sunshine Pizza Exchange back in the early 80′s that featured the like faces of Mychal Thompson and Peter Verhoeven), but they have been the most beloved and enduring. One of my favorite local watering holes, The Old Gold, even has a promotion during Blazers games in which you can get a Rainer served in a Trail Blazers Dairy Queen glass for a buck.