Terry Stotts addresses LaMarcus Aldridge trade rumors (sorta), life after Summer League and why Meyers Leonard has the green light for more 3-pointers (kinda)
Portland Trail Blazers head coach Terry Stotts opened the team's youth basketball camp on Monday morning. While nearly 100 pint-sized hoopers took part in various fundamental drills, Stotts – for the second time this month – took time to address trade rumors involving power forward LaMarcus Aldridge.
During the NBA Summer League held in Las Vegas, Comcast Sportsnet Northwest reported that Aldridge representatives approached Blazer general manager Neil Olshey on possible trade scenarios for the two-time All-Star. On Monday, Stotts offered few remarks on the alleged meeting.
"Unfortunately, there (are) a lot of rumors in the NBA. We don't really comment on rumors," Stotts said. "You go with every team, there (are) a lot of rumors out there. I'm not necessarily going to comment on LaMarcus. It's just unfortunate that things like that are out there when there hasn't really been comment on either side."
On Aldridge's end, he took to Twitter last Thursday to offer a vague response about people "making up stuff."
Stotts said that he has exchanged text messages with Aldridge and expects that a Blazer assistant coach or two will meet up with him in Dallas or Los Angeles in August for individual workouts. Though the two sides have yet to determine the details of the workouts, Stotts spoke as though Aldridge, 28, will return to Portland for his eighth season.
"I expect him to have a career year next year," Stotts said. "LaMarcus is a pro, he's been very consistent and he's a central part of our success next season."
Several Blazers will work on "skills"
With the Blazers concluding their Summer League run last Friday with a 1-5 record, the players have scattered across the globe. Second-year power forward Joel Freeland has returned to Spain. Small forward Will Barton flew down to Memphis. Potential 15th man Terrell Harris traveled back to his home base in Miami. Even Stotts' brief stay in Portland will be cut short as he returns to Vegas for the USA Men's National Team mini-camp where point guard Damian Lillard will be participating.
Before most of the players return to Portland after Labor Day, Stotts said that rookie guard CJ McCollum and second-year big men Meyers Leonard and Thomas Robinson will all participate in the Tim Grgurich Skills Camp in August. Stotts – who has worked the camp for many years and will be on hand again this year  – described the three-and-a-half day event as a training camp dress rehearsal for younger players.
"There's a lot of drill work in the morning … and then playing more games in the afternoon but it prepares – particularly the young guys, especially the rookies, of what to expect when they come into training camp," Stotts said.
Here's an article from 2010 about the camp that's well known throughout NBA circles, but rarely details sneak out.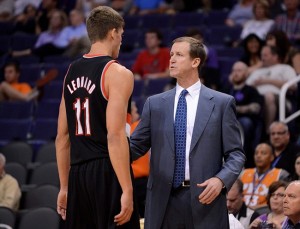 More on Meyers' skills
Prior to Summer League, Stotts was complimentary of Leonard's improvement – and that opinion did not change after Vegas.
"As far as Meyers goes, offensively he's coming along. He showed a lot more confidence in shooting the ball. He had a nice touch in the paint. So, I'm really not concerned about those numbers. Defense and rebounding is going to be very important for him and our success. Defensively, I thought he made good strides in communicating and helping on penetration. He just carried himself at a different level this Summer League compared to last summer, same thing with Joel."
Through five games played, Leonard averaged 11.8 points and 7 rebounds and led the team in field-goal percentage (52.1) – which shows that he mainly took good, close-range shots. Also, Leonard attempted the occasional 3-point shot (only 28.6 percent). While Stotts does not mind his seven-footer stepping out beyond the arc, just don't expect Leonard to lead the team in 3-point attempts.
"I'm glad he took the shots that he took. He's got a terrific touch out there, I think that's a strength of his," Stotts said. "We're not going to go overboard with him shooting threes but if he's in a position – he practices them, he shoots a good percentage in practice. And so, just because he's 7-foot doesn't mean he can't shoot."
Read more about the Trail Blazers Summer Hoops Camp in The Columbian tomorrow.