Inside Blazers pre-draft workouts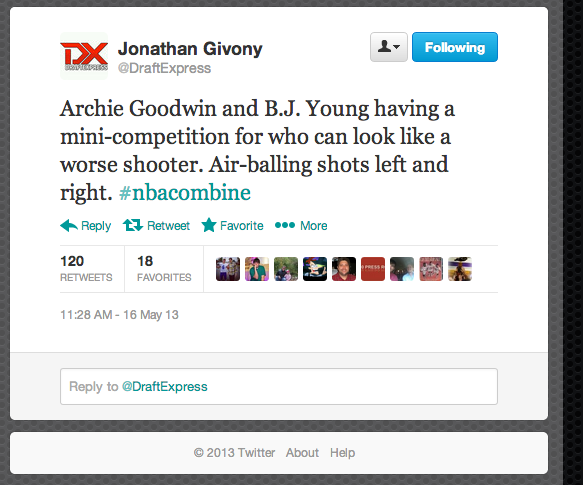 And so it begins. The most intense job interview that 20-year-old hoopers can ever experience. For the lucky (and super talented) few, they will hear their names announced on June 27, the NBA's way of saying "You're hired." But before the big day, prospective NBA draft picks must impress their eventual bosses with their poise, work ethic, talent and in the case of the future employees of the Portland Trail Blazers, their competitiveness.
On Thursday, six players began the process by taking part in the Blazers' first pre-draft workouts. Many of the players are names that only the most passionate college basketball fan would recognize  – James Ennis (Long Beach State), Richard Howell (North Carolina State), Dexter Strickland (North Carolina). And I'm only familiar with the others due to the hometown links to the city of St. Louis – Adonis Thomas (Memphis) and B.J. Young (Arkansas) – while Tony Mitchell was a kid who once signed a national letter-of-intent to play at Missouri (my alma mater) only to be ruled academically ineligible and so he landed at North Texas.
As far as what we can glean from the closed-door session, the players arrived at the Tualatin practice facility at 9:30 a.m. for various testing.
Stuff like this:
Then at 10 a.m., the group –  a mix between wings, guards and power forwards – began a series of shooting, 1-on-1 and 3-on-3 drills. The emphasis in every segment was for the players to compete against one another, and several told me afterwards that this made the Portland workout different than the other workouts around the league that they have experienced.
But just how much stock can, and should, NBA teams place into these workouts? Apparently, a lot. Chad Buchanan, the team's director of college scouting, has booked 40-50 players for pre-draft workouts over the next few weeks. So the Blazers have their desired list, and now must weed through it via the workouts.
"At this point, what you're trying to do is narrow the scope of your process," general manager Neil Olshey said. "I think from live scouting, film, to Chicago (NBA combine), background intel, the research we've done talking to college coaches, I think we've narrowed the field but I think this is the part of the process that can get you over the top. It really is about spending time with these guys and getting to know who they are as people."
The players get that, but have varying opinions as to how much their future depends on the workouts versus their body of work.
"You don't want to put too much pressure on yourself, but sometimes you tend to do that if you miss a couple shots in a row," Young said. "You might say (to yourself), 'A lot of GMs are watching.' … But I try to approach it like it's another day in the gym and just try to perform to the best of my abilities and not worry too much about everything else."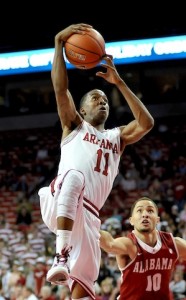 Interesting words from Young, as he seemed to be referencing his NBA combine performance earlier this month. Young, a 20-year-old shooting guard who left Arkansas after his sophomore season, didn't exactly impress combine watchers with his performance … as this tweet from a draft expert reveals: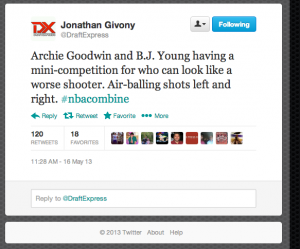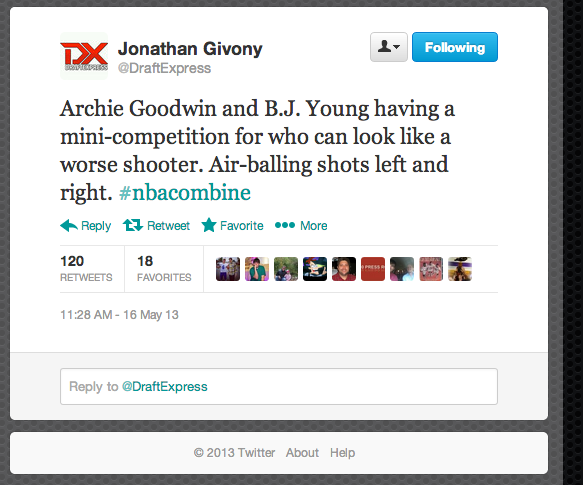 So, naturally, Young would like to be judged more by his two years at Arkansas rather than these workouts. During the 2012-2013 season, Young averaged 15.1 points per game on 44.9 percent shooting.
"I think sometimes teams tend to forget what guys have done on the court in (their) years in college and the positives," Young said. "Sometimes they do just remember the last thing you did. Just out of sight, out of mind type of thing. Whoever team picks me, I just want them to know they have a hard worker day in and day out."
Adonis Thomas, who is familiar with the Blazers' practice facility from his days as a Hoop Summit participant in 2011, will also attempt to make the jump to the Association after only two years of college basketball. But unlike Young, Thomas believes – and likely wants – NBA teams to judge him more on his pre-draft workouts.
"I think it's more here. You look at draft websites, mock drafts and things and they do it based on your college season but guys improve, guys get better," Thomas said. "So I think, me coming into these workouts and teams getting a chance to see me up close and personal, it will be better."
Thomas had two uneventful years in college. As a freshman, his Memphis Tigers were upset in the opening round of the NCAA Tournament. And this past March, Memphis barely escaped another early upset before getting trucked by Michigan State. In the two tournament games, Thomas scored just 12 and 5 points, respectively.
However, it must be mentioned that Memphis seems to attract several future NBA players, who aren't kids cut out for NCAA ball. So, just like his former Tiger teammate Will Barton, Thomas could very well be better suited for the Association rather than the confines of college. Since declaring for the draft, Thomas has spent two months training at the famed IMG Academy in Bradenton, Fla. for a NBA cram session. He spends his days in training (turf and on-court basketball), lifting weights, working out and even taking part in yoga and communication prep.
One thing is for sure – just like his boy Barton – Thomas doesn't lack for confidence.
"I think me personally, I'm a first-round type guy," Thomas said. "So coming into these workouts, teams will get a chance to see me play and see the types of things that I can bring to their team."
Then there's Tony Mitchell. Many question marks surround the athletic power forward. He may share similar views to Young and want to be evaluated for his overall work. Then again, his two years at North Texas were a revelation in talent but untapped potential.
As a prep standout, Mitchell ranked as one of the best players in the country. Mitchell would've been the highest-ranked recruit ever to play at Missouri, but his transcripts from a shady prep school ruined that basketball union. So he landed at North Texas, and Mitchell – to his credit – admitted that he didn't always give his all. Maybe he sulked because he had to go to a smaller program. Maybe he didn't mesh with the new coach during his sophomore season. Or maybe the system did not fit him. But whatever the case may be, it's a bad look to have your work ethic questioned.
Still, Mitchell set North Texas program shot blocking records, so clearly, he still showed his vast array of skills. As a player who can go from the 20th pick to a second-round selection, Mitchell hopes NBA teams judge his college years against how he has presently improved on the court.
"I think I'm being evaluated over my past years," Mitchell said. "I think they're evaluating me over my past and now as well, seeing how I competed in workouts."
"I think I've changed because this is a business more than anything. You have to work hard each and every day because somebody is trying to take your job as well. So this is a business, it's similar to that."