Canales' departure marks end of old regime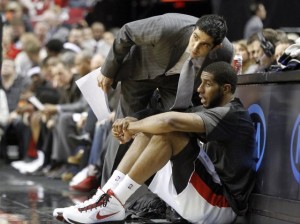 Kaleb Canales, the longtime Trail Blazers' assistant coach, has taken a new job with the Dallas Mavericks. As first reported by Jason Quick of the Oregonian, Canales will join Rick  Carlisle's staff as the Mavericks' new offensive coordinator – funny, because that was Terry Stotts' job when he was with Dallas.
Even more interesting, Canales spent his ninth and final season with the Blazers as its "defensive coordinator." However, before that label, Canales was truly a jack of all trades. His story is 'Rudy-like,' as the young and eager video intern with the Blazers eventually working his way to become interim head coach near the end of the 2011-2012 season.
"You can relate to him," Wesley Matthews told me at the beginning of this season. "When he started here, he was video guy, intern guy, do whatever it takes, and he just loved it. Loved being here. Loved the atmosphere about everything and just to see him climb his ranks and get more leverage with coaching. When the coach situation happened and Kaleb was the head coach, he hit the ground running. I just have a lot of respect for him."
As the last link on the staff remaining from the Nate McMillan years, Canales gave the Blazers some sense of familiarity when they started this "New Team, New Dream" season. And before the year began, this is how Matthews explained the importance of bringing Canales back into the fold.
"It was huge," Matthews said. "K is like that bond between everything new and what Portland is. You heard the ovation at (preseason) Fan Fest for Kaleb.  You would think he was a four-time All-Star. He's big time, big time for this program and big time for us."
Beyond that defensive coordinator title, this season Canales would spend time after practice shagging rebounds for Matthews, even running a rebounding drill with Meyers Leonard and working out LaMarcus Aldridge on the back court. Though Canales' imprint and energy was all over this team, he was most identified as 'L.A.'s guy.' If I had to come up with one quintessential K.C.-L.A. moment, it would have to be the January 29 game against — wait for it … — the Dallas Mavericks.
Remember this? …
https://www.youtube.com/watch?v=EWj_nQ8j0cE
After stepping back and making his first 3-pointer of the season, then subsequently hitting the game-winner, Aldridge, without prompt, gave credit to Canales.
"Just me and K, all summer working out," Aldridge explained after the game. "I just did it natural."
Also, when Aldridge declared during his end-of-season exit interview that he wanted to expand his offense – "go home and just work on elbow isolations, work on the three ball a little bit more and work on being on the opposite block," – I could imagine that some of those workouts would consist of more Canales one-on-one time.
However,  now that Canales has returned to his home state of Texas, the Blazers have taken just another huge step into forming a new identity.