Blazer practice notes March 26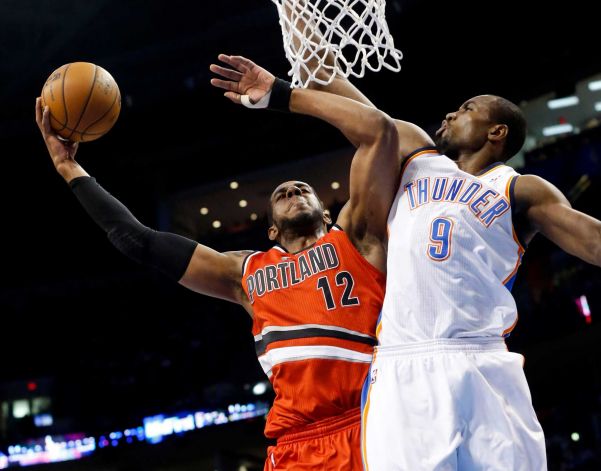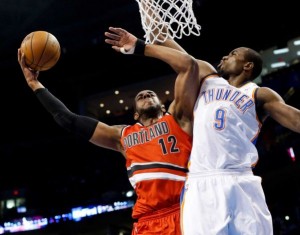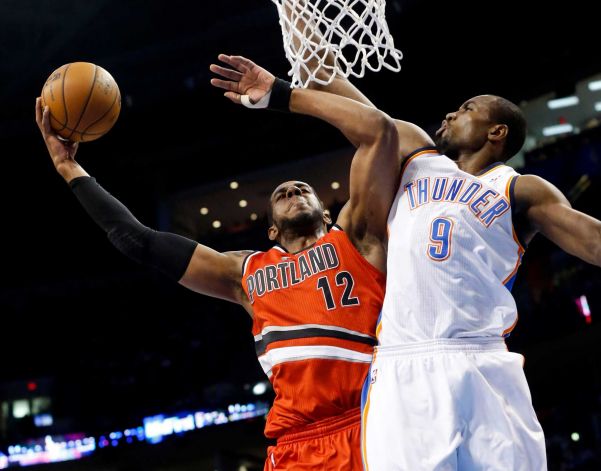 Feeling weak, Aldridge misses practice 
While LaMarcus Aldridge has recently put up robust numbers, he has also dealt with a variety of ailments. On Tuesday, Aldridge's health continued to linger over the overall good vibes at the Blazers' practice facility. Aldridge, with an unspecified sickness, visited a medical professional and did not participate in the team's first practice after a day off and five-game road trip.
"He wasn't feeling well," coach Terry Stotts said. "We sent him to the doctor, he was feeling a little weak."
This latest sickness has nothing to do with Aldridge's recent bouts with migraines, which kept him out of practice on March 13 and lingered into the next night when the Blazers hosted the New York Knicks. Aldridge, who has posted double-doubles in seven of his last eight games while averaging 24 points, 11.8 rebounds, 2.8 assists and 2 blocks per game, will likely be a game-time decision when the Blazers host the Brooklyn Nets tomorrow night at 7:30 p.m.
"Hopefully today he'll get some rest and get some fluids," Stotts said, "and feels better."
Claver and Pavlovic return to practice
Besides Aldridge's unknown status for tomorrow, reserve forward Sasha Pavlovic (right quad) will be "doubtful," while rookie Victor Claver (left ankle) is "questionable."
Pavlovic did not fully participate in all of Tuesday's practice but did run some 5-on-5 while Claver got back in the saddle for the first time since injuring his ankle on March 8. The Blazers have slowly brought Claver along – he did not travel with the team during the recent road trip – and will re-evaluate him on Wednesday morning.
"We'll see how he feels tomorrow morning because today's the most he's done in a while so we'll see how he feels tomorrow," Stotts said.
While the Blazers recently wrapped a weeklong trip, Claver remained in Portland the whole time with Hersey Hawkins – whose official job title is "Director of Player Programs," but has also worked out players this season – as well as with a team assistant athletic trainer.
"In the morning, we'd get here for treatment and shooting on the court without too much (movement)," Claver explained. "Trying to run to see how it feels on the ankle every day. (Then I would), watch the games in the evenings. One day I went to the hockey game, the other days I was resting at home."
Oh, yes, that Portland Winterhawks game last Saturday at the Rose Garden. Claver and two friends showed up for the Hawks' testy playoff game against the Everett Silvertips. From the first period until the final five minutes, the teams got into extended shoving matches and even a couple of fights. Almost everything has been a new experience for Claver, a native of Valencia, Spain, but this hockey thing was an eye-opening ordeal.
"It's different than what I assumed. It's nice, it's very active. … very tough," Claver said. "It was good, a very good atmosphere. They played well. … I didn't understand too much what was happening but it was fun."
Blazers and their Sweet 16 teams
Just like you and me, the Blazers' NCAA March Madness brackets have been ripped to shreds. Stotts had Wisconsin going to the Final Four (bad idea) while Will Barton, Eric Maynor and Meyers Leonard watched their former teams (Memphis, VCU and Illinois, respectively) bow out prematurely. However, three Blazers still have reason to cheer as their alma maters remain dancing.
Jared Jeffries' Indiana protects its top seed, Nolan Smith's Duke will fight on and Wesley Matthews just may lose his voice in cheering for his third-seeded Marquette this week.
"Because Indiana, they're supposed to be there. Duke's supposed to be there, so it's obviously the person who's not supposed to be there," Smith said, labeling Matthews as the biggest trash talker of the three. "They're the sleeper of the three, so Wes is very proud of that. They snuck past the first two, so he's proud of that."
"Not annoyingly proud but you (could) hear him in his room in Oklahoma out in the hallway. That's how loud he was. He's more outgoing."
Spring Break Basketball
Speaking of loudmouth trash talkers … Smith got an earful after practice when he, along with Barton and Nicolas Batum, visited the Blazers' 5th annual Spring Break Youth Hoops Camp held at the PCC Slyvania campus.
Smith took on all challengers in games of one-and-one, playfully schooling the kids who took part in the two-day, fundamental-heavy camp. After a while, the campers began rooting for the next one up by chanting: "Beat No-lan! Beat No-lan!" The one who came the closest to answering the call, a teenager named Noah who called himself the biggest Nolan Smith fan in the room.
When Noah met Nolan, he stooped low in a defensive stance and won the small battle of being one of few who didn't let the NBA player drive around him. Smith made the first jumper but Noah got bragging rights when the second one missed the target.
"I knew I couldn't block him, so my goal was to force a shot, hoping he missed," the young man said. "But he doesn't miss a lot."