Cookies n' Cream Gelato with Boozy Caramel Sauce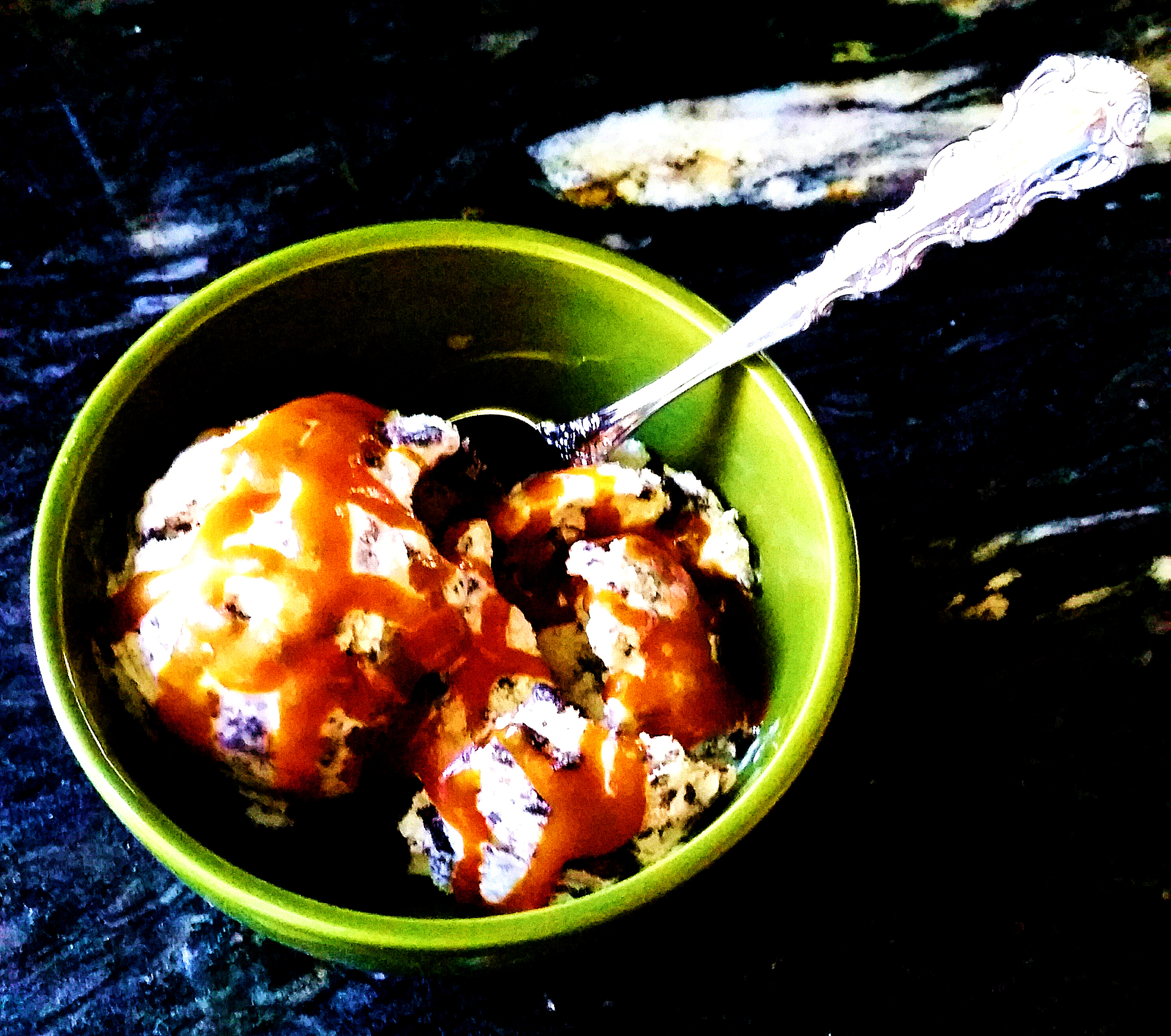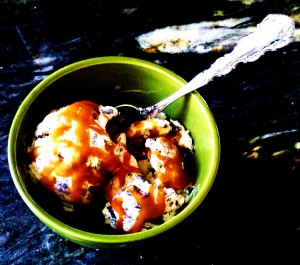 Summer is coming to a close and yet my Instagram is abuzz with photos of people on these amazing, exotic vacations all over the world. As I sit and scroll through these envy-inducing images from the familiarity of my couch/bed/cubicle, I always feel myself forming that notorious pair of green eyes famous for blinding people to all the wonderful things they have and should be grateful for. With a shortage of money, resources, and free time, the current economy of my life isn't allowing for a destination vacation right now. However, for me, food is one of the greatest parts of traveling. And there ain't nothing stopping me from whipping up some foreign comfort food on my own, as long as I have a kitchen. Which I do. I'm looking at it right now.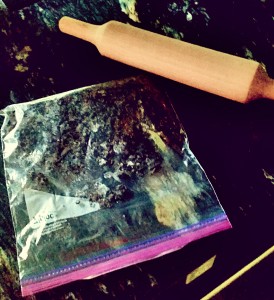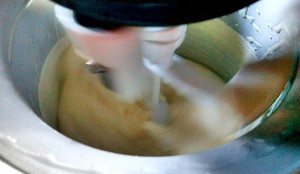 Italy seemed to be the hottest destination of the season. Vibrant pictures of the beaches and the winding, colorful streets have been taunting me for the past two months. But luckily Italian food is reputably some of the easiest to make. Julia Child didn't even consider it real cooking, hence one reason why her book is not called Mastering the Art of Italian Cooking. This is good news though when the easy route is looking especially enticing. So, since ice cream/fro-yo is a summer staple for me, gelato turned out to be the best dessert option for whisking me away to the tropics of the East.
I remember being told once what the difference is between ice cream and gelato. I think it was that gelato is slightly creamier? Ice cream is on the heavier side? Something like that. Either way, it all begins with a custard concoction of milk, cream, egg yolks, sugar, and vanilla cooked over the stove until thickened before being completely chilled. Then it just gets tossed in an ice cream maker until it's frozen. That's your basic gelato right there. Julia had it right; this Italian stuff is a breeze.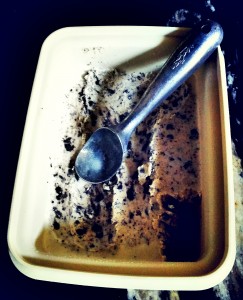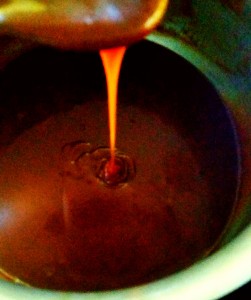 But, because I always have to go the extra mile, I wanted to give my gelato a little extra sumthin' sumthin' so I threw in a smattering of crushed Oreos. Oreos only ever make things better – ice cream, a glass of milk, life. And, they're definitely best when they're softened which is exactly what happens when you swirl them in a dreamy pile of cream. Know what else happens? The gelato disappears real quick.
By the way, one moment to brag: shortly after I made this gelato, my parents took a day trip to the beach where they ate restaurant-made gelato. My mother came home and told me that mine was much better. She thinks I'm best at everything. I don't complain 😉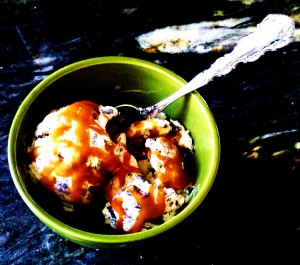 Now this caramel sauce. You may have noticed that I called it Boozy Caramel Sauce. No, I didn't mean oozy caramel sauce (which sounds weird to me since when I think of "oozing" I think of open wounds; sorry for that mental image…). It's true to its name. I made it completely with rum instead of water. Hey, I AM sort of going for a tropical thing here. What I didn't expect is that the rum made the caramel deeply flavorful; almost like I made it with brown sugar instead of white. A warm, rich taste developed from it, to my happy surprise. I actually like it better! In fact, I may just make my caramel sauce with rum from here on out. Unless I'm serving it to kids because that would be bad for my conscience. Although the alcohol does cook off, I added another splash at the end for an extra hit. Yeah, I'm THAT kind of baker.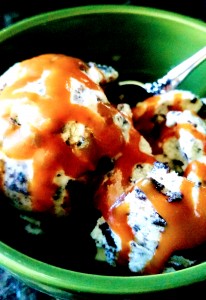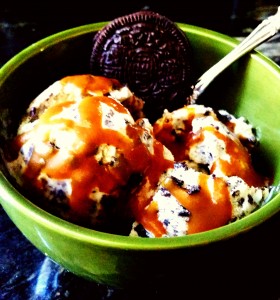 A bowl of this gelato with a healthy drizzle of the caramel sauce (hehe…"healthy"…psshh) makes for one luscious cold dessert. It's true that the gelato is fantastically creamy and the cookie chunks give it that satisfying hit of sudden chocolate and texture. The boozed-up caramel takes the gelato way over the top in the best way by coating it with that special warm flavor – something that tastes best over a frozen custard! It's a total "mmm" factor. They're perfectly amazing separately, but together it's a dream team. Italy can wait so long as I have a bowl of this.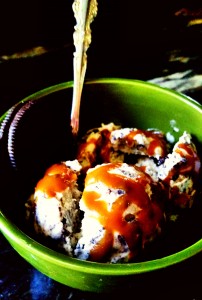 Cookies n' Cream Gelato
Source: adapted from Giada De Laurentiis's Chocolate-Hazelnut Gelato
Yield: 4-6 servings
Ingredients:
2 cups whole milk
1 cup heavy cream
1/2 cup sugar, plus 1/4 cup
4 egg yolks
1/2 tsp. vanilla extract
12 chocolate sandwich cookies
In a saucepan combine the milk, cream, and 1/2 cup sugar over medium heat. Cook until the sugar dissolves, about 5 minutes.
Meanwhile, in a mixing bowl fitted with a paddle attachment, whip the egg yolks with the remaining sugar using an electric mixer until the eggs have become thick and pale yellow, about 4 minutes. Pour 1/2 cup of the warm milk and cream mixture into the egg mixture and stir. Add this mixture back into the saucepan. Cook over very low heat, stirring constantly, until the mixture becomes thick enough to coat the back of a wooden spoon, about 7 to 10 minutes.
Stir in the vanilla and chill mixture completely before pouring into an ice cream maker and follow manufacturer's instructions to freeze. In the meantime, place the chocolate sandwich cookies in a plastic bag and crush into pieces using a rolling pin. Stir the crushed cookies into the gelato and place in the freezer until completely frozen, at least 2 hours.
Boozy Caramel Sauce
Source: All Things Sweet original recipe
Yield: serves 5
Ingredients:
1 cup sugar
1/2 cup rum, plus 1 Tbsp
1 cup heavy cream
1/2 tsp. vanilla extract
Mix the sugar and 1/2 cup rum in a medium saucepan over high heat until the sugar dissolves. Do not stir. Boil uncovered until the sugar turns a warm amber brown color, about 5 to 7 minutes, gently swirling the pan to stir the mixture. Be careful – the mixture is extremely hot! Watch the mixture very carefully at the end, as it will go from caramel to burnt very quickly. Turn off the heat. Stand back to avoid splattering and slowly add the cream, remaining rum, and vanilla. Don't worry – the cream will bubble violently and the caramel will solidify.
Simmer over low heat, stirring constantly, until the caramel dissolves and the sauce is smooth, about 2 minutes. Allow to cool to room temperature, at least 4 hours. It will thicken as it sits.