Peach and Coconut Crostata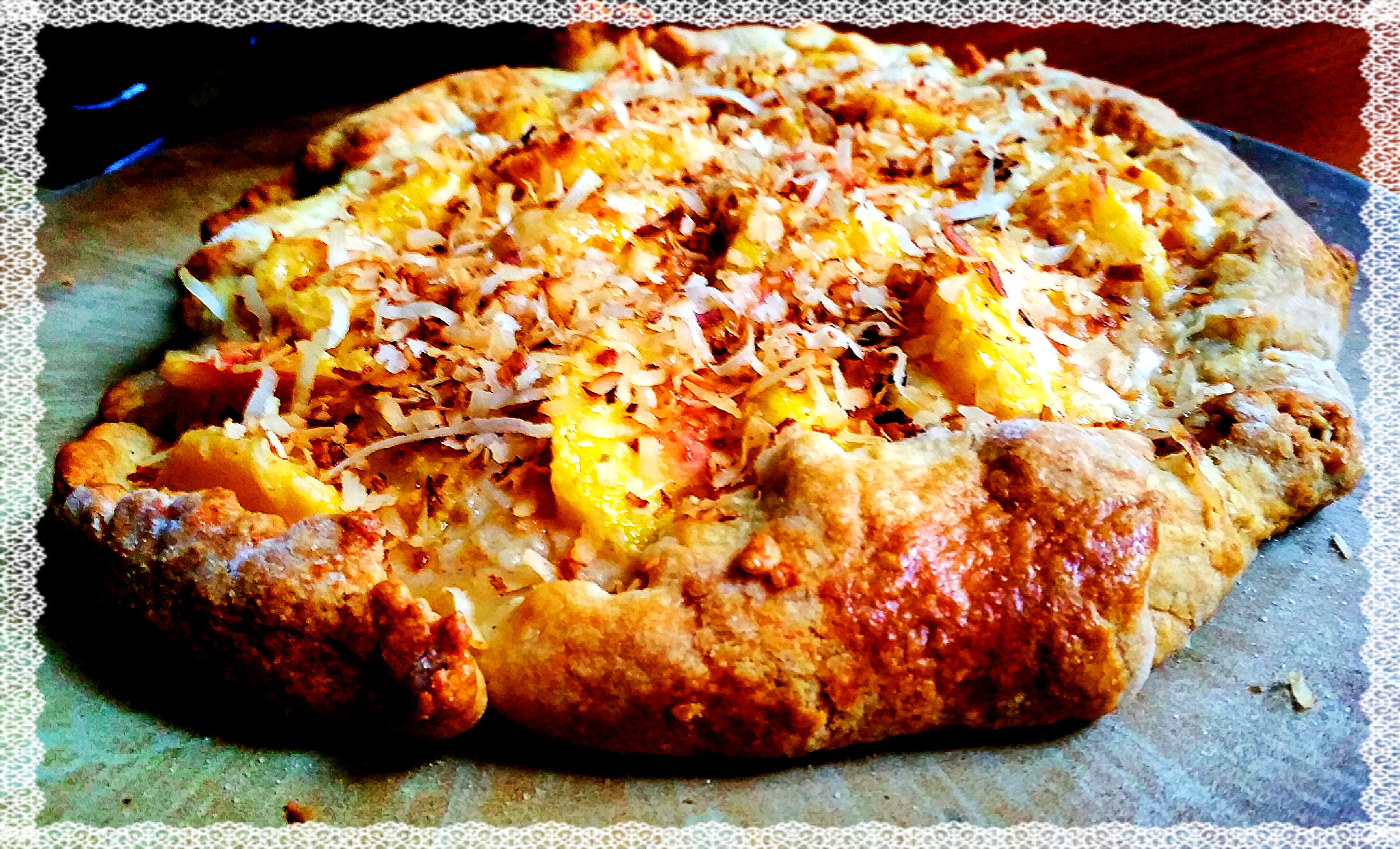 If I'm being perfectly honest (which, of course, I'm never anything but since I'm a blogger and that wouldn't be cool to lie on my own space; that would basically be lying to myself and I am not self-deceptive although I will admit that I do live in my own world sometimes, which is okay if it's more of a meditative practice than anything), I have never cooked with fresh peaches before. I've only ever used canned or frozen peach slices, which makes me feel like I'm a working mother of six who doesn't have the time or energy to prepare food completely from scratch since I'm too busy helping to provide for my beautiful family to peel and slice a fresh peach. I have the greatest respect and admiration for the women who juggle responsibilities like that, however I am only 21 and am still going through the messy, chaotic, enlightening process of "finding myself" while praying that pumpkin spice lattes would be made available year-round. In conclusion, I used fresh peaches for the first time.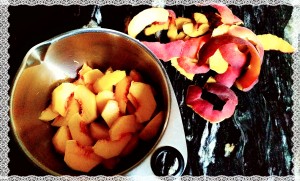 While becoming acquainted with the anatomy of a peach for the first time, I ended up growing a distinct fondness for this happy-looking fruit for three reasons. One: they are fuzzy. It really is true; peach fuzz (the kind you might feel on someone's face or a newborn baby's head) actually does feel like the fuzz of a peach (the kind on the fruit). I found this fact fascinating.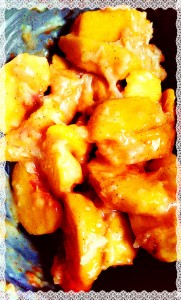 Two: have you ever seen what a peach pit looks like?? It is a vividly deep shade of pink and super spiky. Ohhh the things found in nature. Isn't it ironic how the outside of a peach is so soft while the core is hard and sharp? I find it very poetic. And three: fresh peaches are delicious. This observation didn't come as much as a surprise to me.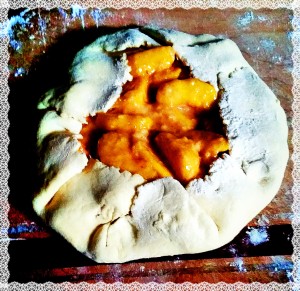 One of the great things about fruit crostatas, or "galettes" if you want to get all fancy-schmancy, is that they taste just as good as pie but are significantly easier to make. For one, the crust only requires you to casually roll out a circle of dough that can look as imperfect as you want. And then all you have to do is fold the dough up and around the fruit in a fashion that has to be the simplest crimping method of all time. The pastry mastermind that invented galettes would receive a personal handshake from me if A) they're still alive and B) I knew who they are.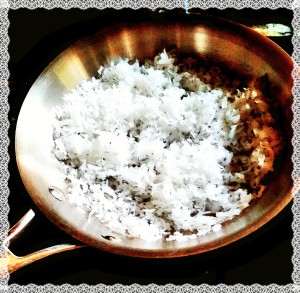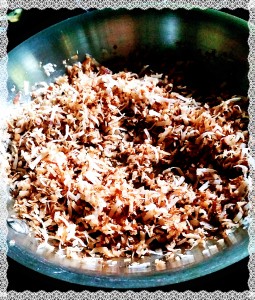 The addition of coconut to this recipe was definitely my personal touch. Found both raw in the filling and toasted on top, it is one of my favorite flavors and also one of my favorite ingredients in general. Plus, it's the most surefire way to transport oneself to an island vacay during the summer. Ingesting coconut. The secret is out.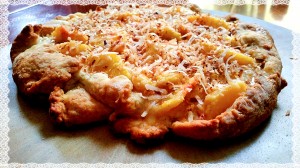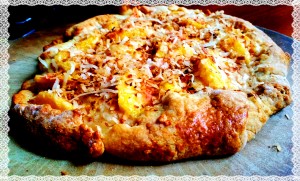 This crostata surely fulfills any fruity, tropical, flaky, YUM-worthy desires you may have which, if you're like me, is a frequent occurrence in the summer or the dead of winter when I might be wishing for summer. Do your cravings change with the seasons like mine do? I love that you can cut this crostata like a pizza and eat it like a hand pie. Except I will say that it, like most things, is best with ice cream on top. Peach will certainly now be added to my journal of baking staples and will no longer only be considered as my favorite Super Smash Bros. character to play.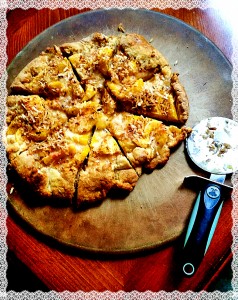 Peach and Coconut Crostata
Source: All Things Sweet original recipe
Yield: serves 8
Crust:
1 1/2 cups all-purpose flour
1 Tbsp. sugar
1 tsp. baking soda
1/2 tsp. salt
4 Tbsp. cold unsalted butter, diced
4 oz. cold cream cheese
2 Tbsp. lemon juice
3 Tbsp. ice water
For the crust: Add the flour, sugar, baking soda, and salt, to a food processor and pulse to combine. Add the butter and pulse until the butter is pea-sized. Add the cream cheese and lemon juice and pulse a few times. Add the ice water and run the machine just until the mixture forms a ball. Do not overmix. Turn the dough out onto a sheet of plastic wrap. Press into a disk, cover, and refrigerate for 30 minutes.
Filling:
4 peaches, peeled and sliced
Zest of 1 lemon
Zest of 1 orange
1 Tbsp. lemon juice
1 Tbsp. orange juice
1 Tbsp. honey
1/4 cup sugar
1/4 cup all-purpose flour
1/2 tsp. cinnamon
1/4 tsp. salt
1/3 cup sweetened flaked coconut
Preheat the oven to 375 degrees. Combine all ingredients in a medium bowl. Roll the chilled dough out on a floured board into an 11-inch circle about 1/4 inch thick. Fold the dough up over a rolling pin and transfer it onto a baking sheet lined with parchment paper, being careful not to stretch it. Place the peach filling in the middle of the circle, leaving a 2-inch border. Fold the dough up over the edge of the filling, crimping and sealing with your hands. Brush the dough with egg wash (1 egg beaten with 1 Tbsp. water) so it will brown nicely. Bake for 20 minutes until the dough is nicely browned, then cover the crostata with foil and bake for another 10 minutes. Let cool before slicing
Optional Topping: Toast 1/2 cup sweetened flaked coconut in a dry pan over medium heat, stirring constantly, until golden brown in color. Sprinkle on top of the crostata.