Strawberry Toffee Pie with Pretzel Crust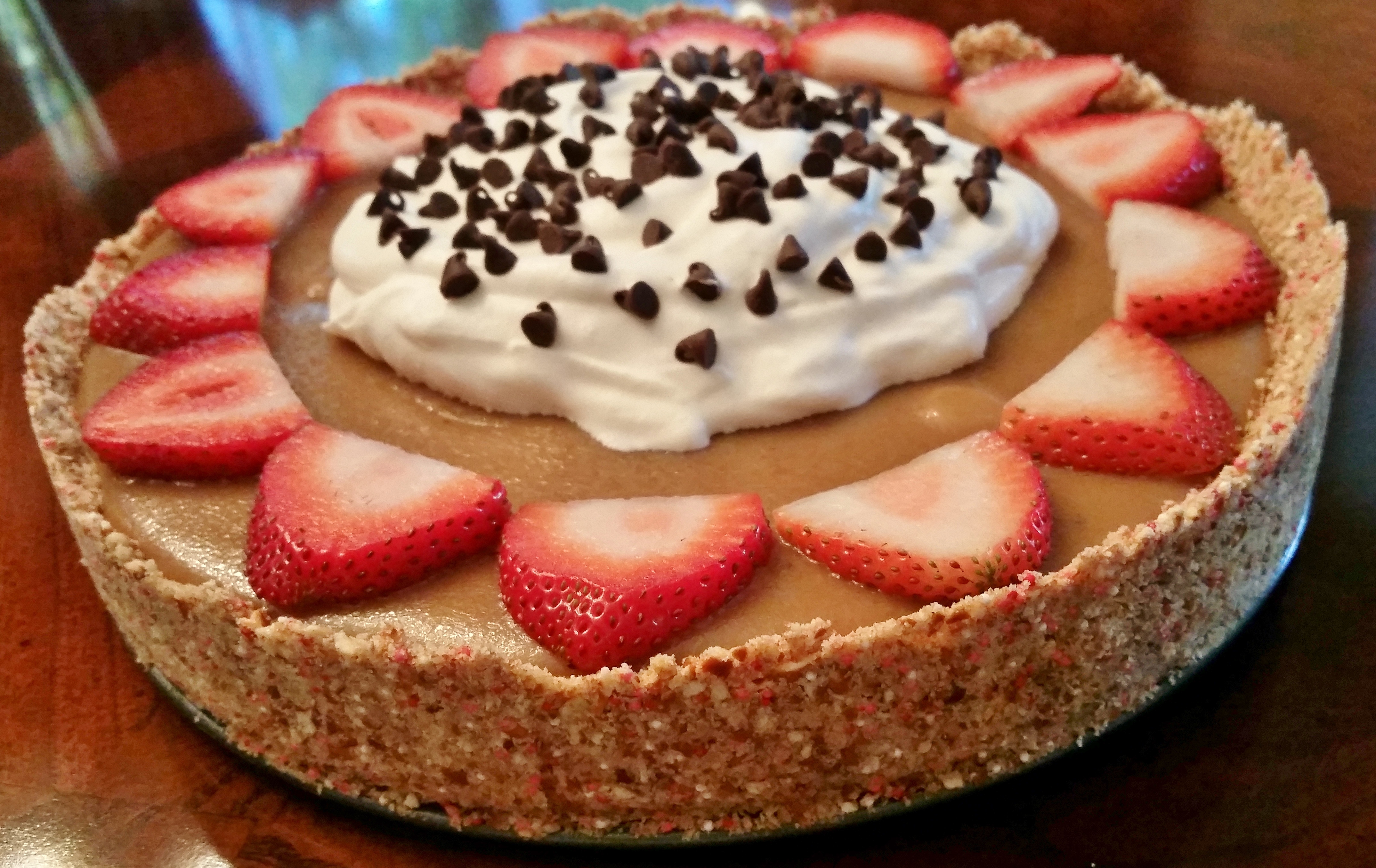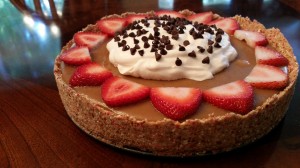 Now that summer is successfully underway (I'd call 62 days of almost-straight sun a success), life is pretty exciting. During these past two months of chiilin' out, maxin, and relaxin' all cool, there are three things that I'm particularly thrilled about. And they all have to do with food in one way or another. Didn't you know that's one of my interests?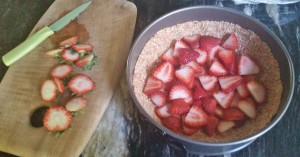 First of all, I went berry picking for the first time in my whole life! On an actual farm! Not just off the side of a road somewhere! Please don't ask me why it has taken me 21 years to do this because I honestly do not know the answer other than that I didn't realize what I was missing out on. It's like when I ate my first beet, or discovered the convenience of the NutriBullet, or took a barre class for the first time. You never know until it just happens!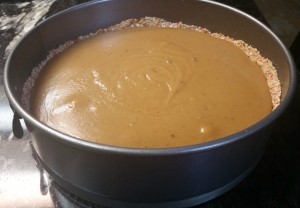 Anyway, I recruited a dear friend of mine to drive out to Sauvie Island with me for an afternoon to help pick fresh strawberries and blueberries. The farm was so beautiful and they grew all kinds of fresh produce. I could've easily spent a whole day running through the orchards in a flowy cotton dress not unlike Laura Ingalls in Little House on the Prairie. My boxes were loaded with colorful, fragrant berries and that's how this pie came to be!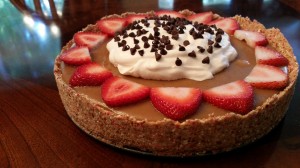 Which brings me to the next thing I'm stoked about: the pretzel crust on this pie! Strawberries and pretzels tend to go together in desserts fairly often. So, when thinking of what type of crust would perfectly compliment a strawberry toffee pie (or, as I call it, "strawfee"), pretzels seemed like the best choice, if not the ONLY choice!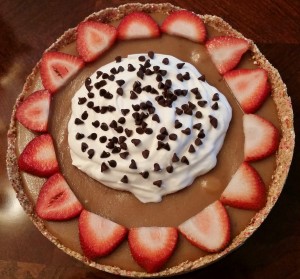 See, since the pie filling is so sweet, something like a sugar cookie or graham cracker crust wouldn't do much to add complexity to this pie. It would just be sweet on top of sweet on top of sweet, which if you're like me, isn't necessarily a bad thing! But, here at All Things Sweet, we like to step outside the box and try new things (and by "we" I mean me, I AM the baker). This crust worked out flawlessly. It's buttery and just the right amount of salty to balance out the filling. I had never made a pretzel crust, or even heard of one before (although I'm sure I wasn't the first person to make one), but it was simply fantastic.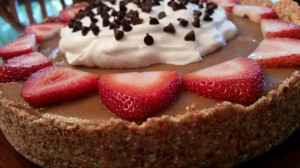 This is such a rich, comfort-food style pie with the punchy strawberry slices throughout and the decadent, caramel-y toffee. I couldn't help but stand at my kitchen counter and snack on it over and over again. And dat crust though! What is it about salt that makes sweet things just taste better?? I remember watching a talk show once with Jessica Biel as a guest where she ate a slice of pizza that was dipped in chocolate and she just couldn't help but shout, "How is that good??!" The next time I go to a pot luck or host a dinner, I think I'll just serve chocolate-covered pizza so everyone will want to be my best friend.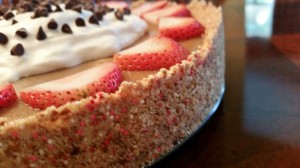 Oh! And the last thing I'm super excited to announce: I have been hired as content editor and chief writer for Ridgefield Living magazine where I will be writing restaurant reviews and even have my very own food column, among other things! I'm totally geeking out over this opportunity to live out my love of food and writing even further and help share ideas with even more readers. Make sure to check it out!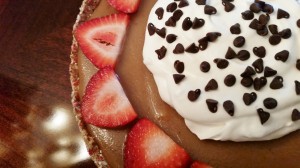 Strawberry Toffee Pie with Pretzel Crust
Source: adapted from Sprinklebakes' Deep Dish Banoffee Pie
Yield: about 18 servings
 Crust:
2 cups fine pretzel crumbs
1/2 cup red or pink sprinkles
2 tbsp. granulated sugar
8 tbsp. unsalted butter, melted and cooled
Combine pretzel crumbs, sprinkles, and sugar in a large bowl. Whisk until thoroughly combined and sprinkles are evenly dispersed.
Make a divot in the middle of the pretzel mixture and pour in the melted butter.  Mix together using a rubber spatula until all the crumbs are moistened.
Pour crumbs into an 9 x 2.5-inch springform pan; press tightly and evenly into the bottom and up the sides of the springform pan. Bake at 350 degrees for 8-10 minutes until set. Chill in the refrigerator until ready for use.
Filling:
3 cups fresh strawberries
1 cup butter
2 14oz. cans sweetened condensed milk
1 1/3 cup light brown sugar
1/4 cup dark corn syrup
1 1/3 cups heavy whipping cream
1/4 cup granulated sugar
Miniature chocolate chips
Hull and slice 2 cups of the strawberries; arrange the strawberry slices in the bottom of the pretzel crust and return the pan to the refrigerator.
Combine the butter, brown sugar, condensed milk and corn syrup in a large non-stick saucepan. Roughly stir together and place over medium heat.  When butter has melted and sugar has dissolved, raise heat to medium-high and bring to a bubble. Be careful because this mixture is sticky and will bubble and sputter onto your bare hands. Wear an oven mitt on your stirring hand if possible. Keep mixture at a gentle bubble for 5 minutes (set a timer), stirring constantly so the mixture does not burn.
Remove from heat and let cool slightly.  Stir well then pour mixture over strawberries in the pretzel crust. Chill until set, several hours or overnight.
Hull and slice the remaining cup of strawberries; set aside.  Whip heavy cream with an electric hand mixer until slightly thickened, then gradually add the 1/4 cup sugar.  Whip until stiff.
Arrange a few strawberry slices around the outside of the set pie. Spoon a pile of whipped cream onto the center of the pie; sprinkle the cream with miniature chocolate chips.
Keep uneaten portion chilled.
(Note: Running a knife under hot water will make the pie easier to slice)