Spiced Brown Butter Waffles Topped with Fresh Berries, Salted Praline, and Amaretto Cream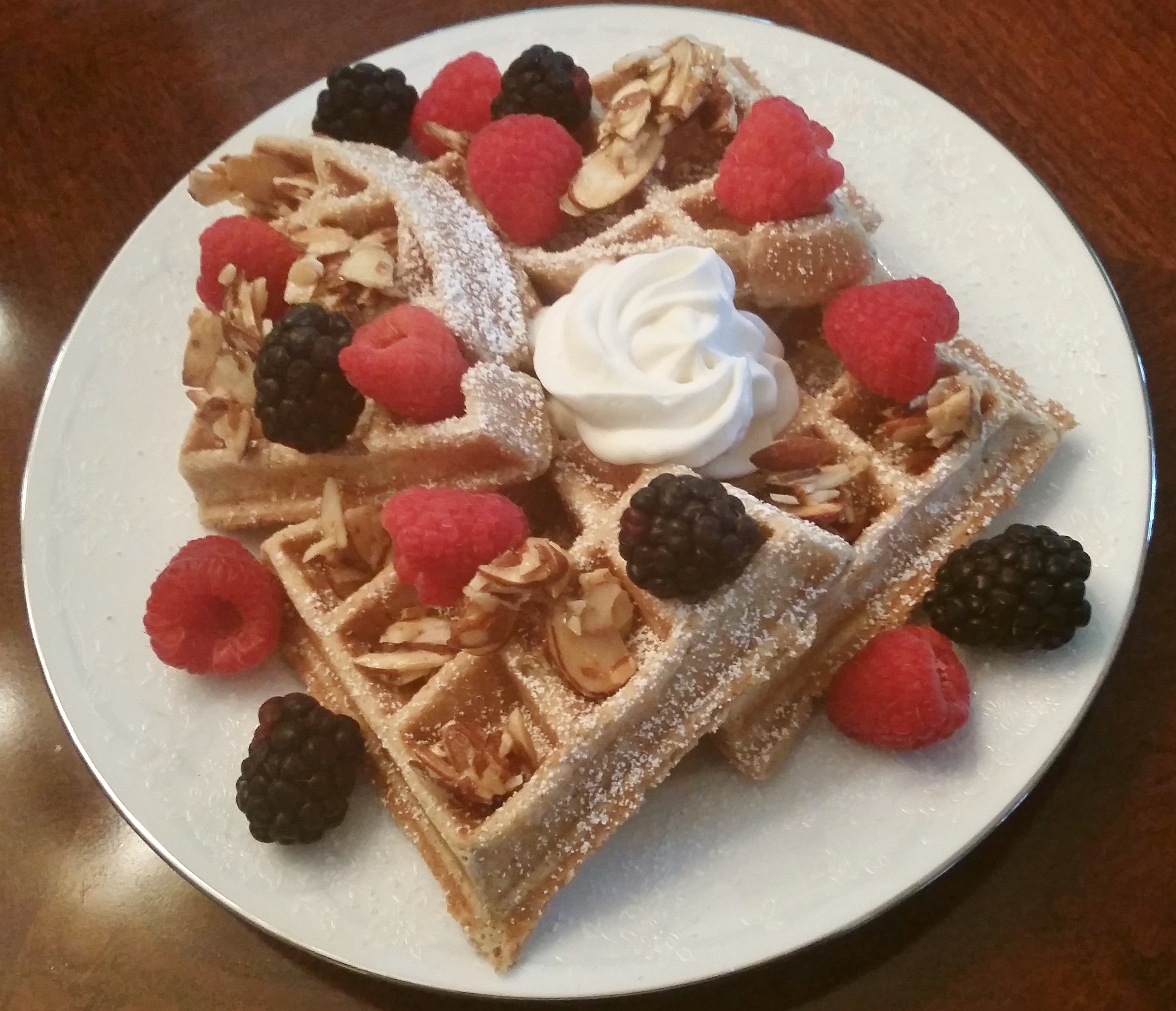 I like a fancy breakfast. And the great part is that fancy breakfast is just a regular breakfast with a little something special to dress it up. Think about your favorite thing to eat for breakfast. I, for example, am an oatmeal kind of person. (I wonder if a person's breakfast of choice has some sort of psychological meaning behind their personality. Does a guy who prefers bagels have a hollow personality? Does an egg-lover have a hard outer demeanor  with a bright, gushy emotional core? I must ponder this…) Anyway, oatmeal may seem like a boring, lumpy choice for your first bites of the day. But if you accessorize it with things like berries, cinnamon, maple syrup, vanilla bean, or even pumpkin puree, it instantly becomes something more refined and sophisticated and makes you feel like you're Princess freaking Kate when you eat it. Even if you eat it while leaning against the microwave wearing leopard-print fuzzy slippers. I don't do that.
These waffles were so much fun to dress up. In essence, I just took a trusty waffle recipe, added lots of my favorite spices, and browned the melted butter until it was amber-colored and nutty-smelling. Waffles this flavorful and aromatic would be spectacular on their own, but I decided to go the extra mile (which, especially when cooking for yourself, is always a good idea) and roasted up some homemade pralines sprinkled with coarse sea salt, then topped the plate of decadence off with fresh berries and whipped cream doused with amaretto.
Putting this breakfast dish together is definitely a bit of a process, but each component adds a different flavor and texture which is what gives these waffles their complex, urbane irresistibleness. (Fun Fact: I actually ate these for dinner. Excuse my blatant rebellion.) Waffles: buttery spice! Praline: sweet and salty crunch! Berries: soft and tart! Cream: rich and, um, creamy!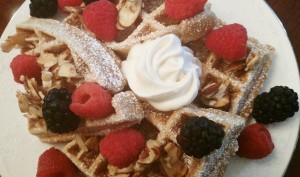 However,  feel free to make whichever recipe components you'd like. If you only have time to whip up the waffles and cream, pat yourself on the back and put on your fancy pants. The waffles are so rich and fluffy on their own that you really don't need anything else to feel more-than-satisfied when you try them. Also, make sure to use your favorite berries! I had raspberries and blackberries on hand, but any combination of strawberries, blueberries, or marionberries would be just as extravagant.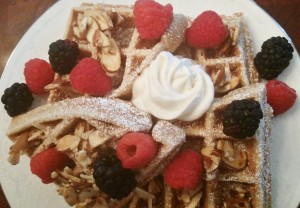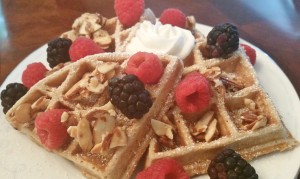 These waffles also make for an amazing plate of leftovers. Just pop them in the toaster the next day, spread on a little peanut butter (does anyone else do this?), and you have yourself a decadent breakfast to eat on the fly. Poptarts can't beat that!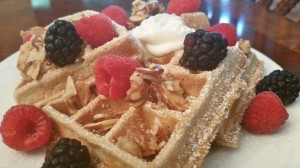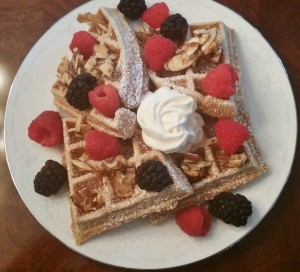 Spiced Brown Butter Waffles:
Adapted from Ree Drummond's Waffles
Serves 5-6
Ingredients:
1 stick (1/2 cup) butter
2 cups all-purpose flour
3 teaspoons baking powder
1/2 teaspoon salt
2 teaspoons ground cinnamon
1 teaspoon nutmeg
1/2 teaspoon ground cloves
1/4 cup sugar
1-1/2 cup milk
2 egg yolks
1 tablespoon vanilla extract
4 whole egg whites
Preheat the waffle iron to the regular setting.
Melt the butter in a medium saucepan over medium heat. Continue to cook and swirl the butter in the pan until it turns golden brown. Remove from heat and set aside.
Sift together the flour, baking powder, salt, cinnamon, nutmeg, cloves, and sugar in a bowl.
In a separate bowl, whisk together milk, 2 egg yolks, and vanilla. Pour over the dry ingredients and very gently stir until halfway combined. Pour in the brown butter and continue mixing very gently until combined.
In the bowl of an electric mixer fitted with a whisk attachment, beat the egg whites on high speed until stiff. Slowly fold them into the batter.
Scoop the batter into your waffle iron in batches and cook according to its directions. Remove and serve immediately with softened butter and warm syrup.
Salted Praline:
1 1/2 cups sugar
1 cup water, divided
1/2 teaspoon vanilla extract
1 1/2 cups (5 ounces) sliced almonds
Pinch of coarse sea salt, for sprinkling
Preheat the oven to 350 degrees F.
For the caramel, heat the sugar and 1/2 cup water in a small, heavy-bottomed saucepan until the sugar dissolves. Cook over medium heat until the syrup turns a warm caramel color. Don't stir, just swirl it in the pan. Off the heat, add 1/2 cup water and the vanilla; be careful, the syrup will bubble violently. Stir and cook over high heat until the caramel reaches 230 degrees F on a candy thermometer. Set aside.
For the praline, combine the almonds with 1/4 cup of the caramel and spread them on a sheet pan lined with parchment paper. Sprinkle sea salt. Bake for 10 to 12 minutes, until the almonds are lightly browned. Allow to cool at room temperature and then break up in pieces.
Amaretto Cream:
1 cup cold whipping cream
2 tablespoons sugar
2 tablespoons amaretto
1 teaspoon vanilla extract
Place all ingredients in the bowl of an electric mixer fitted with a whisk attachment. Whip on medium to high speed until stiff peaks form.
To assemble, dust waffles with powdered sugar and sprinkle on fresh berries, salted praline, and top with a dollop of amaretto cream. Serve with maple syrup.